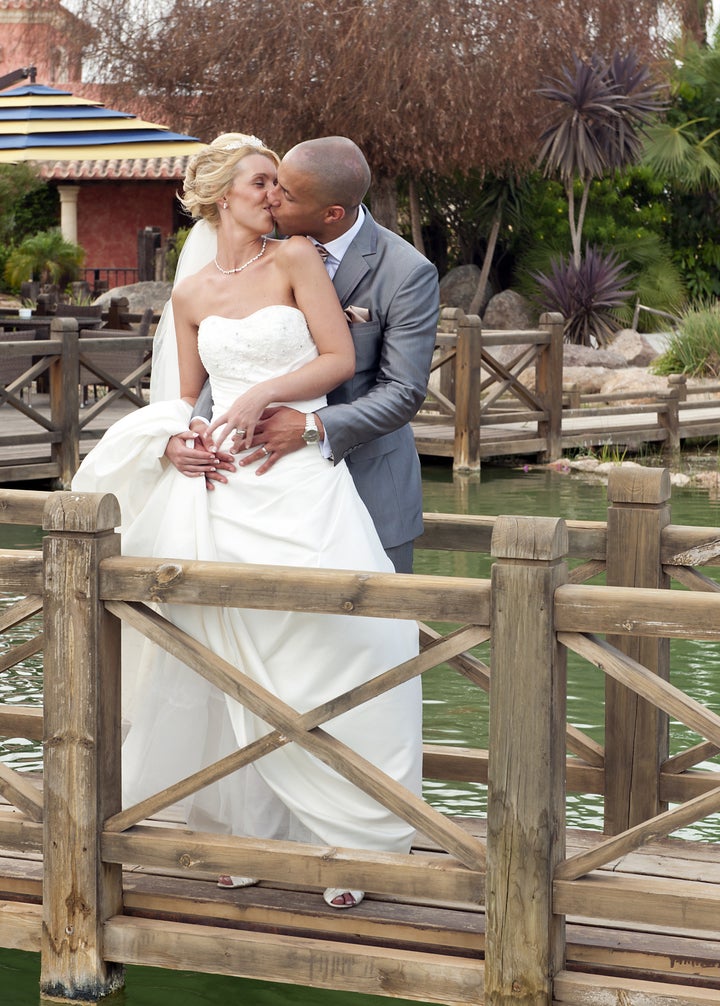 I visited my local Starbucks the other day to enjoy some coffee and free Wi-Fi. I was engaged in relatively simple research, so I let my ears wander to the conversations around me. One in particular caught my attention, as it pertained to my current status as a bride-to-be. There was a large group at the table across from me -- a young engaged couple, parents, wedding planners (yes, plural) and a priest. The plans they were making were as detailed and complex as those made for a presidential inauguration.
We hear so much about wedding planning. There are entire industries built around helping the couple carry out their "perfect day." It's easy to get carried away in the romance and the idea that a single ceremony represents the entirety of a relationship. It's easy to confuse the ability to control the details of a day with the potential for controlling an entire life. It may be easy, but like the eyes of the audience at a magic show, it is attention focused in the wrong direction. Wedding days should be special; it is a time to celebrate your bond and make a public declaration of your relationship. However, don't be so busy planning your wedding that you neglect to plan your marriage. Here are a few things to keep in mind for your Big Day, and the days (and years) after you say "I do."
Compromise
Weddings begin with compromise. Perhaps she wants to elope and he wants a large, family-filled church ceremony. Hopefully, a middle ground is agreed upon where each partner feels listened to and has his or her critical needs met. Compromise only begins with the wedding day. As two lives become entwined, differing views and priorities are inevitable. Make sure you know how to navigate these differences in a balanced way.
Influence
Have you ever been to a wedding where you couldn't tell if it was a day for the bride or the bride's mom? Just as your wedding is your day and should be created in your image, your marriage is yours and yours alone. By all means, listen to the advice of those around you but remember that you make the ultimate decision of what your relationship will look like.
Invitations
Most people are very deliberate about the friends they invite to be a part of their wedding. They want to surround themselves with others who will be supportive, realistic, and share in their joy. Be just as deliberate in choosing the friends that surround your marriage. We are influenced by those we spend our time with; choose wisely.
Beauty
Much time and money is put into creating the décor and ambiance of a wedding day. Just because the day is over and the budget is back to reality does not mean that you have to forgo beauty. Find ways to incorporate items that make you smile into your daily life. Any table is brightened by even the simplest centerpiece.
Words
The focus of a wedding is on the words spoken between the spouses-to-be -- the promises and declarations to love, honor, and cherish. Even after the walk down the aisle, words, whether spoken or written, are still an important part of a marriage. Never assume that your spouse knows how you feel and never underestimate the power of a positive word or two. The best part? When you say how much you love or appreciate your partner, it fuels those positive feelings in you as well.
Balance
Many wedding traditions have a deliberate balance between the time spent as a couple and the time spent apart. Even when you married, it is important to spend time away from your partner, either alone or with other friends or family. Make sure you have discussed your needs and expectations for your balance of time; it's important to reach an agreement between the two of you so that no one feels smothered and no one feels abandoned.
Tradition
Some of the meaning in a wedding comes from tradition -- elements handed down through generations that create a sense of unity and belonging. Just because the ceremony has ended does not mean that there is not room for traditions in your marriage. Look to your families of origin for rituals that you can implement in your new union or seek to create your own traditions. These conventions will serve to strengthen the bond between you and your spouse and give you a foundation upon which to build lasting memories.
Money
It is the rare couple who marries without a budget. Just because the presents are unwrapped and put away and you have begun to get used to married life does not mean that the budget goes out the window. Make sure you and your new spouse continue to talk about money. Agree on common financial goals. Separate needs from wants. Don't let nickels and dimes create a wall between you and your betrothed.
Publicity
A wedding is a public vow, whether it be made in a private ceremony or in front of thousands, it is still declaring your commitment to the world. After the wedding, life settles down and it's easy to confine your marriage to your private life. Or, even worse, expose your frustrations with your spouse but keep mum about the joys. Even after the wedding, make a habit of speaking positively about your spouse and your marriage. Sharing this commitment publicly helps to keep it alive.
Fun
The best weddings are fun. They have a sense of levity and humor. Any mishaps are laughed about and the challenges are kept in perspective. That's pretty good advice for a marriage, as well. Not every day will be a party but you can strive to find humor and laughter in every situation. Find ways to bring excitement and fun into your marriage. The associated smiles are priceless.
I'm sure that the couple I overheard at Starbucks will have a lovely wedding. I just hope they have planned as thoroughly to have a lovely marriage.