Former President George H.W. Bush, the 41st U.S. president, will be buried in Texas on Thursday after lying in state and being remembered at several memorial services. One of those services on Wednesday was attended by President Donald Trump, all former living U.S. presidents, and world leaders.
As the nation prepares for Thursday's solemn ceremony to pay further respect to the late leader, here's an overview of planning for a presidential funeral.
Who gets a state funeral?
State funerals are traditionally reserved for a head of state, former president, or a president-elect, though living presidents can order one for anyone they see fit. They are not mandatory, and can be declined by the family.
Over the last three decades, there have been only three state funerals, for former presidents Lyndon B. Johnson in 1973, Ronald Reagan in 2004, and Gerald R. Ford 2007. Former President Richard Nixon, who resigned from office amid the Watergate scandal in 1974, opted not to have one in 1994.
The first state funeral was in 1841 for William Henry Harrison, the 9th U.S. president, who died in office 30 days after his inauguration.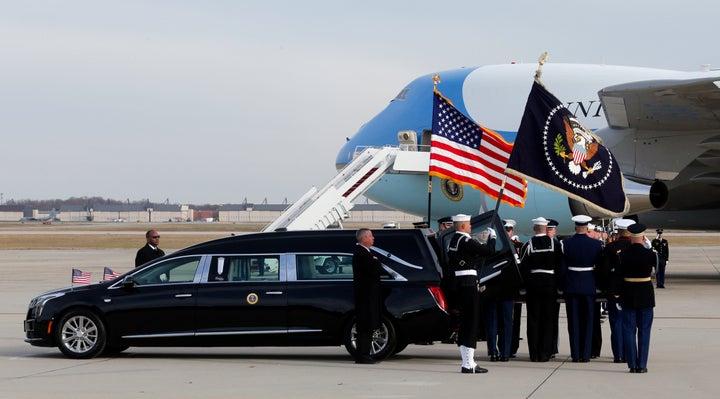 How long do they last?
Presidential state funerals can feature up to 10 days of remembrance, according to the Army's Military District of Washington, which is in charge of coordinating them. The White House says on its website that there traditionally is five days of remembrance. Each president has a say in planning their funeral, a task that begins shortly after they take office.
Bush's state funeral is scheduled to run from Monday to Thursday.
State funerals consist of three stages, according to the Military District of Washington. The first stage includes ceremonies in the state where the deceased lived, which in Bush's case was Texas.
The second stage includes ceremonies within Washington. Bush's casket was flown to the Nation's Capital on Monday evening and had been lying in state in the Capitol Rotunda until Wednesday morning, when a memorial service was held at Washington National Cathedral.
The third stage includes ceremonies in the state where the deceased has chosen to be interred. In Bush's case, there will be a memorial for him at St. Martin's Episcopal Church in Houston on Thursday. Following this memorial, he will be buried at the George H.W. Bush Presidential Library and Museum at Texas A&M University.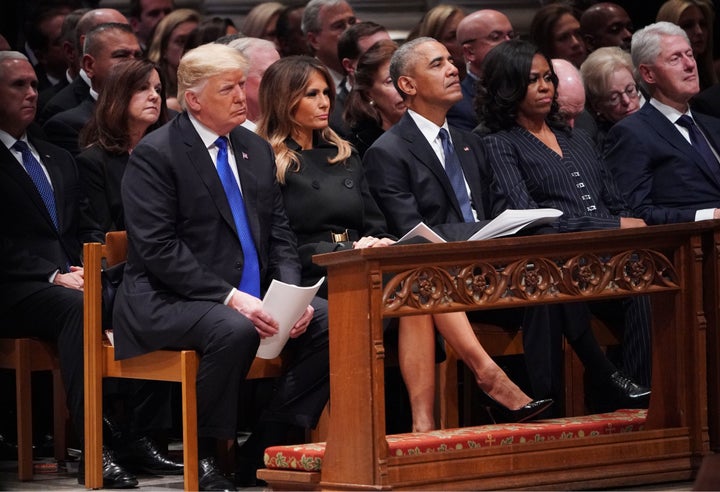 What is Trump's role?
As the sitting president, Trump has the responsibility of announcing presidential proclamations, one of which announced the former president's death. He then directed the Department of Defense to conduct a state funeral on behalf of the nation, according to the Military District of Washington.
Are there any other presidential proclamations?
Trump, on the same day that he announced Bush's death, ordered all U.S. flags to be displayed at half-staff at the White House and on all public buildings, grounds and military posts and naval stations for 30 days. This order is one of tradition, and typically begins on the day of the president's death.
Trump also declared Wednesday, when Bush's memorial service was held, to be a National Day of Mourning. This declaration shut down the federal government, allowing federal employees to take the day off out of respect to Bush.
Such proclamations aren't issued exclusively for the death of a president. A day of mourning was declared for the Rev. Martin Luther King Jr. in 1968, as well as in the wake of the Sept. 11, 2001, terrorist attacks.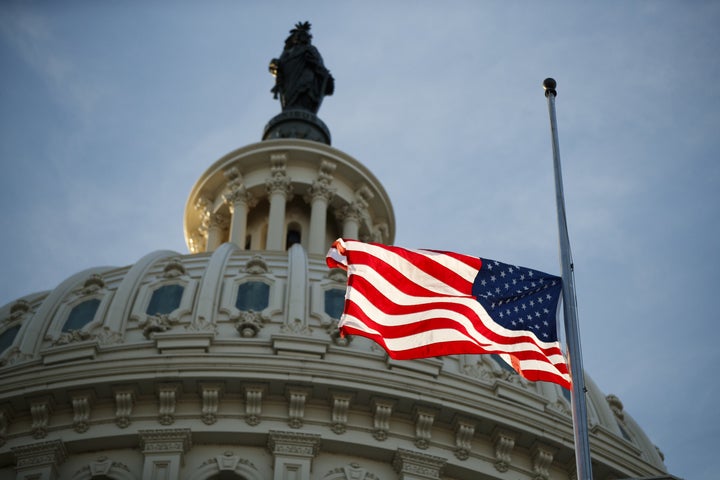 What is lying in state?
Lying in state is a public viewing held inside the U.S. Capitol Rotunda. The national honor has been given to only 32 people over the last 166 years. Only 12 presidents, including Bush, have received the honor, which must be approved by Congress and the deceased's surviving family. Bush lay in state from Monday evening to Wednesday morning.
During this public viewing, the president's casket is traditionally placed on top of a bier, called the Lincoln catafalque, that was built in 1865 to display Abraham Lincoln's coffin.
This viewing isn't exclusive to U.S. presidents, of course. Arizona Sen. John McCain lay in state after his death this year, as well as former FBI Director J. Edgar Hoover in 1972. Former Secretary of State Henry Clay was the first to lie in state in the Rotunda in 1852.
Four private citizens have also lain in the Capitol, in what's called lying in honor.
Those four individuals were the Rev. Bill Graham in February, civil rights pioneer Rosa Parks in 2005 and two police officers who were killed while protecting the Capitol in 1998.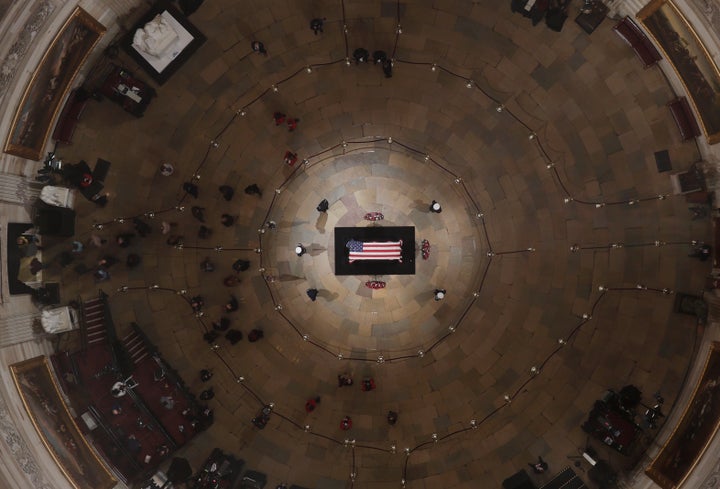 Where do the funerals and burials take place?
The National Cathedral in Washington, where Bush had his funeral on Wednesday, has hosted funerals for just three other presidents, including Dwight D. Eisenhower, Reagan and Ford.
Other presidents have had their funerals at churches where they worshipped. John F. Kennedy's funeral service was at the Cathedral of St. Matthew the Apostle. Lyndon B. Johnson's was at the National City Christian Church in Washington, where he worshiped while president.
Burial sites have included presidential libraries and private estates. Two presidents, John F. Kennedy and William Howard Taft, are buried in Arlington National Cemetery.
Bush will be buried in his family plot behind the George H.W. Bush Presidential Library and Museum at Texas A&M University in College Station, Texas.
CORRECTION: A previous version misstated the location of Woodrow Wilson's burial. He was buried at the National Cathedral, not Arlington National Cemetery. A previous version also listed Nixon's death as in 1974, which was the year he resigned. He died in 1994.