It's officially after Thanksgiving, and winter holiday preparations are in full-swing. A chill is in the air, Christmas trees are going up and twinkle lights are everywhere. If you will be throwing a family-friendly holiday party this year, consider including your kids in every step of the planning process and allowing them some input on crafts, food and decorations.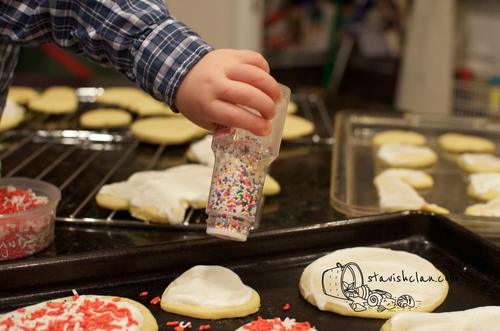 Kids love helping with holiday party planning!
Photo: Minidi Stavish, Stavish Stills
Renee Footer from Georgetown Parties in Washington, D.C. is an expert at planning children's parties and has some advice about making a holiday party that includes children special and successful:
• Even the simplest parties requires a lot of planning; the sooner you start organizing, the earlier the excitement begins and the fewer details you'll have to work out on the day itself. If you can, start planning six weeks in advance and make a week by week to-do list to keep yourself organized and on-track.
• Timing is everything, and the right time of day for a party depends on your child's age as does the length of the party and number of guests. For younger children, plan a shorter party and plan it around their nap times. Older children may enjoy a party later in the day.
• Setting and keeping a steady pace at a party is as important as hiring an entertainer, organizing games, the cake, the decorations, etc. You may want to do a dry-run of any crafts or activities you are planning to ensure you can create a good pace for your party. Writing down a timeline for the party itself can help ensure you keep up a good pace throughout the day.
Renee loves including children in planning:
Involving your children is a win-win situation, since children have a way of approaching new things with a sense of fun and adventure that can be refreshing for adults and rewarding for children to know they played an important role in planning their party.
• Children can be involved in making some food choices, from snacks to put into bowls to finger-foods that go along with a holiday theme.
• Make planning party activities a game. One of the most beloved aspects for any child on party day is the party activities. Your own child can be an excellent gage what may hold the attention of someone their age and what activities may not- let them pick what they want to do. Complete a couple of craft ideas with your child before the party to make sure you don't run into any unexpected issues the day of the party.
• Although not necessary, if you choose to offer favor bags, you can ask your child what they want to give as they will know what children their own age tend to love.
Holiday parties are a great way for children to create decorations that they can use in their own homes or gifts to give to friends and family. If you don't have a ton of time to plan a party, there are ways to keep things simple, including all-inclusive party boxes like those from Seedling. Some easy ideas for holiday parties are:
• Matchbox Gifts: The littler the better is the philosophy of these presents. The children can make a bunch quickly. Kids can give them to friends, classmates or teachers adding a small treat, such as a holiday note, candy or trinket. Each box is unique in its own way.
For a standard-size matchbox, cut a 33/4-by-2-inch band of decorative paper.
Glue band around box; you can attach more paper to box ends.
Embellish with string, stickers, or a thin strip of paper glued around box. Use your imagination!
Tomake a card to go inside, cut a 2-by-21/2-inch piece of paper, trim edges and fold in half.
• Pipecleaner Candy Canes: This easy activity is a great way to create Christmas tree decorations or gifts for little kids to give that they made completely on their own.
Use wire cutters or scissors to cut green pipe cleaners in half.
Slide one bead to the end of a pipe cleaner, turning the end around the
bead to keep it in place. Add beads, alternating red and white.
Turn the end around the last bead. Bend into a candy cane shape and hang on your tree or give as a gift!
• Reindeer Footprints: This is a great craft that can be used for cards or gifts to family members.
Paint the child's feet brown, have them step down on white paper.
Pick eye color and nose color and use thumb prints to make them.
Draw antlers and add anything else you would like to your reindeer to give them a personal touch!
• Snowglobes: The Christmas party box from Seedling contains all materials needed to make adorable snowglobes with tiny reindeers, evergreen trees, glitter and jars. This is a special craft that would make a great gift but that children might want to keep for themselves!
Of course it wouldn't be a party without food! Here are some fun ways to include the kids in food preparation. These could even be party activities as well.
• Build a Snowman: What could be more whimsical than a marshmallow snowman speeding down the drifts on a candy-cane sled?
Use knife or scissors to cut jumbo and regular marshmallows in half.
Use icing to attach a regular marshmallow head on top of a jumbo marshmallow body.
Use black edible marker to draw eyes, mouths, and buttons on snowman.
For the arms, break pretzel twists into pieces and insert ends into sides of body.
Break off hook part of candy canes so curve is mostly intact.
Use icing to attach candy canes side-by-side.
Add back support using icing and attach hard candy to back edge of sled. Let set, approx. 2 hours.
• Strawberry Santas: Strawberries and whipped cream are a classic. This great twist makes them perfect for a holiday party.
1 pkg (8 ounce) cream cheese, softened
3-4 Tbsp powdered sugar (or sugar substitute - to taste)
1 tsp pure vanilla extract
Rinse strawberries and cut around the top of the strawberry. Remove the top, (enough for a hat). Clean out the whole strawberry with a paring knife, if necessary. Prep all of the strawberries and set aside.
In a mixing bowl, beat cream cheese, powdered sugar, and vanilla until creamy. Add cream cheese mix to a piping bag or Ziploc with the corner snipped off. Fill the strawberries with cheesecake mixture.
Once strawberries are filled, top with the 'hats' - decorate the Santa faces with an edible and have fun with it! If not serving immediately, refrigerate until serving.
When planning your holiday party, keep some perspective and realize that not everything needs to be done from scratch. Everyone is busy this time of year, and there is no shame in getting a little help or buying some pre-made decorations or craft kits, especially if it will make it easier for kids to participate in planning. Seedling makes all-inclusive holiday party kits (with Christmas, Hanukkah and Winter themes) that children can easily help set-up a party using the supplies in the box that are adorable and include kid-friendly activities. Another way to keep things simple is to put out toys which kids can play with interdependently and which you probably already own. Having games like Simon Swipe for elementary aged children or Mr. Potato Head for younger children available will help keep kids occupied independently if any children don't want to participate in the activities you have planned with no additional planning or mess.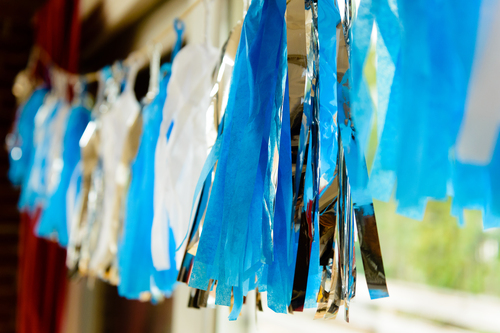 Simple, beautiful decorations kids can help make with a Seedling kit

However you celebrate the holidays be sure to include your kids and have fun!