You really did it this time... It doesn't matter if it was going away for a boys' weekend on her birthday or drunkenly flirting with her friend at a party, you're going to need to plan one hell of a Valentine's Day weekend to make up for your errant ways. (Note to my husband: if you did either of the above you would no longer be able to walk without assistance.) Luckily you have me - your romantic weekend fairy godmother - to point you in the all the right directions:
Lodging
Don't even think about skimping on accommodations for this trip. Go big or never go home again. B&Bs have thin walls and all the doilies and antiques tend to conjure grandmas instead of romance. Big hotels are noisy and annoying.
Be a big boy and book the Calistoga Ranch, the crown jewel of wine country lodging. Located in a private canyon over 157 acres, this resort caters to Hollywood and Silicon Valley royalty for its ultra-private accommodations. With only 50 freestanding lodges, even at full capacity you and your lovely will feel like you have the whole place to yourself.
And let's talk about the rooms... We can't even call them rooms. They are fancy indoor-outdoor lodges.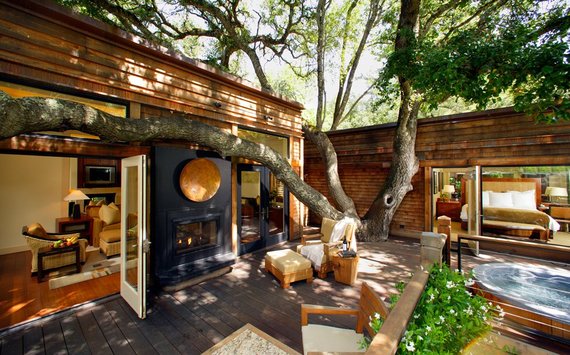 Photo courtesy of Calistoga Ranch
When I stayed there with my husband (no, my husband didn't f-up; we were celebrating our 5-year anniversary), our lodge was built around two beautiful oak trees. From the outdoor shower and huge soaking tub to the indoor-outdoor fireplace, the lodge was jaw-dropping rustic luxury.
Lucky for you, the Calistoga Ranch put together quite the romantic little package for Valentine's Day. Called the "Rekindle your Romance" package (how fitting; it's like they knew you f'd up!). You get "two nights in a one-bedroom lodge with fireplace and king bed, a bottle of Calistoga Ranch Cabernet and chocolates, two 60-minute in-lodge spa treatments, romantic candlelit dinner for two, and daily breakfast in bed." Boom. All this package is missing is your deep-hearted apologies for you wronging the woman in your life. Package is $1,447 per night. calistogaranch.aubergeresorts.com or 866.484.8829
Don't expect to wow your lady with visits to the crowded big wineries, where she will have to dodge drunken tourists to get a sip of wine. Make it seem like you did tons of research and spoke with insiders to come up with your itinerary.
Assuming you are coming from the Bay Area, route your trip through Sonoma to hit a couple good wineries on your way to the Napa.
When you make that magical turn off the highway and rolling hills of vineyards suddenly surround you, you know you won't be far from Viansa. Built on a hilltop, overlooking postcard-worthy wetlands and hills, Viansa serves up some delicious California-centric wines. What makes Viansa a "can't miss" in your apology weekend is the Private Outlook Tasting - a flight of reserve wines served with locally-sourced cheeses in your own private outlook cabana. Tip: Join the wine club and the tasting will be free. Private Outlook Tasting is $75 pp. Reservations are required: www.viansa.com/booking or 800.995.4740 ext.5.
Visiting the Cuvaison Carneros Tasting Room feels like you're sipping wine at a famous producer's modern abode (without the obnoxious models and actresses milling about). Wall-to-wall windows allow you to enjoy your yummy wine while taking in Cuvaison's vast vineyards. Even if you tasted these wines in a locked closet, you wouldn't want to miss their classic Carneros chardonnay and Diablo Syrah (my favorite red in the world). Tastings are $20 pp. Reservations are required: www.cuvaison.com or 707.942.2455.

This is basically the pièce de résistance of Napa wineries. Nestled in the exclusive Oakville region of Napa, known for producing some of the finest Cabernet Sauvignon in the world (it's all about the red rock), Gargiulo Vineyards only produces about 900 cases annually of each of its premium wines. Any true wine connoisseur is on the short list (or waiting list) to receive Gargiulo's most sought-after vintages. The tasting experience is as special as the wine - enjoy a yummy food pairing with your flight in the eclectic winery (reclaimed wood flooring from a 1950s Napa gymnasium; chandeliers crafted from wine barrels), stroll through the aisles of deliciously scented wine-filled oak barrels, and learn about what makes the red rock vineyards so unique. Tip: Really impress your lovely lady by purchasing a bottle of the celebrity cult-favorite all-natural face serum Vintner's Daughter. You guessed it -- Vintner Jeff Gargiulo's daughter April created this magical serum from 22 of the most active organic and wild crafted botanicals.
Eats
Wine Country is known for its delicious cuisine as much as its wine. It's tough to go wrong. My only advice is to skip the fancy lunches -- save your time and money and enjoy some of Wine Country's yummiest quick service spots.
Addendum
This is Thomas Keller's version of a boxed lunch shack. Best. Fried. Chicken. Ever. The problem is they are closed until Spring so you are out of luck unless you plan your trip for later in the year, but I had to mention it. http://www.thomaskeller.com/addendum

Oxbow Market
Similar to the Ferry Building in San Francisco, this marketplace is chock full of delicious eats. From the charcuterie at The Fatted Calf to the sushi at Eiko's, you could basically eat here every day for a week and never get bored (you may get fat; but at least you won't be bored). www.oxbowpublicmarket.com.
Red Rock Café & Backdoor BBQ
Located in the town of Napa, you and the lady can stroll through the streets - window-shopping (your favorite!) at all the cute boutiques and end up at this BBQ bonanza. Now everyone's happy. Don't miss the ribs and garlic fries. Yum. www.backdoorbbq.com
Lakehouse Restaurant at the Calistoga Ranch
Don't miss the breakfast bonanza - think house-made brioche French toast and huevos rancheros. And, their dinner was so good my husband and I canceled our other dinner reservations and ate there both nights. And honestly, who wants to drive after a day of tasting? My husband and I are just waiting for Executive Chef Bryan Moscatello to go on Top Chef or Iron Chef to kick some ass! http://calistogaranch.aubergeresorts.com/
Now, go repent fellas.... Don't screw up and ogle a waitress, and watch the alcohol intake if you turn into a mean drunk. Enjoy!
Related