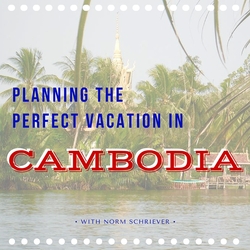 Cambodia is fast becoming one of the most popular Southeast Asian travel destinations, with its venerable temples, vast jungles and coastlines, cosmopolitan capital city, and smiling, genuine people. Some travelers come to Cambodia for their entire trip, while others have only a two-day jaunt in the country from neighboring Thailand or Vietnam. No matter if you have 48 hours in country or an entire month to explore, Cambodia won't disappoint.
For the sake of the average tourist, I like to break down Cambodia into four zones: Siem Reap, Phnom Penh, Sihanoukville, and Kampot/Kep. If you only have a few days in Cambodia you could probably tackle two of these locales, and cram all of them into a fast-paced week or ten days (though you'll want to stay much longer!)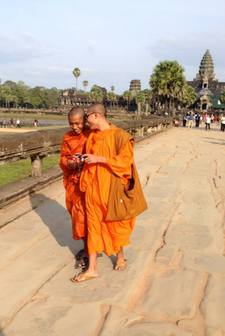 1. Siem Reap
At a glance:
Siem Reap is a sun-baked and charming small city in northern Cambodia, home to Angkor Wat, epicenter of the Khmer kingdom from the 9th-15th centuries. Angkor Wat remains the largest religious monument on earth, a Wonder of the World and UNESCO World Heritage site. You could explore the breathtaking temple complex around there for days, including outlying temples like Angkor Tom, but Siem Reap isn't just about the temples. The Pub Street area comes alive at night amid colonial architecture, endless restaurants, and bustling night markets. You can rent a bicycle and explore (but wear sunglasses and a scarf or mask for the dust), and even connect with locals by visiting the wonderful CIO orphanage on the outskirts of town.
Minimum time to stay:
If you had to, you could see Angkor Wat and the highlights of Siem Reap in just two days and one night.
Where to stay:
There's an abundance of nice hostels, guesthouses, family and boutique hotels in Siem Reap. I find a lot of value in the $25-$40 hotel range and I highly recommend getting a place with a pool since it's always hot there. For those who want to live it up or travel often for business, a state-of-the-art luxury Marriott is opening soon.
Getting there and away:
The bus ride from Phnom Penh and further points is not fun, as it can take seven hours or longer. Instead, I recommend taking a flight from Phnom Penh or Sihanoukville. They aren't listed on most airfare sites but local carriers Bassaka Air and Cambodia Angkor Air fly several times a day and usually for $80 or less. Just pack light, because extra luggage will cost you a premium on the small planes that make the hour-long hop.
Siem Reap is also an ideal spot to fly in and out of internationally, often less expensive that flights in the capital city, Phnom Penh.
My tip:
If you have the time, take a trip to the floating villages on the nearby Tonle Sap Lake. However, the two popular villages where taxi drivers and tour companies always take visitors are way too touristy, staged, and pushy for donations - and sometimes even scams. Instead, visit the less popular floating village of Kompong Khleang. It's a little further out but well worth.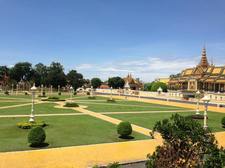 2. Phnom Penh
At a glance:
Before their brutal civil war and Khmer Rouge regime, Phnom Penh was a cosmopolitan and thriving city, often called "The Paris of Southeast Asia." Now, Phnom Penh is once again gaining a reputation as one of the best cities in the region. The majority of tourists visit the Royal Palace, Killing Fields and other cultural attractions, but I also covered what to do and see in Phnom Pen extensively in this article.
Minimum time to stay:
Many tourists just fly in or out of Phnom Penh, but I recommend at least a full day and one night. It's a great place to recover from your jet lag and immerse yourself in Cambodian life before pushing off to explore the rest of the country.
Where to stay:
A lot of the hotels on or near the riverside and bar streets get a little noisy and unsavory at night, so I like the smaller hotels on nearby 184 Street, like the G11 Hotel or Plantation, one of the city's hidden treasures.
Getting there and away:
There are plenty of flights in and out of Phnom Penh's newly expanded airport - just leave extra time to get to the airport during high-traffic hours. Almost every hotel, tourist shop and travel agent can arrange bus tickets around the country or to Ho Chi Minh or Bangkok, but if you have more than one person traveling, I highly recommend taking a private car.
My tip:
They may tug on your heartstrings, don't give money to the beggars and street kids along the riverside and at tourist sites - it only perpetuates the cycle of their dependence and many of them are actually put out there by victimizing adults or gangs. Instead, visit legit NGO organizations like the Connecting Hands Café, Yoda Craft, the Sunflower Orphanage, or one of many others.
There are so many good restaurants, but I wouldn't recommend eating the street food. Despite its poverty, Phnom Penh is a relatively safe city, but purse and camera snatching from passing from passing motos has become more common.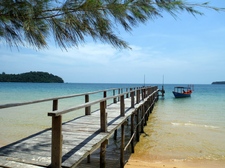 3. Sihanoukville
At a glance:
Sihanoukville (nicknamed "Snooky") is a southwestern province known for its natural beauty. Unfortunately, the town of the same name - particularly Serendipty Beach - has attracted the wrong kind of tourism: partyers and drunk backpackers that attract the wrong element. The town and beach are pretty dirty and the beach is definitely not safe at night.
But don't worry - only 15 minutes outside of town, the laid-back beach communities of Otres I and Otres II are far more enjoyable for a family or couple traveling. And Snooky is the jumping-off point to get to the beautiful islands of Koh Rong and Koh Rong Sanloem, less than 12 miles off the coast.
Minimum time to stay:
If you're going to hit the islands, you'll probably want at least three days for the total trip so you're not rushing.
Where to stay:
In Sihanoukville, I love The Reef, a resort with a great restaurant, pool, nice rooms and a good vibe.
Make sure to book your accommodations on Koh Rong or Koh Rong Sanloem well ahead of time. Remember that things are a lot simpler on the islands, so you'll probably make due with a beach bungalow with a fan and a mosquito net, sporadic electricity, and limited or no Wi-Fi in places. Bring your own sunscreen, insect repellant, and seasickness meds if you need them.
Getting there and away:
There are plenty of buses and vans to and from every part of Cambodia, and Sihanoukville has its own airport for convenient flights to Siem Reap or Phnom Penh.
My tip:
Koh Rong attracts many of the same partying backpackers as Serendipty Beach, while Koh Rong Sanloem is far more mellow and quiet for nature lovers. If you don't have time for a full island overnight stay, you can rent a boat and explore some great islands with a day trip.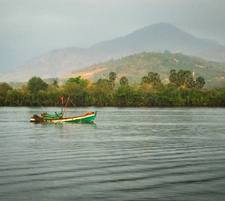 4. Kampot and Kep
At a glance:
Two of my favorite destinations in Cambodia are Kampot and Kep, super chill towns about midway between Sihanoukville and Phnom Penh. Kampot is right on the river, with bohemian expat bars, faded colonial architecture, and night markets in its rustic streets. You can kayak or take a sunset boat tour, visit local pepper farms, or just jump in the river and swim to your heart's content.
Kep - only a 20 minute ride from Kampot - is a seaside hamlet with its own serviceable slice of beach. But the best part of Kep is the relaxed vibe; the only village I've seen where the center of town has an open-air pavilion with dozens of hammocks for anyone to use. Kep is famous for its crab and there are plenty of vendors grilling local crab, squid, and fish, which they'll serve to you with a fresh coconut and a smile. I also love the butterfly farm outside of town, and you can rent a moto and take a scenic ride up to the top of Bokor Mountain.
Minimum time to stay:
Although a longer stay will be far more relaxing, one night in Kep is sufficient, while you'll love one or two days in Kampot.
Where to stay:
Venture out from the center of Kampot and stay at one of the bungalows, lodges, or nature resorts that line the river. I like staying in the area of Villa Vidici and Les Manguiers.
In Kep, The Beach House is nice and right by the beach, and the Veranda Natural Resort is on a gorgeous hillside property on the outskirts of town.
Getting there and away:
People usually visit Kampot and Kep on their way to Sihanoukville or on their way back to Phnom Penh, breaking up the ride. You can easily take a bus or van either way, and a private car ride back to the capital should only cost you $35 or so.
My tip:
Turn off your phone, forget about work, jump on a hammock in the breeze, order some fresh Cambodian seafood, crack open a cold Cambodian beer and CHILLLLLL! I promise that you'll remember this moment for a long time!
***
Email me if you have any questions about visiting Cambodia, including places to go and things to do if you have more than a week or two.