George Harrison was quick to remind fans that without blues pioneer Lead Belly "there would be no Beatles."
Born on a Louisiana plantation in 1889, Huddie William Ledbetter, the man who would become the folk icon Lead Belly, is still inspiring and enchanting artists, although he died penniless and without the acclaim his name commands today.
Recently at the Kennedy Center in Washington, Led Zeppelin's Robert Plant led a wide cross-section of musicians in a concert tribute to mark the 125th anniversary of Belly's birth.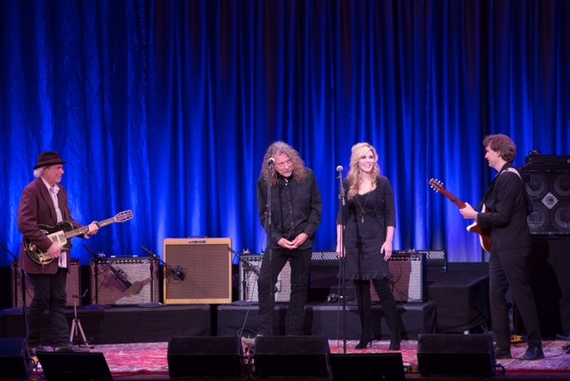 "We're the ne'er do well Lead Belly fan club," joked Plant, who was joined by Alison Krauss, with whom he collaborated on the bluesy, critically-hyped album, Raising Sand.
Folk singer Dom Flemons referred to Belly as "the Rosetta Stone," because his unique fusion of working man lyrics and 12-string guitar ushered in the British skiffle movement in the 1950s.
Jimmy Page, Keith Richards, and Eric Clapton learned skiffle music on their first guitars as pre-teens, later basing their bands on the sound established by Belly and Muddy Waters in the Delta.
"I didn't know where Alabama was before Lead Belly, "explained Plant. "Instead of imitating sleazy American pop, we took from sleazy, greasy blues."
Plant and Krauss performed "Gallows Pole" at the Kennedy Center, from Zeppelin's largely acoustic third album. The solemn, earnest ballad was originally "The Gallis Pole," recorded by Lead Belly in 1939.
Grammy Award-winner Lucinda Williams sang "Rock Island Line," a popular skiffle hit by Lonnie Donegan, which Page, the founder of Zeppelin, has credited with being one of the reasons he picked up a guitar.
The song was first popularized by Belly in the 1940s.
Lead Belly's reach also extended to fellow Americans like Bob Dylan, Janis Joplin, and Kurt Cobain, whose band, Nirvana, performed Belly's "Where Did You Sleep Last Night" on their final 1993 Unplugged show, although, as a black man, he was treated as a second class citizen in his own country.
Singer Josh White Jr. first met Lead Belly when he was a child, and reminded the audience of the discrimination he faced, even in the nation's capital.
When Lead Belly visited Washington in 1937, he and his wife encountered Jim Crow laws and were denied rooms at local hotels.
White sang "The Bourgeois Blues," a song written by Belly in response to his treatment.
Lead Belly died in 1949 of Lou Gehrig's disease. Within six months of his death, the classic "Goodnight Irene" was a number one hit.
Lead Belly was inducted into the Rock and Roll Hall of Fame in 1988, and was honored with a postal stamp ten years later.
His recordings are preserved by the Library of Congress.
The concert artists ended their tribute by singing "Irene" with members of his family onstage.
Calling all HuffPost superfans!
Sign up for membership to become a founding member and help shape HuffPost's next chapter