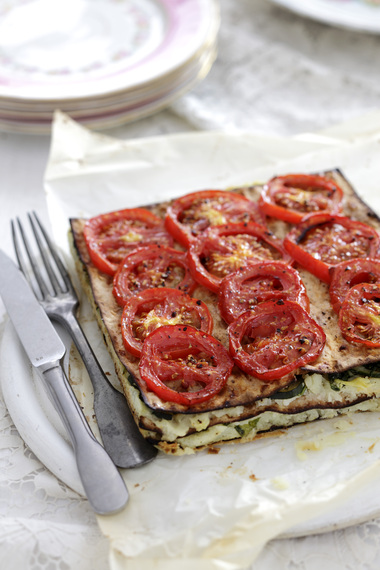 Mina -- spinach pie -- is a Sephardi Jewish dish that is a Passover favorite.
I've adapted a traditional mina recipe with healthy ingredients that are all plant based.
This layered mina combines savory mashed potatoes with sautéed zucchini and kale for a satisfying Pesach dish.
This dish is the size of one matzo sheet. If you're planning on serving this dish to four people or less, make one.
For more than four people, make two separate minas. To keep it pretty (and for serving ease), make them separately in two baking dishes.
4-quart saucepan
Large skillet
8" x 8" baking dish
6 medium size red skinned potatoes, peeled and cut into chunks
Cold water
Sea salt
¼ cup vegetable broth (or water)
¼ teaspoon black pepper
2 cloves garlic, minced (increase amount if desired)
1 large zucchini, sliced into half moons
6 large kale (or spinach) leaves, torn into bite-sized pieces
4 whole grain matzo sheets
3 ripe tomatoes
Parsley sprigs for garnish
Place the potatoes and cover with cold water
Add 1 teaspoon of sea salt
Bring to boil over medium high heat, and cook until the potatoes are fork-tender
Drain
Mash, adding enough vegetable broth to achieve a smooth consistency (somewhere between mashed potato and pureed potatoes)
Season with additional sea salt add black pepper, to taste
Preheat the oven to 350 F.
Heat vegetable broth (or water) over medium high heat.
Add the garlic and stir for 2 to 3 minutes.
Add the zucchini and kale leaves and a few pinches of sea salt.
Cook covered until the vegetables are tender, adding a little extra vegetable broth if needed to prevent sticking
To prepare the matzos sheets:
Soak them in a bowl of vegetable broth just long enough that they begin to soften (paying attention that the matzo does not get soggy)
Lightly oil the baking dish
Place a layer of matzo on the bottom
Spread evenly with about 1 ½ cups of the potato mixture and half of the zucchini mixture
Top with another matzo layer
Repeat layering using all 4 matzos and potato mixture
Cover the top matzo with thinly sliced tomatoes
Bake for 30 minutes
Cool for 15 minutes before cutting and serving
Garnish with parsley
*Pesach traditions vary widely, and some foods are eaten only in some communities on the holiday. This menu assumes the broadest definition of Kosher for Passover ingredients.