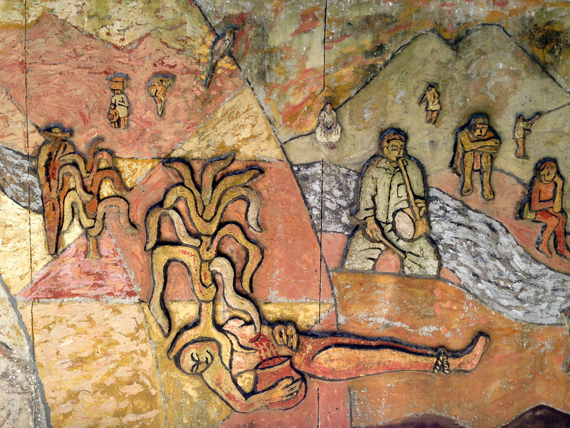 Juan Carlos was born in El Salvador in September 1979 just before the horrific civil war broke out that killed thousands of innocent lives and displaced countless more. By age three his mother, forced to flee the violence plaguing her rural town, made the excruciating decision to leave him with family friends because he was too small to make the journey to neighboring Guatemala where she planned to seek work.
Not long after his mother left him, when their own living conditions became too dire, those entrusted to care for Juan Carlos placed him in an orphanage. Mercifully, near his fourth birthday, Juan Carlos was adopted by a North American family in Virginia, grew up, and tried to lead a normal life. Yet like many adoptees, Juan Carlos' life was punctuated by a deep yearning to understand his past. This -- coupled with the fact that he realized he was gay -- made for a challenging adolescence. Still, defying the odds working against him, Juan Carlos grew to be a strong, grounded, and loving man. I should know; we've been the best of friends for more than 10 years.
A unique opportunity served as the vehicle through which Juan Carlos would make the decision to return to El Salvador for the first time since his adoption. I invited him to join me for a weeklong pilgrimage and field course focused on the intersection of El Salvador's complex history and the ongoing human rights struggle for its lesbian, gay, bisexual, and transgender (LGBT) community. My participation in the course was on behalf of Washington National Cathedral and its global LGBT outreach and advocacy efforts.
Organized by Foundation Cristosal, a faith-based NGO in San Salvador, more than a dozen North Americans from all different parts of the U.S. -- including Bishop Gene Robinson -- came to learn more about how the Episcopal-Anglican Church of El Salvador came to welcome fully the LGBT community through its Sexual Diversity Ministry. Thanks to the prophetic vision of lay leader Cruz Torres, who originally proposed the formation of the LGBT ministry, and the brave leadership of Bishop Martín Barrahona, who supported its formation, the Church in El Salvador's Sexual Diversity Ministry has grown to more than 100 members over the past seven years.
That any church these days would take the step toward full inclusion of the LGBT community is courageous. That the Salvadoran Episcopal Church's Sexual Diversity Ministry even exists is a miracle to behold. Because while the movement toward nationwide marriage equality marches forward in the U.S., the very lives of LGBT people across the world hang in the balance. Despite some progress, the Salvadoran LGBT community faces daunting realities. According to a July 2012 University of California, Berkeley, School of Law report on the human rights situation of the LGBT community in El Salvador, hate crimes toward LGBT people by individuals, gangs, and even police run rampant, while the murders of transgender people simply go uninvestigated. (See Bishop Robinson's Daily Beast column that expands on the violence toward transgender people in El Salvador.) And all of this occurs under the historic veil of systemic violence stemming from the bloody civil war that took an estimated 75,000 lives.
For Juan Carlos, returning to his native country within this course's context was a healthy way to rediscover his past and learn about his culture. One of the highlights of the week was a public screening of the Human Rights Campaign Foundation's short documentary, Before God, We Are All Family. This was the second time that HRC brought its "A La Familia" program to Central America to help begin a dialogue about LGBT acceptance from both a Christian and family context.
A huge success by any count, the event was attended by the U.S., Canadian, and German ambassadors to El Salvador and received significant media attention -- thanks in no small part to Bishop Robinson's participation. Most importantly, though, Cristosal and the Anglican-Episcopal Church of El Salvador's message that LGBT people are loved equally by God for who they are was heard by thousands of people across the nation.
Throughout the week, both Juan Carlos and I felt such a strong personal connection to members of the Salvadoran LGBT ministry. I also felt that all of my brothers and sisters at the National Cathedral's LGBT ministry group were connected to the Salvadoran community. Juan Carlos and I both wondered too, what would his life have been like had he grown up and lived in El Salvador as a gay man? As many problems as there are facing the LGBT community in El Salvador, the members of the Church's LGBT ministry give me hope that for those seeking a safe space to live out their faith, they have somewhere to call home.
One of the most unexpected of places provided for many of us a special encounter with the importance of our mission. The Christian community of the poverty-stricken San Ramon neighborhood of San Salvador worships without clergy each week and is made up of many family members of people lost during the war. As guests, none of us expected to share the reason for our visit to El Salvador when we stopped by for a Sunday worship service. But without planning to, Josefina Beecher, the woman from our group chosen to introduce us to the congregation (herself an Episcopal priest) shared with them that we were all here to accompany members of the LGBT community and the human rights struggles they face in the country. And so she had "outed" us before the service even began.
The Gospel lesson for the day was Jesus' parable of the sower. In lieu of a sermon, there is an open time for reflection from any member of the congregation. I was stunned when one of the women present spoke up and thanked our group for being there and offered words of support for the LGBT community. Then another did the same. Then one of the leaders of the church shared that she had a gay son, and that their congregation had begun to meet with a group of lesbians and had welcomed them to their community. Eventually more than half a dozen people, including a couple of men, spoke up to offer us their thanks and support.
In the parable, Jesus tells his disciples about the many seeds that didn't take root in rocky soil or that were caught in thorns. But he tells us, too, that "other seeds fell on good soil and brought forth grain, some a hundredfold, some sixty, some thirty" (Matthew 13:8). At the end of the week, we all asked ourselves, what kind of seed will I be? For Juan Carlos, the week revealed a sense that he was being called to service. Bearing witness to stories other than his own and meeting such remarkable activists and survivors, he found peace and was inspired for action. For me, it was the Salvadoran people and especially Juan Carlos himself whose resilience and strength will always remain an inspiration.
Calling all HuffPost superfans!
Sign up for membership to become a founding member and help shape HuffPost's next chapter