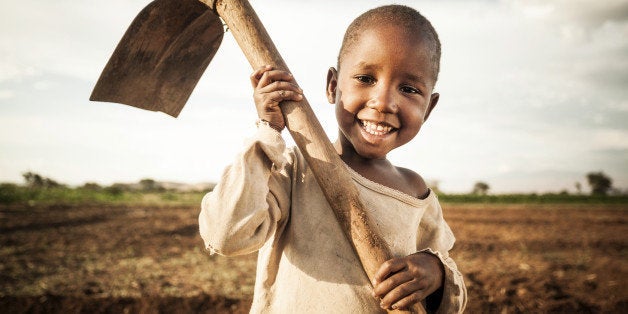 She is the face of the African farmer: The hardworking woman with a child on her back, tilling the land with a hoe to harvest barely enough to feed her children, who she worries do not get enough to eat.
To secure this commitment, the Africa Union declared 2014 to be the year of agriculture in Africa, with a goal of increasing food productivity through agricultural growth. This promotes use of high yield seeds, soil sciences and appropriate technologies while generating demand for agriculture produce markets. In principle, anticipated agriculture growth is expected not only to increase food security but also through poverty reduction improve Nutrition at the households' level.
Nigeria's agricultural transformation agenda, aimed at rapidly transforming the value chain from farm to the table, serves a good model for other African countries. The country has added more than 20 million metric tons of food to domestic supply and created 3.5 million jobs in agriculture. Once the second largest importer of rice in the world, Nigeria is now on track to become one of the largest rice exporters.
But quantity of production is only half the story.
Sub Saharan Africa continues to face the highest level of hidden hunger, which is often overshadowed, but devastating. Southern Tanzania, for example, despite ranking high in food production, also ranks highest in malnutrition. Productivity will not solve this paradox alone.
While great strides have been made to feed the world through the green revolution, 805 million people are still chronically undernourished because they either don't get enough to eat or they eat empty calories. In 34-35 percent of deaths among newborns and young children, malnutrition has been cited as the underlying cause. Africa has the highest prevalence of stunting and micronutrient deficiencies in the world.
The minimum 42 nutrients that we need cannot come from maize alone, or any of the staple foods that we have emphasized in the recent past. We need to diversify crops and ensure the availability of nutrient-rich foods, including fruits and vegetables. This requires agriculture programs which incorporate nutrition components in setting and evaluating global targets.
What are the challenges and how can we overcome them?
Women's empowerment is also important for global food security. According to the FAO, if women had the same access to productive resources as men, they could increase yields on their farms by up to 30 percent, which could reduce the number of hungry people worldwide by up to 17 percent. Let's not forget access to health services like family planning, maternal and child health and education are inseparable when it comes to women's empowerment and food security.
Perhaps the greatest challenge family farmers' face in today is climate change. Climate change will not only lower crop yield, but increase food prices and cause a surge in malnutrition.
The 2014 African Agriculture Status Report, warns that 90 percent of Africa's smallholder farmers rely entirely on rainfall to grow crops. As rains become more irregular, harvest of maize, for example, could fall by 18 percent by 2020 in southern Africa; with South Africa and Zimbabwe incurring losses greater than 30 percent. The African Union led Africa Climate Smart Agriculture Alliance, which seeks to bring climate-smart technologies to 25million farmers in sub Saharan Africa by 2025 is on a hunt for technologies that will help African farmers adapt to climate change.
Research and innovation is critical. Investments in global agriculture research and development are around US $40 billion, with only 6 percent being accounted for Africa. Cutting edge agricultural science is common in developed countries, but rare in Africa. If African governments are serious about emphasizing nutrition and eliminating hunger, then let's all be clear that agriculture and nutrition sciences are too important to be outsourced.
To be sure, many still question whether investments, expanded subsidies, and financial credit to support family farmers' crop diversity are unsustainable. But hunger and poverty are also unsustainable. Today, Africa relies on a total of US$35billion in food imports every year.
Africa does have the potential to feed the world. But to do so, we need both increase productivity and improve basic nutrition and health. Beyond the high yield, diseases, pests and draught resilient seeds; we need ones that produce nutrient rich harvest. The time to plant this seed is now.