At the first of 23 preview showings for the new documentary PlantPure Nation on Saturday, two of the stars made it clear that they were the Davids to the Goliaths of Big Food, Big Medicine, and public ignorance crafted by corporate greed. The documentary follows them and another advocate of whole foods, plant-based eating as they lobby the Kentucky legislature and run a series of short eating trials in a small North Carolina town.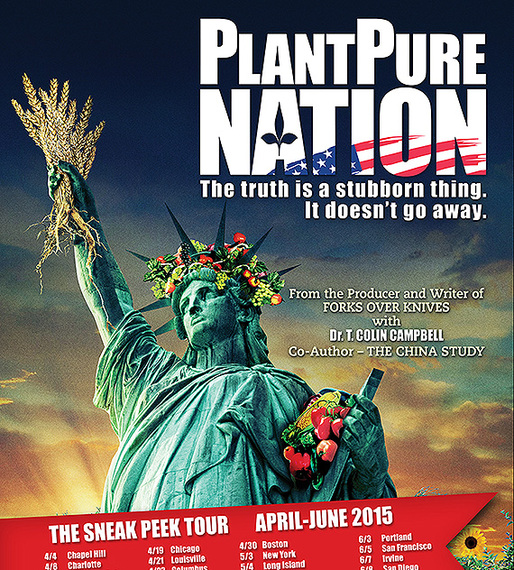 These rebellious heroes are fighting for your right to know that eating mostly plants can prevent and even reverse heart disease, cancer, obesity, diabetes, and sexual dysfunction. Dr. T. Colin Campbell wrote The China Study and stars in the documentary Forks Over Knives. His son Nelson Campbell led the eating trials in nearby Mebane, North Carolina. Both men worked with Representative Tom Riner of Kentucky, who was not at the screening in Chapel Hill, on legislation to improve health and support family farms in Kentucky.
Dr. Campbell outlines the battle field well when he says:
Our system is about gaining wealth for the few at the expense of the health of the many.
These modern Davids chose hard battles. Getting a few hundred people in a university town to eat healthy vegan food for ten days might not be a big deal, but doing it in "more mainstream" Mebane, North Carolina, is a big deal indeed. The documentary notes that Mebane is in the middle of the barbeque belt and the stroke belt. No doubt it was harder to lobby the Kentucky legislature than ones in California or Vermont. Some of the best laugh lines came as politicians tried to satisfy their donors despite scientific evidence.
We see an unusual level of diversity in the eating trials. Participants had a broad range of professions and skin tones. One of the best scenes features a sermon on healthy eating given by a black minster. Hallelujah!
I hope the final cut mentions the long-term effects of the eating trials. How many participants still eat a whole foods plant-based diet now that they have to cook or buy meals themselves? Does the business that participated now serve veggie lasagne and hummus in its cafeteria? Do the churches that joined in have more three-bean salad than fried chicken at their picnics?

Call to join the movement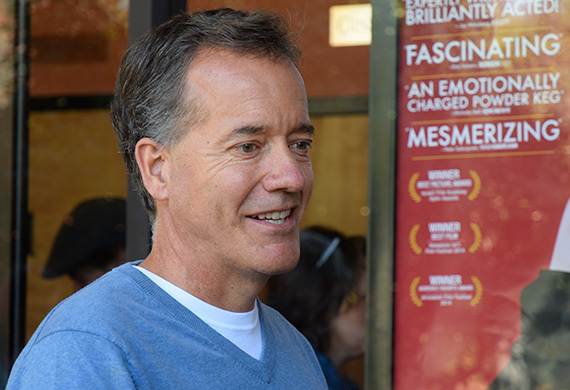 During the Q&A after the film, Nelson Campbell (shown above) encouraged us to join the PlantPure Nation movement. He envisions a grassroots movement, with local "pods" of supporters creating local initiatives and sharing their experiences with the network. Larger efforts will be developed by the PlantPure Foundation. For example, the PlantPure Oasis program that will work with church partners to make healthy, affordable meals available in low-income areas.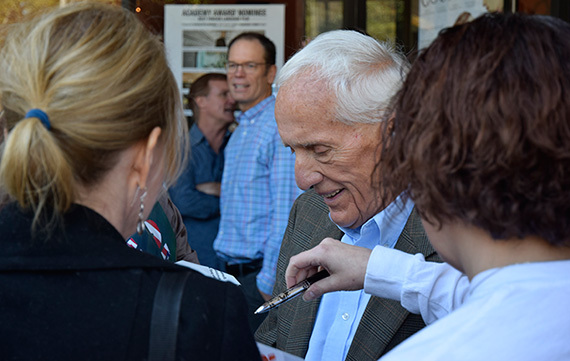 His vision might work. After all, 160 people came to a noon showing on the glorious spring day before Easter. So many people came that the Chelsea Theater showed it on an additional screen. As I squeezed down a packed hallway before the show, I passed a young woman in shorts giving Dr. Campbell (shown above) an earnest two-handed handshake and telling him, "You changed my life." I had to nod: he changed mine too, convincing me to drop eggs and dairy from the Cook for Good menus back in 2011.
But for the PlantPure Nation to work, the movement needs teach people how to cook. Even experienced omnivore cooks need to learn new techniques if they want to cook scrumptious meals based on vegetables, fruit, whole grains, and nuts with little or no added sugar or oil. I meet many people in my cooking classes who don't know how to wash greens or bake a potato.
Nearly all of the cooking in the movie was done by chefs preparing large quantities of food for the eating trial. The material is there: the documentary's companion is the PlantPure Nation Cookbook by Nelson's wife Kim Campbell.
I checked Yelp after the documentary to see if Mebane has any vegan-friendly restaurants. No, it's still firmly in the barbeque-and-stroke belt. Clearly anyone in Mebane who wants to continue eating the PlantPure way needs to cook for themselves. Home cooking is vital even in vegan paradises like Asheville or Seattle. Cooking costs less and is more sustainable than going out to eat or buying packaged prepared food.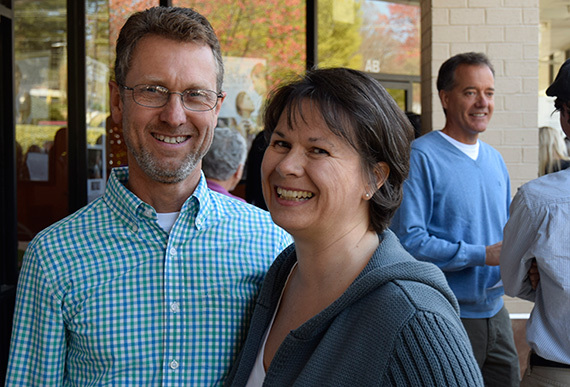 At the screening, I sat next to the couple shown above who also think cooking is key. Ryan and Jamie Weeks have eaten a mostly a whole foods plant-based diet for three years, even though they are raise livestock. (They run an independent family farm and, being in their fifties, don't feel they are in a position to change.) Jamie told me they would never go back to eating meat and Ryan agreed. She said:
The cleaner you eat, the better you feel.
Ryan said Jamie's tasty cooking made it easy for him to adopt a plant-based diet. Jamie said she'd rather eat her own cooking than go out, although they enjoy visiting vegan and ethnic restaurants. Adapting to plant-based cooking made her try "more spices, more fresh food, and cook dishes that had more nuance."

See the documentary and learn more
The website PlantPureNation.com has the scoop on finding a screening, hosting a screening, the May 9th rally in Washington D.C., and of course joining the movement. The theatrical release is fittingly timed for July 4th, Independence Day.
PlantPure Nation poster used by permission. Text and photographs by Linda Watson (c) 2015 Cook for Good, used by permission.
Support HuffPost
The Stakes Have Never Been Higher
Popular in the Community