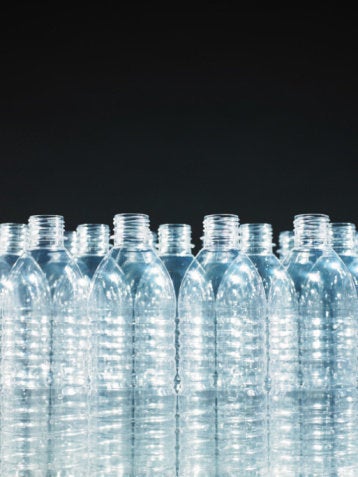 Who knew that I could write a blog series around the 40th anniversary of Earth Day about plastic activists and include corporations? It might be surprising to some that corporations aren't always just about making money. Well, perhaps they are. But, is it bad when their profits can be increased by do-gooder activities? And, what if they're not even motivated by dollars but just by doing good? As part of the anti-plastic activist series for the Save My Oceans campaign, these corporations are boldly opting out of pleasing the customer and opting in to pleasing the planet.
1. Whole Foods: Although this company was founded by a libertarian global warming denier, they're moving in the right direction on plastic bags. While the rapidly expanding upscale organic markets aren't found in every corner of America yet, you definitely won't find their plastic bags in any corner. That's because the company banned plastic bags at its check-out counters two years ago and switched to Forest Stewardship Council certified paper bags last year. If you bring your own bag, you get a nickel off of your whole bill, which won't offset their high prices but is still the right thing to do.
2. Chico Bag: This is a company that is about changing the world, one bag at a time. Chico bags are the durable compact bags made from recycled plastic that can be stuffed into your back pocket. All good stuff, but to top it off, the company is a leader in the anti-plastic movement. They've spearheaded efforts nationwide to ban plastic bags, offer support and resources to anti-plastic activists and refuse to allow any of their bags go to waste (send any unwanted bags back to them for upcycling). Check out these chic-o bags.

3. IKEA: The furniture store that is synonymous with cheap, trendy furniture that adorns everything from dorm rooms to Fifth Avenue Co-ops moved up green ladder when the company outright banned plastic bags for customers. If you can't juggle your new bathmats, plants or lamps, the company offers mega-reusable bags for under a buck. That's the best deal in the entire store.
I must insert a word of caution for my next two entries. An expert tested clothing made from recycled plastics and found chemical residue. Back to the regularly scheduled programming.
4. Nike: When World Cup starts this summer, you will be more than just impressed with the soccer players' skills. Check out the uniforms of players from the Netherlands, Brazil and Portugal. It might just look like a sweaty cotton rag, but it will actually be made of recycled plastic. As a consumer, you might not have the same fancy footwork or sculpted thighs but you can dress like them because the company's "Considered" line is available to consumers too.
5. Patagonia: A force to be reckoned with in the outdoors-clothing industry, Patagonia's business practices echo the common backpacking refrain "leave no trace." For nearly twenty years, the company has been manufacturing fleece clothes out of plastic bottles. What happens though when your polyester climbing shirt become too ragged for scaling Half Dome? Send it back to the company to be upcycled into a fresh item of clothing. Even if you can't scale a mountain, you'll look good in their green clothes.
6. Klean Kanteen: For a long time, reusable plastic bottles were all the rage. Then, people found out they have harmful toxins, so people opted for metal bottles. Rising to the top of the bottles race is Klean Kanteen. Their 100% stainless steel bottles have no toxins in them (beware of BPA in some metals, such as the liner of your canned food) which means your water tastes great. The way water should.
7. Preserve: Even if you're enjoying some luscious organic yogurt, you're probably dipping your spoon into a plastic container. The founder of Preserve was alarmed that 9% of our oil consumption goes towards plastics whose endless lifecycle is usually spent in a landfill or ocean floor. The innovative company has become environmentally-sustainable outfit by collecting plastics, such as yogurt containers, and recycling them into other consumer products, like toothbrushes, razors and cutting boards. Once the shelf life of those is, over, you can send them back to the company to be refashioned into other things like park benches and decks. They're great at making and being green.
8. TerraCycle: We're a society of convenience which means we have a lot of trash. That's where TerraCycle comes in. The company founded by a college student less than a decade ago takes non-recyclable stuff (plastic goodies like juice boxes, candy wrappers, lunch kits, chip bags, tape, pens, etc) and gives them a second chance. They're refashioned them into useful consumer goods like bags, cork boards, flower pots and backpacks.
Calling all HuffPost superfans!
Sign up for membership to become a founding member and help shape HuffPost's next chapter