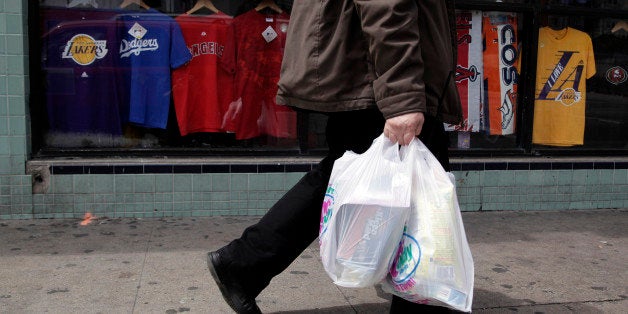 One city and county at a time, millions of Californians have taken a stand to help stop plastic bags from polluting our beaches, clogging our creeks, killing marine life and burdening tax payers and local governments. Nearly one third of the state's population of almost 38 million people live in jurisdictions that have passed or are working to pass laws to tackle plastic bag waste. Now, California can lead the nation in reducing plastic bag waste throughout the state.
Due to their light weight and the fact that they last indefinitely, single-use plastic carryout bags often end up as litter. In fact, they are one of the most common forms of waste found on beaches, and they can have dire consequences for marine life, killing or injuring hundreds of turtles, whales, birds, fish and other marine life every year. Over the last 25 years of the International Coastal Cleanup, 7,825,319 plastic bags have been collected from beaches around the world.
This whale likely died because it's stomach was full of plastic.
Here and here are more examples of whales found dead with plastic bags and plastic debris in their stomachs. (WARNING: graphic content!)
An estimated 12 billion single-use plastic bags are used by Californians every year. One study of urban litter in storm drains and the L.A. River estimated that plastic bag litter makes up as much as 25 percent of the litter stream. Plastic bags don't just hurt the marine environment: it's estimated that California spends $25 million every year to landfill discarded plastic bags. That's money that could be spent on schools and emergency response, rather than flood prevention and litter removal. L.A. County spends $24 million on litter prevention, cleanup efforts, and enforcement efforts. Plastic bags are disproportionately responsible for these costs because they comprise a significant percentage of the litter stream.
The good news is, in the next two days, with a final surge of support from Californians of all stripes, we are poised to pass a new law -- AB 298 (Brownley) -- that will ban single-use plastic bags and require that paper bags with 40 percent post-consumer recycled content (which minimizes the environmental impact of paper bags) and reusable bags are available for sale. Around the state, and around the world, this type of plastic-bag control has been shown to work.
Not only will AB 298 tackle plastic bag litter, it will help generate new Green jobs in California. There are currently 15 reusable bag companies in California, and this bill will promote the growth of businesses making better alternatives to disposable plastics. Reusable bag manufacturers such as Green Vets are supporting AB 298 because it will create even more jobs for disabled veterans who make reusable bags. Concerned citizens from every walk of life are asking the California legislature to pass a hard fought bill, AB 298, before the 2012 session ends this Friday, August 31. In this video, Latino community leaders dispel the concern that the plastic bag ban will hurt jobs or go against community traditions.
From Illinois to New Jersey, many other states are moving to reduce plastic pollution. The rest of the country is watching as California prepares to take this bold leap to protect our oceans and environment.
But we need your help now. If you live in California, call your lawmakers today. We especially need calls from people living in the districts of these senators:
Popular in the Community