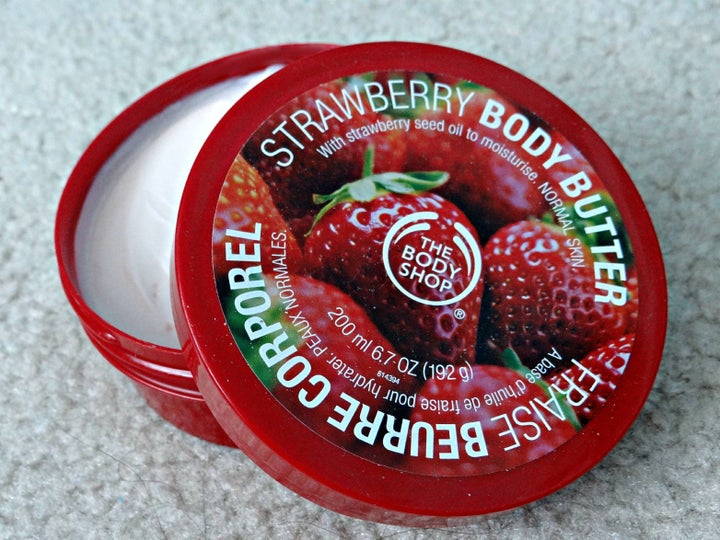 The Body Shop is about to start pulling the plastic for some of its packaging from thin air.
The eco-chic cosmetics chain -- founded 40 years ago by the late environmentalist and British socialite Anita Roddick -- said Thursday that it plans to use a special plastic composed of greenhouse gases from the atmosphere to make bottle lids and containers for its popular body butters. By 2020, the new packaging should reduce the company's use of plastics made from oil by 70 percent.
"It just kind of blew us away," said Simon Locke, an environmental sustainability executive who has spent a decade at the L'Oreal-owned retailer. "To me, it just shows you that the potential out there is huge."
A company called Newlight Technologies creates the plastic, which is produced using methane collected from farms and natural gas refineries. The gas is then contained in a 50-foot reactor, where enzymes absorb the carbon and oxygen and rearrange the particles into a solid plastic, dubbed "AirCarbon." That substance is melted down and dried into translucent pellets that can be shaped into, say, a hockey puck-sized container for moisturizing cream.
This profile of Newlight aired in 2014 on "CBS This Morning" shows how the company converts carbon emissions to plastics.
"We're turning packaging into a force for good," Newlight CEO Mark Herrema told The Huffington Post by phone from the company's facility in Costa Mesa, California. "Packaging protects our products, but what if it also had the ability to protect the environment?"
Plastic waste has become a global catastrophe. The oceans will contain more plastics than fish by weight by 2050, estimates a study released earlier this month by the World Economic Forum and the Ellen MacArthur Foundation. Seabirds, whales and other marine life eat plastic pollution and die by choking, intestinal blockage and starvation. When fish eat tiny plastic particles, it can affect animals higher in the food chain, including humans.
Polymers made without oil have existed for centuries, but plastic became ubiquitous with the widespread use of petroleum throughout the 20th century. Methane is a particularly ethical source for plastic because the gas is 21 times more harmful to the atmosphere than carbon dioxide, so absorbing it helps curb the runaway effects of human-triggered climate change.
Newlight didn't invent plastic methane, but it claims to have developed the cheapest proprietary method of producing it.
The Body Shop's announcement comes as the company is poised to launch a multipronged campaign aimed at reclaiming its reputation for being as driven by its politics as its profits. Under Roddick's 26-year stewardship, the firm set a new standard for "retailing with a conscience" on a huge scale. The company sourced the ingredients in its products to indigenous farmers in developing countries, who used eco-friendly growing methods.
The Body Shop became a political advocate, too. In 1993, the retailer banned all products tested on animals. Three years later, it gathered 4 million signatures on a petition to end cosmetic testing on animals in the European Union. By 2004, the ban had gone into effect.
For the last two years, under CEO Jeremy Schwartz, the company has been quietly plotting out a way to reclaim its crown as the corporate leader in environmental consciousness.
"We see these as very much a start," Locke said of the AirCarbon containers and lids. "This is our first key innovation for a number of years."
The Body Shop is currently testing the material to make sure it won't deteriorate or warp over the product's shelf life. It requested that Newlight make its packaging nonbiodegradable so it could be reused rather than break down and spew carbon back into the atmosphere.
"We would rather promote the reuse of the packaging, rather than disposing of it," Kate Levine, the Body Shop's director of commitment and corporate communications, told HuffPost by email. "We're now working on a long-term business model where customers will be able to return packaging to our stores with the aim of it to be reused."
Incentivizing customers to return plastic containers that actually combat pollution could be a major step toward building the sort of low-carbon economy necessary to avoid the worst effects of climate change. In 2010, 2.7 percent of total U.S. oil consumption was used to make plastic products. Of the 191 million barrels consumed in the United States, 190 million barrels were used as raw for plastics. The other 1 million were used as fuel to manufacture those products, according to data from the U.S. Energy Information Administration.
"So much plastic out there is coming from virgin petroleum," said Lewis Perkins, interim president of Cradle to Cradle, an institute that advocates for sustainable manufacturing. "The future of cradle-to-cradle design is to capture plastic that's already out there in the world."
Related