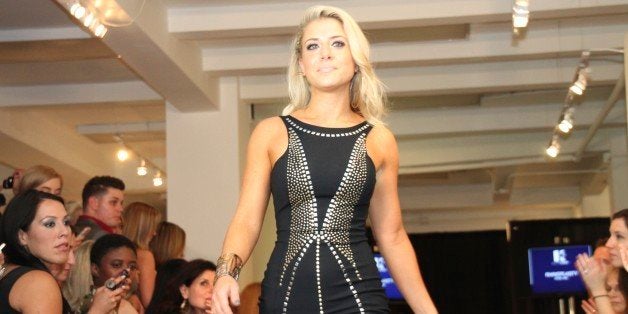 "Fashion week is about fashion ... it's not for people to decide on what face-lift to get."
So snapped New York Fashion Week founder Fern Mallis to the Daily News on Tuesday. In a few hours, the curtains would open on the first ever Faces of Fashion runway. The show's "designer" was Dr. Ramtin Kassir, a tri-state area plastic surgeon.
The proposition was surreal: The doctor's patients were to model his work -- puffed lips and pinned-back ears -- down a catwalk.
This was not an official NYFW show, though its press release suggested otherwise. It was closer to an ad on the subway. As the models -- hand-picked by Kassir's publicist -- strutted the length of a gallery space abutting Central Park, "before" and "after" pictures flashed on two background screens, along with a rundown of the surgeries the men and women had endured.
Audience members, made up of fellow patients, friends-of-models, and the odd plus one who came to see if this was really happening, whistled and whooped. One middle-aged man in sunglasses and a suit -- "Rhinoplasty," the screen behind him announced -- stooped to high-five an onlooker.
"We're his works of art," said one model, Joseph Druckman, a real estate broker who's appeared on the "Today" show with Kassir. Druckman -- "Rhinoplasty, chin implant, cheek fillers" -- said he "wouldn't even let my family take pictures of me before the surgery."
Now he lives in Manhattan, where he goes on organized "nights out" with what he calls his other family: Kassir and his pet patients. The fashion show was "validating," Druckman said. Surgery "really upped my confidence. I don't exist in any family photos before the age of, like, 20."
Throughout the night, Kassir insisted that pride in past surgery is a New York-area thing. If the work is subtle enough that no one can detect it, all the more reason to feel good about it, the logic goes. Tuesday night was therefore a "celebration" among friends.
"We've seen all ethnicities, all ages, both sexes," Kassir told the crowd after the last model walked. "You can maintain someone's individuality and ethnicity if you do things according to the right principles...not that Hollywood look."
One principle dear to Kassir's heart: the golden ratio. The ancient Greek discovery that natural phenomena often exhibit proportions of 1.618 has become a bedrock of pop beauty science, and plastic surgery lore. Kassir, who's also an amateur clay sculptor, swears by it.
In Hollywood -- seat of all plastic surgery cautionary tales, if you listen to Kassir's people -- the ratio is flouted by fame-hungry "speed surgeons," said his patient coordinator, Phyllis DeLucia. She cited "windswept" victims such as Joan Rivers, Simon Cowell, Bruce Jenner and Madonna.
What they're missing? A respect for "natural beauty," DeLucia said.
Indeed, the word "natural" was a favorite Tuesday night. "Dr. Kassir -- he's natural," said Yvette Ludwig, one of the models. "That was the first thing I said when I went in his office. I do not want to look plastic."
Ludwig walked the runway with her daughter, Chelsea Zayas, both women wearing winning sashes from Miss Petite World 2011, a pageant for women 5'6 and under (they took titles in different age divisions).
Ludwig calls Kassir her "wrinkle fairy"; she sees him for Botox and fillers. This week, Zayas will drive a few miles from her childhood home for her first consultation, at Kassir's New Jersey office. "I figured I'd wait 'til I was 24 and then follow more in my mom's footsteps," she said.
Not everyone was as frank as Zayas, nor did stigma seem extinct, as Kassir would have it. Patients drew lines that suggested hierarchies even in a crowd of surgery buddies. Some insisted procedures done without knives were not plastic surgery. One model claimed not to be a patient -- then walked the runway as "Dermafillers" flashed behind her.
The most striking model to walk was Susan Bagnuolo. In a little more than a decade, Bagnuolo, a nurse, has undergone 29 operations to correct botched surgeries. Her first was "a little one," intended to smooth bags under her eyes. Over time, the plastic surgeons she worked with (whose word she says she considered "gospel") walked her into more and more serious procedures, until she couldn't recognize her own face.
She tried to walk the damage back, but no doctor would take her, she said. "They were afraid: 'If I touch her and it goes bad, then I'm the guilty one.'"
She modeled Tuesday night out of gratitude to Kassir, she said. He removed implants from her cheeks and lips, and restored her hairline. She insists her plastic surgery days are behind her -- she's still haunted.
But of course, there are exceptions. "I'm a botox advocate," she said cheerily.