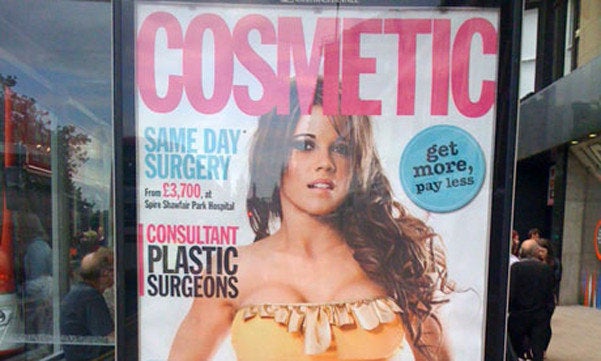 Ads like this one, displayed at bus stops in London in late 2011, will be banned in the UK if a new campaign spearheaded by women's rights advocates there succeeds. This week UK Feminista, a nonprofit dedicated to gaining equality for women, and a group of prominent plastic surgeons issued a petition calling on the government to make cosmetic surgery ads illegal. Feminista founder Kat Banyard posted an Op-Ed in The Independent,, and the groups jointly published an open letter in The Guardian that made three main arguments: The ads present a public health risk because they "recklessly trivialize invasive surgical procedures;" they undermine body confidence and their prevalence makes them impossible to avoid. While the risks of certain elective procedures have been well-documented (see the public outcry over the death of Kanye West's mother following cosmetic surgery) and the aesthetic they promote called into question (who can forget a then-23-year-old Heidi Montag's ten procedures in a single day?), whether or not the government should intervene in advertising for plastic surgery is up for debate.
The letter published in The Guardian suggests that making plastic surgery ads illegal would be equivalent to existing legislation that prohibits advertising prescription drugs to the public in the UK. A less extreme option might involve allowing the ads but requiring a government agency's oversight and forcing advertisers to include a warning about the risks. In the United States, one of only two countries in the world where advertising prescription drugs directly to the public is legal, the FDA polices ads for accuracy and requires that the most significant potential side effects (though not all) be named.
But Feminista argues that it's not just the content of the ads that's problematic; the real damage may be in the ad placement. According to The Guardian, a 2011 survey by UK Feminista of four women's magazines -- publications filled with articles supposedly encouraging positive body image and self confidence -- found that between January and June, Cosmopolitan featured 32 ads for plastic surgery, Marie Claire featured 16, Elle 12, and Vogue 10.
But Dr. Robert Lefever, a physician in the UK, argues that this attack on private businesses advertising their services unfairly robs patients of the agency to make their own decisions. He wrote in The Daily Mail: "patients, claiming the right to choose what they want, also have a responsibility to choose wisely. These patients should consult their own doctors first of all." Taking a stance that seemed to embrace FDA-style regulation of cosmetic surgery ads, he wrote:
My personal belief is that all doctors and clinics should be free to continue to advertise their services. But this belief comes with two major caveats. They should only be allowed to do so provided that they stay within the code of practice of the Advertising Standards Authority and they should be made to pay for the consequences of unreliability.

Popular in the Community