When 29-year-old Cal Major set off to paddleboard around a remote Scottish island, she was prepared for choppy waters and a possible downpour or two.
It hadn't crossed her mind, however, that she would have to cope with the heartbreaking scene of a helpless cow chewing for at least 30 minutes on a half-swallowed plastic fishing net.
The cow eventually managed to bring the net back up. But, as Major points out in the video she recorded, it's only a matter of time before that cow, or one of the other animals on the beach, finds "another tasty bit of fishing net."
"It's not just the animals out in the oceans here that are affected by this stuff," she says, "it's everything."
As a diver who has witnessed coral reef destruction firsthand, Major told HuffPost that she has always been passionate about the oceans. It was only when she moved to the southwest of England and began surfing regularly two years ago, however, that she came to see how widespread the problem of marine plastics pollution really was.
"I just kept thinking how completely ludicrous it all was," said Major, who is also a veterinarian. "I realized I had to find a way to show people not just what was happening but also the solutions."
After paddleboarding round the coast of Cornwall, collecting thousands of plastic bottles en route ("they float so they're easy to do something about," she said), Major set off earlier this year for a 12-day adventure covering more than 200 miles around the Scottish island of Skye.
During the day she collected trash, filming her experiences as she went. At night, she camped on whichever beach she'd reached. Despite being uninhabited, these beaches were covered in bottle tops, packaging and other plastic debris that had washed up onto the shore.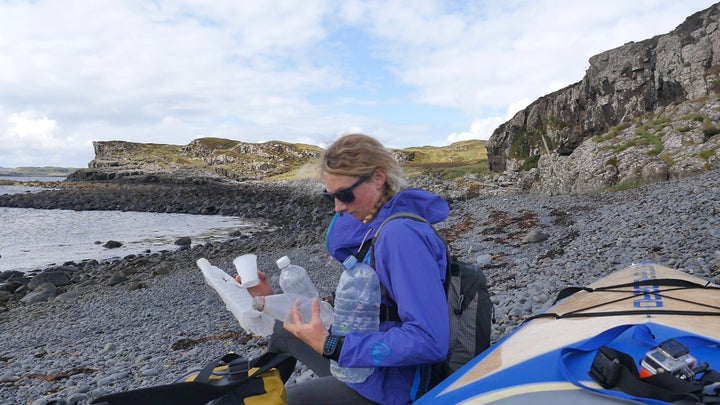 The result of all this hard work is "Skye's The Limit," a film that premiered in the U.K. this fall. It has now been entered into several film festivals around the world and will be online in full for free in 2018. For Major, the aim is simple: "to inspire change."
Unless things do change, it's predicted there will be more plastic than fish in the oceans by 2050. Americans discarded in excess of 33 million tons of plastics in 2014, only 9.5 percent of which was recycled according to the Environmental Protection Agency. More than 75 percent went to landfill.
On the policy side of things, several countries have implemented plastic bag taxes, including England and Portugal. In the U.S., the Boston City Council just voted unanimously to introduce a plastic bag tax. Similar fees and bans are found elsewhere in the U.S., including Washington, D.C., Chicago and California, although detractors claim such measures just make grocery shopping even more unaffordable for poorer residents.
Some companies are exploring ways to design plastic waste out of our lives. Saltwater Brewery in Delray Beach, Florida, has created edible six-pack rings that feed rather than kill marine life if they end up in the ocean. Given that Americans consume 146 billion cups of coffee per year, according to the Carry Your Cup campaign, plastic-free alternatives to the standard to-go cup such as the JOCO cup have the potential to significantly cut plastic waste as well.
"We've made plastic so widely available," said Major, "but it doesn't need to be. Our plastics pollution problem is a stark reminder that it's easier to live without all this plastic. I'm just one person ― we need policy change and companies to step up. But we all have a responsibility to look after our world and should take pride in looking after what we love."
Follow Cal Major or contact her to arrange a screening of "Skye's The Limit" here.
For more content and to be part of the "This New World" community, join our Facebook Group.
HuffPost's "This New World" series is funded by Partners for a New Economy and the Kendeda Fund. All content is editorially independent, with no influence or input from the foundations. If you'd like to contribute a post to the editorial series, send an email to thisnewworld@huffpost.com.
Related