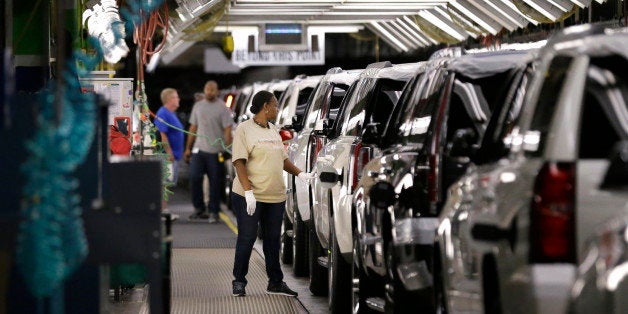 I have frequently considered writing a book about all the extraordinary advances in manufacturing technology taking place on the shop floor today, but the more I learn the more daunted I am -- in part by the sheer magnitude of innovations but also in knowing that by the time I wrote it all down, if that were even possible, my story would be out of date.
A case in point is the accelerating advances in the plastic industry -- and in particular the growing use of plastics in cars and pickup trucks. Today plastics comprise about 50 percent of the volume of a new passenger vehicle, but only 10 percent of the weight. That of course is a major reason for the shift to plastics -- reducing weight and hence increasing mileage.
Of course, a casual glance at the inside of any modern car or truck will reveal an array of plastics - instrument panels, interior trim and upholstery. Look deeper and you will see plastic used in lighting, bumper systems, fuel storage and delivery systems, ducts, fenders and exterior body panels.
The real evolution of automotive plastics began with the development of engineering thermoplastics with strength comparable to metal. Engineers soon learned to "blend" different plastics alloying new materials into innovative materials such as thermoplastic oleyfin which contains a bit of rubber to give it elasticity. A variety of plastic blends today are used for structural parts, electronics and automotive items that depend on heat resistance, dimensional stability and accuracy.
Plastics engineers work with vehicle designers to provide plastic components uniquely suited for specific uses. Plastics have contributed many innovations in vehicle safety, performance and fuel efficiency. Seat belts alone save 11,000 lives a year and airbags, made of nylon fabric, save many more. Child safety seats were made possible by many advances in polymer science. Vehicles still depend on metals for the engine and drive shaft, but gradually plastics are finding their way under the hood and body panel as engineers find creative ways to integrate injection and low pressure molded parts and harness plastics and elastomers that offer a range of properties with strength and resistance to heat.
3D technology is closely aligned with the versatility of plastics. The primary use of 3D technology in the automotive industry is to get a part in your hands for design validation before investing all the resources it takes to build a mold. If you need more copies, it is most cost effective to build one silicone mold from a single 3D part and then cast duplicates than to build 20-30 3D parts. Before 3D, in order to prepare a model of an arm rest, for example, the engineers had to prepare a drawing and take it to the model maker who would then carve and machine out a reproduction according to spec. What used to take weeks today can take 2-3 hours.
In 2014, the German company EDAG developed the Genesis concept proving that cars can be produced differently, better and -- above all -- more efficiently thanks to the technological evolution of 3D printing -- almost always involving use of plastics. The next 20 years could see a paradigm shift in automotive engineering structures of all types created in the "printer".
Jerry Jasinowski, an economist and author, served as President of the National Association of Manufacturers for 14 years and later The Manufacturing Institute. Jerry is available for speaking engagements. May 2015
Calling all HuffPost superfans!
Sign up for membership to become a founding member and help shape HuffPost's next chapter