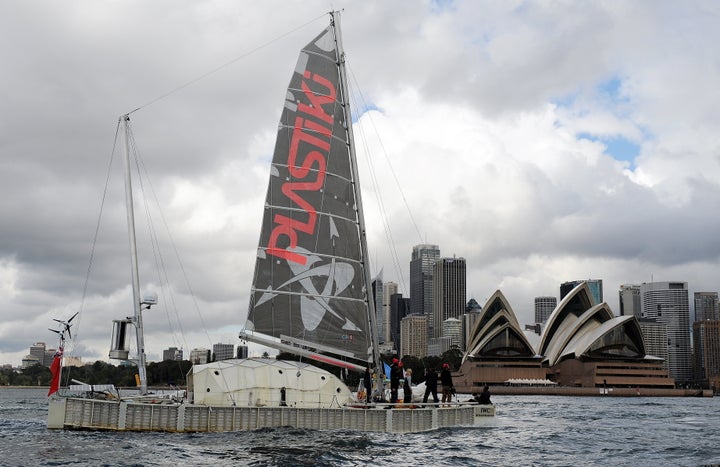 This isn't something you see everyday: A boat crafted from thousands of plastic bottles sailed into Sydney Harbor on Monday, completing an epic trans-Pacific voyage to highlight the benefits of recycling.
The "Plastiki" catamaran, made from 12,500 bottles and the brainchild of an heir to Britain's Rothschild banking fortune, completed its year-long, 9,000 mile voyage.
The boat, which carried six crew, traveled through a waste-strewn area of the north Pacific and made stops in the Line Islands, Western Samoa and the French territory of New Caledonia before leaving for Australia.
The Plastiki's bottles are lashed to pontoons and held together with recyclable plastic and glue made from cashew nut husks and sugarcane, while its sails are also made from recycled plastic. (How this survived the Pacific, we'll never quite understand.)
The crew relied on renewable energy including solar panels, wind and propeller turbines and bicycle-powered electricity generators, and, um, used water recycled from urine.
The United Nations Environment Program says more than 15,000 pieces of debris litter every 0.4 square miles of the world's oceans, and another 6.4 million tonnes of plastic is dumped into seas each year.
The Plastiki will be on display at Sydney's Maritime Museum for the next month.