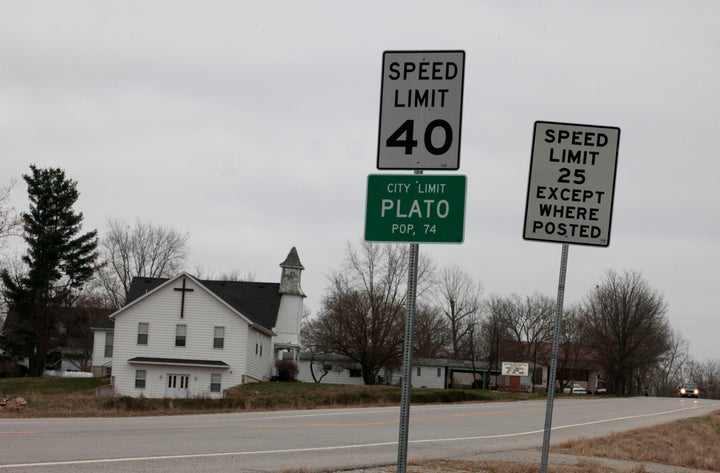 KANSAS CITY, Mo (By Kevin Murphy) - Village officials in Plato, Missouri are trying to figure out how to make the most of being declared by the U.S. Census Bureau as the population center of the United States.
The village, which is so small that its employees are volunteers and the town board meets in the bank basement, will create a 12-inch Missouri stone marker to celebrate its census distinction.
"We may put a sign up somewhere, though we are not on a main road," Mayor Bob Biram said Friday. "Sometimes when there's an interesting point, you stop and see it."
Each decade, the Census Bureau calculates the mean center of population, determined as the place where an imaginary, flat, weightless and rigid map of the U.S. would balance perfectly if all 308,745,538 residents were of identical weight.
The center has shifted west over the centuries. In 1790, it was near Chestertown, Maryland. In 1880, it was in Covington County, Kentucky.
On the edge of the Mark Twain National Forest some 35 miles from the nearest city of any size, Plato is pleased with the population distinction, said Barbara Pinkston, village clerk.
"We are proud to be in the center of everything because we are stuck out here in the country," Pinkston said. Plato has only 109 residents, according to the latest census, but it has a cafe, bank and school. Yes, Plato is named after the philosopher, Pinkston said.
Plato replaces Edgar Springs, Missouri, about 25 miles to the northeast as the population center. The shift is because of the population growth of the southwest United States, according to the Census Bureau. The actual center is 2.7 miles northeast of Plato.
Edgar Springs held the population center distinction since 2001, which it noted by putting up a monument, along with a flag and picnic table. People from as far away as Hong Kong visited the setting and took pictures, City Clerk Paula James said.
"It was just a little something different," James said. "We haven't really talked about what we'll do now."
(Writing by Kevin Murphy; Editing by Mary Wisniewski and Greg McCune)
src="https://i.huffpost.com/gen/211216/REUTERS-LOGO.jpg">
Related
Popular in the Community