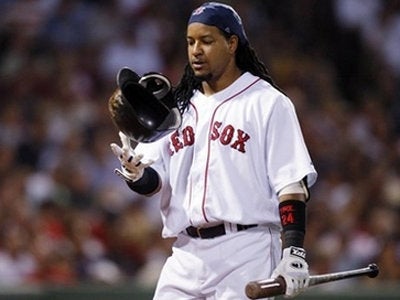 Until about 11:30 AM, the Los Angeles Dodgers' record-breaking dominance was baseball's top story. They were dominating the National League, a perfect 13-0 at home, breaking the modern day record for wins at home to start a season. The city of Los Angeles had more faith in the Dodgers than the Lakers. At the very least, this city was rallying behind Manny Ramirez. After 11:30 AM, however, the fall of the Dodgers' biggest star--arguably baseball's biggest star--became the top story in sports.
"This just in, breaking news here. According to the Los Angeles Times, Manny Ramirez has tested positive for performance-enhancing and will be suspended for 50 games."
My little brother and several hundred thousand people felt their heartbreak. Steroids was getting stale. Sports talk radio was bored with it. Journalists were turning their back on Selene Roberts, the same woman who was heralded for breaking A-Rod's cheating. And no one liked A-Rod in the first place. Everyone loves Manny. A-Rod kisses his reflection for Details, Manny high-fives fans after making a running catch. The news coming out of ESPN was devastating.
By noon, ESPN's Peter Gammons had wrestled a statement out of Scott Boras, Manny's much maligned agent (also A-Rod's), saying that Ramirez didn't test positive for steroids. My first thought: I hope it was weed. It wasn't. Boras said that the 12-time all-star had been prescribed a medication by a doctor in Florida for a health issue, that he didn't know it was on the banned drug list. That he had asked the doctor if it was and was told it wasn't.
If Boras is telling the truth, Major League Baseball just shot itself in the leg. A mishap on par with Plaxico's.
Like all banned drug lists, baseball's is alive, morphing, growing, shrinking, changing, and moving with the miracles (and repackaging) of medicine's modern marvels. And if Manny was suspended for 50 games on a technicality? Los Angeles is excited about baseball. It's America's second largest market, a city that hasn't been excited about baseball in over a decade. Manny is as popular as Kobe in LA and as popular as LeBron every where else. The team is winning and the team is winning behind Manny Ramirez. 50 games is nearly a third of the season...and on a technicality?
The Dodgers have the best record in baseball. It's coolest promotion (Mannywood: two left field seats within high-fiving distance and two t-shirts for $99, his number).To damage that for some cough syrup would be absurd. Manny's already owned up to his mistake, taken responsibility for ingesting something that he wasn't sure about. It's another reason to still love Manny. So while the media may discuss how this affects the career .315 hitter's legacy (detailed wonderfully here after his trade to the Dodgers last year), it may be more appropriate to ask how it affects baseball's legacy. Right now, it's sounding like stupidity.
REAL LIFE. REAL NEWS. REAL VOICES.
Help us tell more of the stories that matter from voices that too often remain unheard.