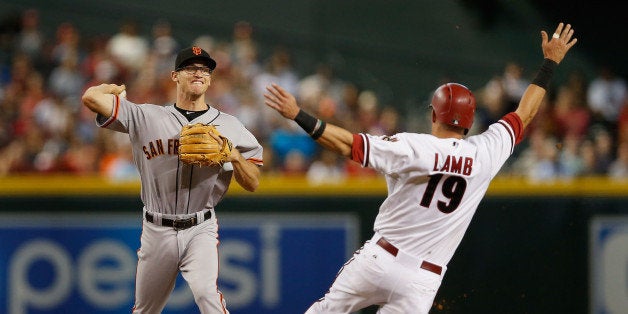 Baseball fans rejoice! Opening Day is here at last. As we return to the walled gardens of our communities, let us give thanks for renewal, hope and plans for victory.
Every opening day, I reflect on all the hope that lies ahead for my team, and the zen of the ball yard that makes life worth living. 2016 being an even year and a presidential election year, I once again have high hopes for my baseball team and my political team. So today, as my even-year-world-champion San Francisco Giants kick off opening day 2016, here are six lessons from baseball for politics:
1. Focus on the fundamentals, because there are no shortcuts to success.
What is baseball or politics without clichés? As age-old and oft-repeated the wisdom is, the more new mistakes make it worth repeating. Every year we see a baseball team or a political campaign begin with promise, soar to unexpected heights and crash due to improper preparation. To start, focus on the fundamentals, because there are no shortcuts for success.
In baseball's pitching, hitting, fielding and throwing -- and, in politics' message, management, money and mobilization -- we look for "team players" who excel at these metrics and give their all to the effort. Day in, day out, you have to master the skills needed to succeed at the highest level with your would-be replacement breathing down your neck and millions giving you an instantaneous Internet job performance review.
It is tempting to find shortcuts to success -- losing is no fun in baseball. My mom and dad took us to years and years of Giants games before we finally saw them reach the playoffs, and another decade passed before the first World Series championship in San Francisco. By contrast, my daughter Bella went to three San Francisco Giants World Series championships in her first five years of life. When I invited her to the 2014 World Series parade, she said: "I'll do the Halloween parade at school and join the Giants next even year." We had to remind her that she may not ever get another world series parade (she begs to differ). Truth is, success is rare and ephemeral, so players need to give their all and fans need to drink in every rain-soaked drop.
The same is true for politics. No matter how "unconventional" your campaign, you still need to generate a message of hope, manage your supporters in a disciplined way, raise money to reach people and mobilize voters to the polls. All the emails and social media posts are just a conversation -- not a political action -- until people vote. So heed the advice my mom, Nancy Pelosi, gave us kids for homework decades before she became Speaker of the House: "Proper preparation prevents poor performance."
Players who take shortcuts to success may advance for a while, but end up hurting themselves and their teams in the end. Campaigns who ignore the fundamentals of a campaign by failing to turn the self-expression of activism into movement-building or organizing will fall short.
Sitting at a candidate rally is similar to sitting in a ball yard. Both give you the opportunity to assess the technical metrics and reflect on the intangibles -- what baseball calls "makeup" and politics calls "character" -- the leadership, talent and maturity to add value to a venture.
Character transcends team and party -- it's the intangible you look for in your heroes and admire even in your opponents. As a San Francisco Giants fan, I find little to like about the Los Angeles Dodgers, but boy I'd like some of them on our team -- and beating the rivals we love to hate is extra special.
Similarly, as a proud Democrat, I'll rarely cheer a Republican -- but I will work with them for the greater good if we can help our country. President Obama has shown time and again that we can overcome the haters and the obstructionists to find common purpose on causes ranging from AIDS to climate to justice reform to veterans.
In baseball and politics, people want that pride and passion of having something larger than ourselves to cheer for. When it gets down to the wire, character shows in people in baseball and politics who have the sportsmanship to respect themselves and their opponents.
3. Don't boo the home team!
Baseball fans are collectively the "10th player" and are needed most when team performance is shaky. When mistakes are made, there's no need to heckle your team -- that's what the other side is for! People have to find a way to point out criticisms and build support without booing the favorites off the field -- and while displaying the same sportsmanship we want to see in our players. Fandom is no excuse for verbal or physical violence.
In politics, this translates to a lesson my mother taught me in her House leadership races: Intramurals can be the roughest sports of all because you are running against some of your teammates to ultimately lead all of them. Her lesson: Don't make enemies on behalf of other people. Surrogates can be tempted to go nasty on behalf of candidates. Don't, because it's still your reputation; and, "I did it for my candidate" is no excuse for you or the person you think you're helping.
Competitive intramurals, yes. Purist-driven self-immolation, no.
Eyes on the prize: Unity for victory.
4. Expect the unexpected.
Baseball calls it a curve ball for a reason: You just don't know where some pitches will land. Your ace could get injured (or, like SF's, have the flu on Opening Day). Your golden glover could err. Your team could sit through a rain delay. Your manager could get ejected. Your team could have to play against the opponents and a bad call or stingy strike zone. Your bench must be broad and deep enough to overcome.
Politics requires the same versatility: Nimble, creative and opportunistic campaigns win the day. No matter how well-thought-out your plan may be, political considerations will require you to shift gears quickly. And you can bet that the other side is working just as hard as you are to think fast, react forcefully and seize opportunities.
5. Plan for extra innings.
Baseball champs have the physical conditioning and mental toughness to overcome a long season of injuries. Postseason endurance goes to the healthy and their managers who plan substitutions with the long game in mind.
Political overtime requires upfront election protection. Covering hot spots, overcoming obstacles for military and overseas voters and getting all ballots counted may extend the election into extra innings -- so plan ahead to protect the vote. A season in baseball or six months in politics is a lifetime, so plan accordingly.
6. America's pastime and democracy belong to all Americans.
One thing I've learned serving with the San Francisco Giants Community Fund to help kids play baseball is that the player base and the fan base are far more diverse than the people who can afford $40 tickets and $10 beer. Just as a new generation of African-American, Latino and Asian Pacific Islander baseball heroes are electrifying the game and changing the fan base, the new generation of African-American, Latino and AAPI political all-stars are changing the voter base and candidate base of our democracy.
On opening day, rejoice that the fundamentals that America's pastime and American democracy share -- character, support, versatility, endurance and diversity -- strengthen and enrich us all. In that spirit, play ball!
Calling all HuffPost superfans!
Sign up for membership to become a founding member and help shape HuffPost's next chapter