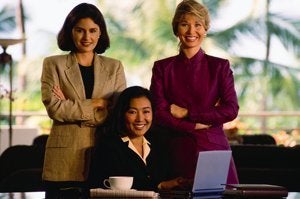 "When I started my faculty position, I occasionally would bring our 8-month-old to work. On several occasions my colleagues (male), would say, 'So, you're babysitting today, eh?" If our son had been with my wife, no one would have said she was babysitting, not being a parent. It discouraged me from bringing my son to work."
A couple of weeks ago, the Center for WorkLife Law launched its new web-based Gender Learning Project, designed for professors, at www.genderbiaslearning.com. The training introduces the four basic types of gender bias professional women often encounter and -- as the quote above shows -- also describes the gender bias faced by fathers who seek an active role in child care.
Check it out. Yesterday I was at Case Western, and one professor told me she had spent five hours on the site and had by no means exhausted it. It already has been used in college classes, and has gone viral.
1) There's a separate page for each of the four basic patterns of gender bias: the maternal wall, double binds, prove it again!, and gender wars (when gender bias against women produces conflicts among women). Click here to hear experts describing maternal wall bias
2) Click here to hear highly successful women of color describing how gender bias differs by race.
3) Click here for fun-and-funky animated scenarios illustrating "prove it again" bias (a form of glass ceiling bias).
4) Click here to hear successful professional women describe survival strategies to ensure that "double binds" bias does not derail your career.
5) Click here for GENDER BIAS BINGO! You can enter your own stories, or those of your friends. If you submit three stories you can be entered into a lottery for a highly coveted Gender Bias Bingo T-shirt!! They are very cool. I am wearing mine now.
The site is fun and funky, but it is based on science. For over a decade, I have studied thirty years of experimental social psychology studies of gender bias. My reading of over 200 studies forms the scientific basis for the site. Click here for the bibliography.
The site is about two weeks old - I had to hold off writing about it because we had so many emails the first week we ran out of T-shirts. Already one message is clear: gender bias, alas, is alive and well. I will be blogging over several weeks to share some of the hundreds of responses already submitted.
Submit yours today. Let me know what job you do if you are not a professor, so I can appreciate the context. (We have had fast food workers, a heli-guide, a landscape maintenance worker, and many office workers already.)

Related
Popular in the Community