Nearly one-third of U.S. toy industry sales come from licensed toys, according to a 2016 report by The NPD Group and the International Council of Toy Industries. Considering that the U.S. toy industry reached $20.4 billion in sales last year, it's important to recognize the value of licensed characters in kids' lives.
Traditionally, most of kids' favorite characters come from movies and TV shows, but now more than ever they're originating from kids' favorite video games and mobile apps. Gaming is more accessible than ever before. Kids don't always need a physical console to play the coolest games, they can access the content right on their phone (or mom and dads').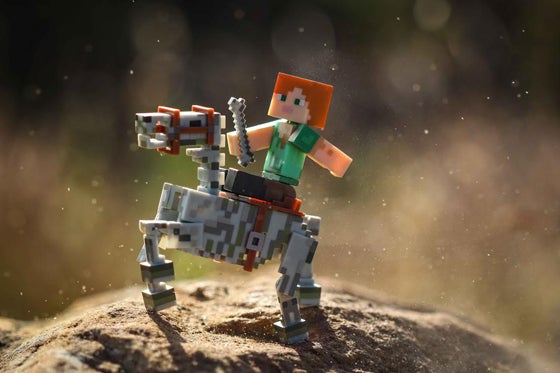 Take Minecraft for example, the 3-D sandbox game where players dig (mine) and build (craft) 3-D blocks within a large world of varying terrains and habitats to explore. The game has sold more than 106 million copies, and kids can play Minecraft on the computer, in an app, or on next-gen consoles, like the Nintendo Switch.
Jazwares expanded its Minecraft line this year with six fully articulated 3-inch figures and multi-figure accessory packs. All of the figures look like kids reached into their screens and pulled them out, featuring the same 8-bit aesthetic from the game. And, for the first time, kids can add their favorite animals from the game to their collections to play out their Minecraft adventures IRL!

Kids and adults everywhere are playing Roblox, a user-generated online social gaming platform. Players from all around the world can play different games within Roblox, but a different user created each game. Right now, there are 22 million online games and 1.7 million creators (woah!).
Jazwares also makes toys based on this digital world, which are inspired by the popular games, characters, and developers from the user-generated gaming platform. Fans can take apart the characters in the physical toy line and mix and match parts to create new characters—just like they can in Roblox's virtual world!
The imagination of users is also strongly reflected in the toy offerings, with a selection of play sets and characters based on the creations of some of the most popular community developers. The characters are the same ones that kids know and love from the games, so fans will automatically recognize the figures and sets from what they play with online. The best feature is that every item in the toy line also includes exclusive codes to unlock in-game surprises and features creations from the game's most popular independent developer. Make sure to check out Jazwares' Animal Jam line, too!

Jumping from one 8-bit world to another, Moose Toys now brings the collectibility of Disney Crossy Road to the real world. In the game, kids play as different classic Disney and Pixar characters as they hop, dodge, and slide their way though busy lanes of traffic in different themed worlds. Each world has a slew of characters to collect that kids receive by random by spending in-game coins. Since the game's launch a year ago, the app has been downloaded more than 31 million times!
This initial collection features beloved characters from the app, including Mickey Mouse, Donald Duck, Buzz Lightyear, Simba, Baymax, and more. The line includes backpack hangers, micro figures, and plush. These toys are pixel perfect, and are available at different price points so you won't have to break the bank as kids race to collect more than 40 available characters in series one.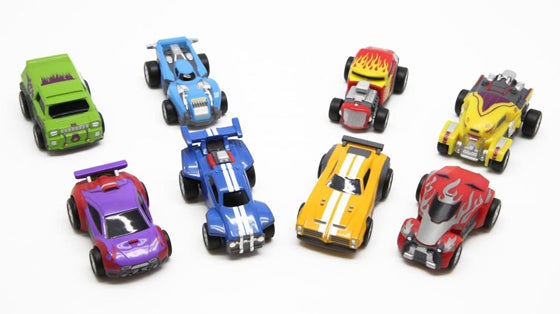 Playing soccer the normal way is so overrated, and now kids and gamers everywhere are obsessed with Rocket League. Available on PC, traditional consoles, and coming to the Nintendo Switch, this game is basically soccer meets Monster Jam. Kids play as rocket-powered cars while they push the Rocket Ball in their opponent's goal and score points, just like a soccer match.
Zag Toys brings these rocket-powered cars for kids to bring the intense gameplay off the screen! The line of Rocket League Mini Pull-Back Racers features 12 cars for kids to collect in series one, including eight mainline cars, three rare cars, and one super-rare mystery car. To make it more exciting, each car comes blind-packed in a replica of the in-game Rocket Ball, which brings the fun element of surprise into the whole experience. To get more bang for your buck, the rare and super rare cars come with a code redeemable for a set of exclusive in-game wheels and a rocket boost. Sweet!
The numbers show that kids love toys and games based on their favorite characters they interact with every day, and video games are no different. I expect to see more toys like these throughout the rest of the year and beyond!
Laurie Schacht, also known as The Toy Insider Mom, has covered the toy industry for more than 20 years. The Toy Insider is a year-round resource for parents, grandparents and other gift-givers looking for the best toys for their kids. The Toy Insider also produces an annual holiday gift guide featured in Family Circle magazine. Visit thetoyinsider.com for the latest toy news, reviews, giveaways, and more.
Calling all HuffPost superfans!
Sign up for membership to become a founding member and help shape HuffPost's next chapter
This post was published on the now-closed HuffPost Contributor platform. Contributors control their own work and posted freely to our site. If you need to flag this entry as abusive,
send us an email
.