Ever wanted to play the latest game but your PC wasn't powerful enough to handle it? Cloud gaming provides gamers with a platform to play the latest video games on low-performance computers. That means that for a small fee you can play top-rated games anytime and anywhere, using any device- including your old, dusty laptop - as long as you have a fast internet connection.
Playkey is one such cloud gaming service where a game is launched on a server and streamed to the end user's device. Cloud gaming is similar to streaming videos or music, but interactive. The remote server does all the heavy work while your computer only needs to receive streaming video and audio, and sends input commands when you press buttons on your keyboard or mouse to play the game.
"We believe there is no need to buy expensive or powerful computers, especially if you're a gamer who only plays several hours a week," says Egor Gurjev, Founder and CEO of Playkey. Instead of upgrading to the latest, most expensive gaming hardware, you'll be able to use your existing hardware.
The benefit is that you'll no longer need gaming PCs or consoles with powerful graphics hardware because all the heavy lifting will be done "in the cloud." By not having to purchase and maintain costly hardware and servers, cloud gaming will be "10x cheaper than current personal gaming hardware because of how it leverages "sharing economy" principles," says Gurjev. That means that eventually the XBox or Playstation could become obsolete.
Cloud gaming solves two big problems. The first problem is that Mac gamers traditionally struggled because the majority of high-end, non-mobile games were chained to PCs (often Windows) or consoles. Cloud gaming would allow games to become more platform-independent. The second problem is that some games may require a download of hundreds of gigabytes or even more before you can play them. Cloud gaming would allow you to start playing games instantly, as the server already has the game installed.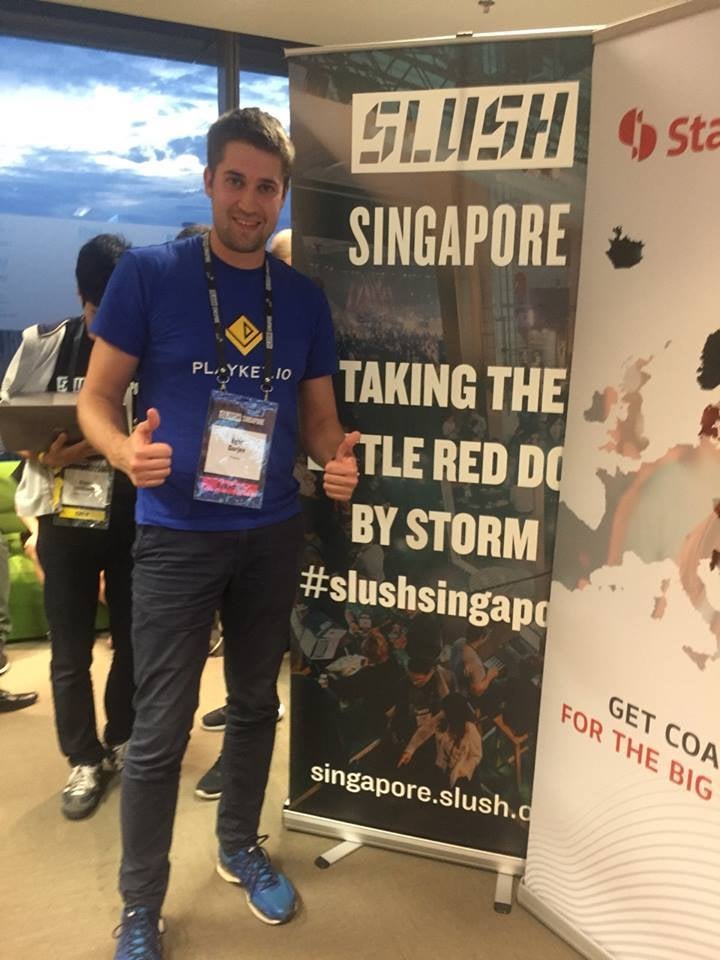 Playkey's platform is used by 1.5 million gamers every month, using over one hundred Nvidia Grid powered servers based in four locations including London, Frankfurt, Amsterdam and Moscow. Playkey told Tech In Asia that "it's planning a fifth location in Singapore that will cater to Asians."
Playkey's library boasts some of the most popular games from 2015 - 2017, including PlayerUnknown's Battleground, Overwatch, Dishonored 2, Friday 13, DOOM, Evolve Stage2, XCOM 2, Hitman, Rise of the Tomb Raider, GTA V, Fallout 4, The Witcher 3, Just Cause 3, Dark Souls 3, and MMOs by Wargaming.
According to Tech Crunch, Playkey isn't stepping on the toes of publishers such as Valve, as they're technically working as a collaborating partner for purchasing game keys, while also running a virtualization service to help those games. That means that Playkey is paying game publishers to use their games.
There are two main competitors in the field of cloud gaming. LiquidSky recently released a 2.0 beta version of their app that puts any video game on any Android device and Geforce Now, who recently released an update for its popular SHIELD TV device that enables full Google Assistant support as well as integration of Samsung SmartThings.
While Playkey currently relies on cloud servers, Playkey claims that it will soon be the first cloud gaming platform worldwide to become decentralised. In the niche of decentralized systems for gaming – no one else is proposing decentralization.
"Eventually, peer-to-peer direct connection with member participation will be available through a token system. The enhanced platform will unite cryptocurrency miners and gamers into one ecosystem. Miners are independent owners of powerful computers situated worldwide that act as cloud service providers."
The decentralization of gaming servers will become Playkey's killer-feature. If the network isn't limited by the geography of its centralized servers, you could be using Playkey's service through your neighbour's more powerful computer. Your neighbour will then have an opportunity to make cash:
"We expect that an open, decentralized cloud gaming market will provide both private and professional miners with the opportunity to generate 2-3 times more cash—at lower risk than crypto mining—while decreasing prices for gamers by 50%, which will allow more gamers to play a larger variety of games. This naturally expands Playkey's user base and the number of available servers per location."
A completely serverless, peer-to-peer gaming ecosystem will be vastly more resilient and significantly cheaper to operate than current cloud gaming.
Playkey plans on issuing their own token on November 1 — the PKT token — that will be used by gamers to redeem in exchange for playing games. PKT is a cryptocurrency that will be used to buy and sell cloud gaming subscriptions as well as other Playkey services and future products.
Calling all HuffPost superfans!
Sign up for membership to become a founding member and help shape HuffPost's next chapter
This post was published on the now-closed HuffPost Contributor platform. Contributors control their own work and posted freely to our site. If you need to flag this entry as abusive,
send us an email
.