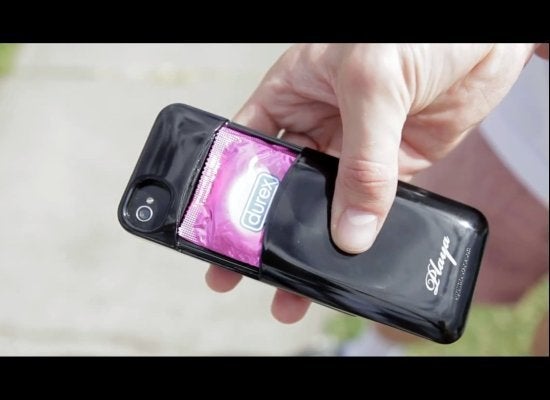 They say that one day our phones will replace our wallets.
This is a good first step.
Annex Products, who previously brought you an iPhone case that has a beer bottle opener on it, are out with their latest bit of protection for the iPhone: It's called the Playa Case, and it features a sliding hidden compartment in which you are meant to store condoms.
The Playa (pronounced like an abbreviated form of "player," not like a beach in Madrid) is a hard shell case that fits over the back of the iPhone 4 and iPhone 4S and was specifically designed to hold and hide your Trojans, your Durexes, and your Crown Skinlesses. Below, a young Australian chap explains the benefits of said case in a promotional video:
Why bother making an iPhone case that stores rubbers? Well, it was apparently necessary because of how easy it is to identify the outline of a condom when it is pressed up against a leather wallet, and how mortifying that experience can be:
"[T]he Playa™ Case creators," a press release from Annex Products trumpeted, "wanted to ensure that while you're playing it safe, you're not giving the game away."
I, for one, am not entirely convinced that a man might not "give the game away" by purchasing and equipping his phone with a case that has been specifically designed to store condoms. There's something about a dude who owns a single-purpose iPhone case -- with that single purpose being condom storage -- that just might make a potential lover think, "Wait a second -- this dude is probably having tons and tons of sex and/or is obsessed with sex to the point it is influencing his purchases and buying habits."
Or maybe I'm just a prude, I don't know. (Speaking of which, if we could get one of these iPhone condom cases branded with a "Rick Santorum 2012" logo, then we'd really have something). Until then, the Playa case comes in black, white, and pink and will be released in Summer 2012; you can sign up to be notified when the cases are launched on the Annex website.
Below, check out a few photos of the iPhone Playa case (SFW) provided by the folks at Annex Products:
PHOTO GALLERY
The iPhone Condom Case
Calling all HuffPost superfans!
Sign up for membership to become a founding member and help shape HuffPost's next chapter
BEFORE YOU GO