Hugh Hefner's life and legacy are rife with contradictions.
The founder of the Playboy empire, who died Wednesday at age 91, is hailed as a sexual revolutionary, a supporter of LGBTQ and abortion rights, a mogul and an icon who paved the way for modern ideas about sex-positivity. He's also a man who built his extensive empire by capitalizing on idealized images of women's bodies; a man who had a rotating cast of live-in young "girlfriends" who, by at least one account, were kept under his control.
As The New York Times' Brooks Barnes put it in 2009: "To his supporters, [Hefner] is the great sexual liberator who helped free Americans from Puritanism and neurosis. To his detractors, including many feminists and social conservatives, he helped set in motion a revolution in sexual attitudes that have objectified and victimized countless women and promoted an immoral, whatever-feels-good approach to life."
The truth is somewhere in the middle. Hefner was surely an advocate for sexual liberation, but that sexual liberation was always first and foremost about the desires of straight men. Put another way: His sexual revolution was self-serving.
When it came to politics, Hefner consistently aligned himself with progressive ideals. He was known for his early support of reproductive rights, civil rights and LGBTQ rights. In Hef's eyes, sex of any kind ― and the health care and decisions that surround sex ― shouldn't be attached to shame. (And the government certainly shouldn't be a moral arbiter of its citizens' desires.)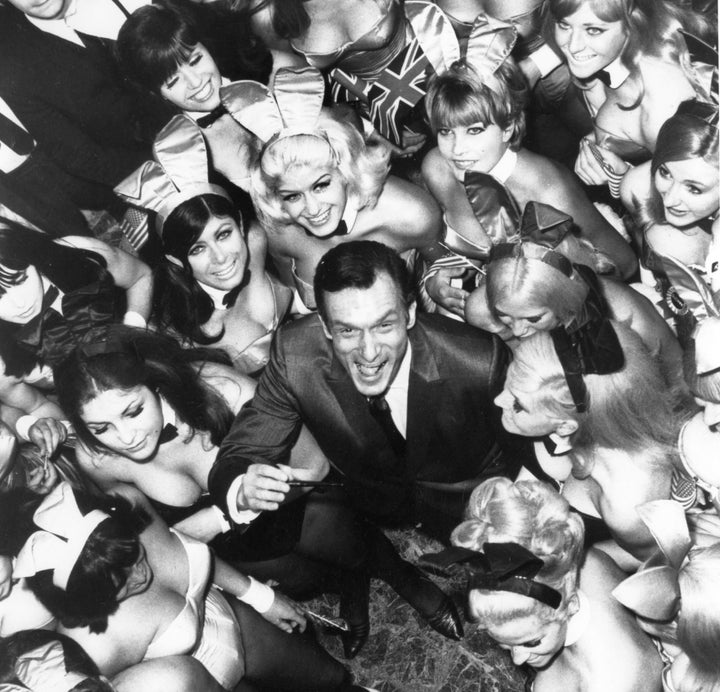 Playboy began publishing articles advocating for abortion rights in 1963 ― nearly a decade before the seminal Roe v. Wade decision, and railed in 2016 against right-wing presidential candidates who "campaign on promises to eliminate access to birth control, ban abortion, pass discriminatory laws against gays, and regulate or outright ban any lifestyle or preference that doesn't fit into their Christian crusade to eliminate all sexual activity that doesn't lead to procreation." Hefner supported the Equal Rights Amendment, and the Playboy Foundation, founded in 1965, funded the Kinsey Institute and rape crisis centers. Hefner was a vocal advocate for marriage equality, and, in a 1955 editorial, asserted that "if it was wrong to persecute heterosexuals in a homosexual society, then the reverse was wrong, too."
But even progressive political bona fides don't give powerful men a get-out-of-being-a-member-of-the-patriarchy-free card.
Over the course of Hefner's 60-plus years in the public eye, he was a contradictory and controversial figure within feminist circles, and with good reason.
Perhaps the most well-known exploration of Hefner's Playboy Clubs, a membership-based chain of nightclubs, lounges and resorts, was written in 1963 by a young Gloria Steinem. Before she was a feminist icon, Steinem was a journalist who went undercover as "Marie," a 24-year-old on the upper edge of the acceptable age range for employment as a Playboy Bunny, and got hired as a Bunny at the New York City Playboy Club. She wrote a two-part exposé on the experience, detailing the hiring process, the pay and the work.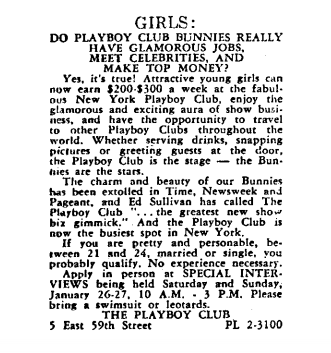 In his clubs, wrote Steinem, the black women who worked for Playboy were not just Bunnies, like their white counterparts, they were Chocolate Bunnies. His female employees were expected to look a specific way that would be pleasing to the club's male clientele and would encourage them to buy more drinks. The Bunnies received "demerits" for things like messy hair, bad nails, bad makeup, eating on the job and chewing gum. And despite the high wages boasted about on Bunny job listings, the club took 50 percent of the first $30 in tips each Bunny made per day, and Bunnies were on the hook for the cost of maintaining a Playboy-acceptable appearance.
At the end of the second installment of Steinem's exposé, she lists off things that she has overheard over the course of her day at the club.
"He's a real gentleman. He treats you the same whether you've slept with him or not," one Bunny remarks about a client.
An element of performance was inherent to the type of female sexuality that Playboy created and pushed. If the Bunnies at Hefner's famous clubs, or his live-in girlfriends, appeared to be enjoying themselves, what else mattered? They all lived lives that looked glittery.
Madison wrote about her initiation as a Hefner girlfriend in which she quickly learned that living in the Playboy Mansion came with chore-like sexual duties. She said she became isolated, going through bouts of deep depression over her years with Hefner. (She claims that Hefner wouldn't allow her to seek therapy.)
"During the end, I definitely recognized that he was verbally abusive, and that was what made me snap," Madison told BuzzFeed in 2015. "There were so many things in the relationship I wasn't fully comfortable with, but I was able to justify them in my mind because there were other advantages to being there."
And just last year, Hefner was sued by model Chloe Goins, who claimed that Hefner had conspired to allow Bill Cosby to drug and assault her at the Playboy Mansion in 2008. (Hefner denied the claims.)
But for others, like Madison, he was something darker.
"If you're somebody's sister, wife or mother-in-law and picked us up by mistake, please pass us along to the man in your life and get back to your Ladies Home Companion," Hefner wrote.
To Hefner, sexual liberation meant the acceptance and visibility of male desire, coupled with the ability of women to publicly fulfill those desires and appear as outwardly sexual beings. But an opening of sexual mores on straight men's terms does not mean an automatic upgrade for all women. As any woman who has had sex with a man knows, what works for his orgasm and general sexual fulfillment is not always what works for yours. And in a patriarchal society, an openly sexual man gets to play by different rules on an entirely different field than an openly sexual woman.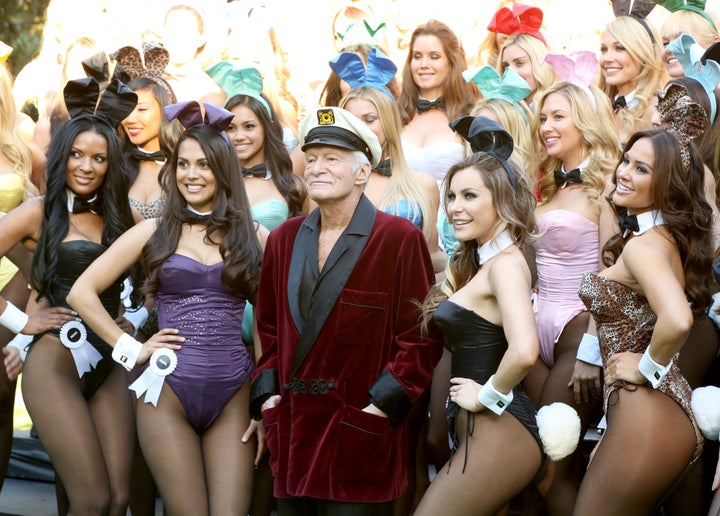 This explains why he reacted so poorly to radical feminist critiques of Playboy's nude centerfolds, typically featuring big breasts and seductive poses.
"What I'm interested in is the highly irrational, emotional, kookie trend that feminism has taken in the last couple of years," he wrote in an internal 1970 memo. "These chicks are our natural enemy and there is ... nothing we can say in the pages of Playboy that will convince them that we are not. It is time to do battle with them and I think we can do it."
Ultimately, Hefner never set out to create a true sexual revolution. He set out to create a sexual revolution that would benefit him. He used his own desires and frustrations as a lens through which to build out entertainment for other men like him, and to push the envelope of what was considered socially acceptable. Some of those desires and frustrations happened to help open up space for people who weren't straight, white, rich men to more openly express their sexuality. Others did not.
In 2009, Hefner reflected on his legacy in The New York Times: "We just literally live in a very different world and I played a part in making it that way."
It's hard to argue with that.
Popular in the Community