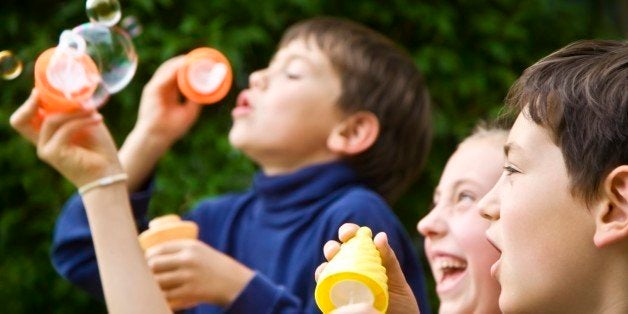 Playdate. Sometimes I cringe at the word. I have been ducking and dodging the word for eight years now. I spent the first few years of my son's life working fervently to arrange them. Trying to get my kid to play with another kid felt like trying to arrange a marriage. There were these awkward stages I had to go through to get to the end goal. First I would hear my son mention the name of a new buddy. Then on a morning when I could find the time to run a comb through my hair and find a pair of non-spit up laden yoga pants, I would have to somehow snuggle up to his or her mother during school pick up or drop off and introduce myself. I get their number; do I wait three days to call as not to scare her off? We text, we arrange a date, ask about pets and allergies and if I am lucky my son might have a kid show up at our doorstep ready for the PLAYDATE. But wait, they are not playing! As soon as that mom steps off my sidewalk there they stand looking up at me bored, or hungry, or hurt, or what's worse... sick. I do not remember my mother putting up with any of this. All I remember is hopping on my bicycle and heading to a friend's house. We never even noticed where mom and dad were, because we were playing. How did our generation get this wrong? We were the masters of mischief and make believe. It has been eight years now, I have more children, and I am worn out. Please wipe your feet and read the house rules.
1. I am not playing with you. You all are 8 years old; if you were 4, I may sit down for tea. My husband is not playing Nerf with you; we plan on using this time to actually accomplish something, like picking up the mess you made upstairs while you play downstairs.
2. If you do not like chicken nuggets, macaroni and cheese, hot dogs, or peanut butter and jelly, then what do you eat, child??? At this point I ask that you bring your own lunch.
3. Don't take off your socks. I don't know where you put your socks, it is going to take you 30 minutes to find your socks and I don't have enough to say to your mother while she waits for you to find your socks.
4. We don't have a craft table and I am not crafty. Please reread rule number one while I scrounge around for some printer paper and markers that still have the caps on.
5. I am not a referee, work it out. Take turns, share, and if you don't, I am taking all those devices that you are fighting over and sending you outside (gasp) with just you and your imaginations.
6. The whole reason we finished the basement was to give you a place to scream and jump and not share. Please go scream and jump and not share away from us and in the basement.
7. It has been eight years and at least eight times a year, someone comes over sick. I have heard that trick before... Allergies Schmallergies, I can smell bronchitis from a mile away.

8. WE DO NOT HAVE ANYMORE JUICEBOXES! You guys drank them all in the first 15 minutes you were here.
9. Don't use the whole role of toilet paper, don't shove the roll of toilet paper down the toilet, please flush the toilet, and wash your hands.
10. Your mom is here!!! I'll cover for you. "They played great!" Now that the house, the yard, and the fridge have been ransacked, please find your socks and I do hope that you will invite my son over to your house for the next playdate.