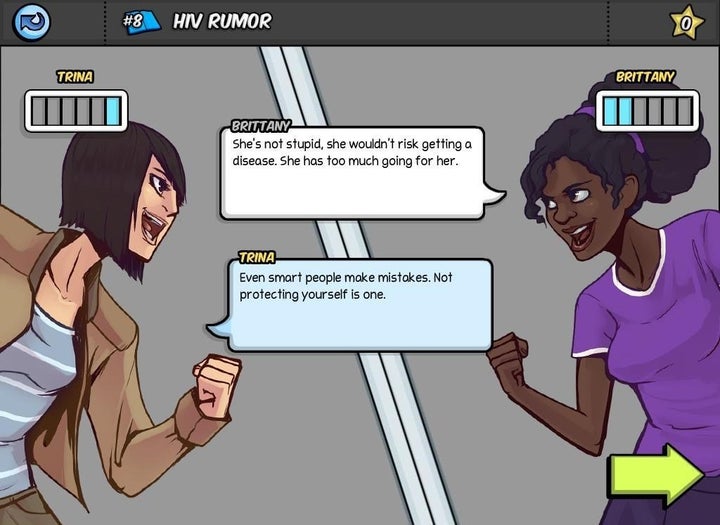 Hieftje and a team of research scientists at the university are testing a novel way to help curb the epidemic among minority teens: through the use of video games.
"Adolescents described factors within themselves, people in their lives, and their neighborhood that impacted their ability to negotiate high-risk situations," Hieftje explained to The Huffington Post. "These factors included balancing the tension between individuation and group membership, having stable mentor figures in their lives ... and being able to navigate the hazards within their neighborhood."
In partnership with video game designers Digitalmill and Schell Games, Hieftje said her team integrated the findings from their study into a game format by creating scenarios, story-lines and characters that reflect the recurrent themes elicited from their discussions with adolescents.
"For instance, we incorporated the theme of self versus group membership by creating situations in which the player has to choose between following their own choice or choosing to go along with their group of peers," Hieftje said. "An example of this is a scenario in our game in which the player must decide whether or not to attend an unsupervised party with his or her friends where alcohol will be served. As the game progresses, the player can experience how their choices about whether or not to go along with their group of peers might influence their future aspirations and goals later on."
In the game, players begin as a 7th grader and must navigate through several risky scenarios each year until they graduate from high school. The goal of the game is not necessarily for the player to make the "correct" decisions, but rather to learn the cognitive processes and behavioral skills to negotiate similar scenarios. The game also allows players to go back and change their decisions to see how the outcomes may have differed, Hieftje added.
And while risk behaviors among adolescents don't really vary by ethnicity, the factors that influence them do. "For this population, their environment is particularly challenging, given that these adolescents have additional risk factors in their lives to deal with such as poverty, drugs and neighborhood violence," Hieftje said, pointing also to cutbacks in HIV and sexual education in schools and the Centers for Disease Control and Prevention's plans to reduce its budget by 25 percent next year.
"The need for innovative, far-reaching and potentially less-costly answers may be met, in part, by a product such as the one we are developing," she said.
Calling all HuffPost superfans!
Sign up for membership to become a founding member and help shape HuffPost's next chapter
BEFORE YOU GO