Showtime's cheerful drama Roadies will play us the flip side of HBO's dark Vinyl.
Vinyl, which debuts Feb. 14, follows Richie Finestra (Bobby Cannavale), who runs a record label amid the anarchy of the 1970s New York music scene. It's got a lot of humor. It's also raw and often violent. It suggests that however you feel about the music, you probably don't want to know how it got to you.
Roadies, which comes out this summer, thinks we should know, and that if we did, we'd love the backstory as much as we love the music.
Roadies, created by long-time music journalist and filmmaker Cameron Crowe, looks at touring, a different side of the game. It's got its nasty elements, too, but that's not what Roadies cares about.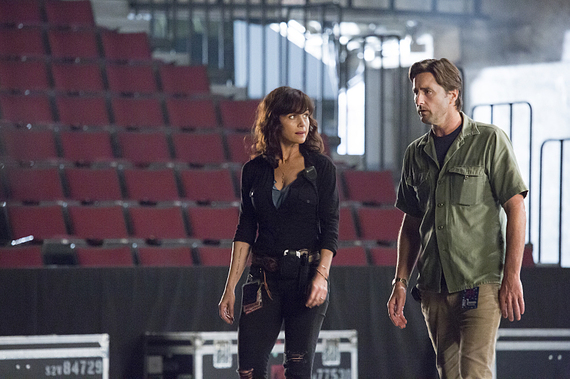 Rather, it's a warm, affectionate look at the bonds that form among the people who set the staging, work the lights, police the VIP lounge and otherwise, in Crowe's phrase, set the table for the band. Stars include Carla Gugino and Luke Wilson (above), as production manager Shelli and tour manager Bill.
"If we do our job right, we're invisible," says Gugino. "The audience doesn't know we exist."
On Roadies, unlike on Vinyl, no one will get shot, grease an artist's path with cocaine or wake up to a multimillion-dollar doublecross.
The dramas on Roadies involve finding a nanny, or wondering whether to go to film school, or maybe finessing groupies. It's hardly a children's story, since it's a grownup world with grownup issues, but the characters for the most part are having fun. They're doing something they love and getting paid for it.
Some of the motley crew is relatively new and others have been on the road a while. Luis Guzman plays a driver who listens to a live recording of Bob Dylan's "Tangled Up In Blue" while reminiscing about driving Dylan for three years on his Never-Ending Tour.
Bob sometimes sat right in the seat next to him, Guzman recalls. Dylan told him some things he will never repeat.
Asked whether scenes like this give Roadies a nostalgic appeal, Crowe rejects the whole concept.
"I don't think of it as nostalgic," he told TV writers in Pasadena Tuesday. "Look at the response to the death of David Bowie. That's not nostalgia. That's passion. People are passionate about music. Nothing else can inspire people like music.
"If you don't find music, it will find you. That's really what this show is: Let's celebrate music."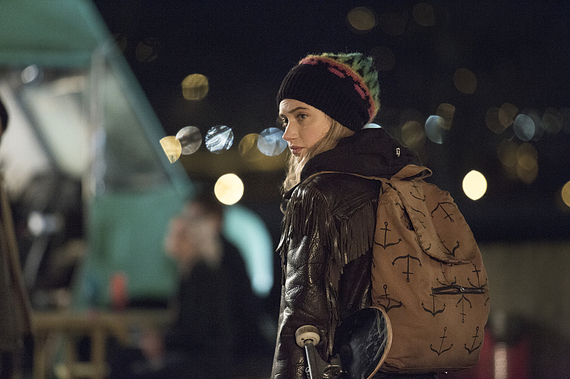 With a cast that includes Luke Wilson, Imogen Poots (above), Rafe Spall and a likely cast of guest stars from the world of rock 'n' roll, Roadies also aims to make good television, which means getting goofy, zany and sometimes even serious.
Crowe says he and co-creator J.J. Abrams started discussing the project in 2007, before Abrams got distracted by something called Star Wars. Crowe says he was drawn to his first TV project, after years of making movies like Almost Famous, "because I wanted to tell stories that didn't end after 90 minutes."
The first season of Roadies will run 10 episodes, and Showtime already would clearly love it to be renewable.
"So many shows now are dark," said Showtime CEO David Nevins. "This is upbeat, fun, life-affirming."
There are couple of ironies with Roadies and Vinyl, starting with the fact that the two major premium cable channels both commissioned a rare music-based series at almost the same time
The bigger irony, perhaps, is that while they take far different paths with far different tones, their core premise is exactly the same.
Vinyl's Richie Finestra is driven every bit as much as the Roadies characters by love of the music, by his recognition that music can stir passion.
He just has to navigate a pool of piranhas to get it out there.
On Roadies, they climb the ladder and aim the lights.
Calling all HuffPost superfans!
Sign up for membership to become a founding member and help shape HuffPost's next chapter