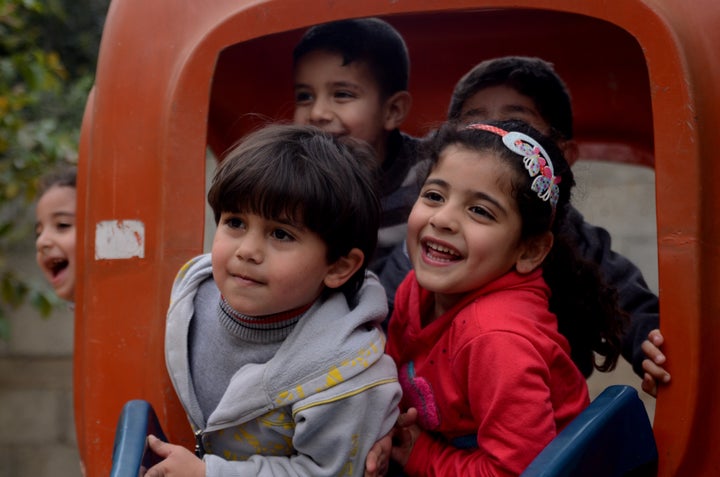 Being a newbie parent to a two-year-old little girl means that I spend a lot of time in local playgrounds watching over my precious little one, making sure she's having fun and that she's safe. Weather permitting, my wife and I find ourselves at the playground at least four times per week, hanging out with a bunch of kids running around and parents watching like hawks.
Growing up near the Jabalia refugee camp in northern Gaza, we really didn't have anything close to a playground. Many of our schools had a hard time providing enough chairs for us, let alone a playground. So being here and getting to choose between the many playgrounds in our Alexandria community is something we don't take for granted. It's a blessing for our little girl to have a safe space to run around.
As any parent will tell you, spending time at the playground brings positive growth to children's development. "In a playground, kids learn to share, make friends and become team players," says Basem Hishmeh, an advocate of youth programs in Palestine. "They can live their childhood even in a surrounding environment of oppression and violence."
Frankly, my daughter isn't the only one learning on the playground. As a parent, I'm learning a few lessons myself, like patience and how not to lose my cool when another little kid hits her or runs into her. At first, I would get worked up and feel like interfering, like that time a bigger kid almost sat on top of our daughter on the slide. But then I swore to calm down and step aside.
The lessons we see on the playground between kids are worthy of admiration. When a little boy cried to his mom because our little girl had a toy bus, she extended her arm and shared it with him. He wouldn't give it back, but that's another story. And there was that time when another kid had a ball and she wanted to play, so she joined in chasing the ball with much older kids. She kept up with them and we felt so proud.
Some find playgrounds to be a vital extension of the learning process. This is why as I grow older, I see the importance of children having access to safe playing areas in their local communities. I begin to understand that for decades, organizations have worked with poor communities to construct and renovate playgrounds that serve as an oasis inside bleak surroundings, like damp, overcrowded and depressing refugee camps.
Basem and Muna Hishmeh started a family foundation to fund youth programs throughout Palestine. "My wife and I strongly believe in the need for safe places for children to play, and this is so apparent in less fortunate countries," says Basem. "So as Palestinians, we embarked on a program with partners to build 40 playgrounds throughout the country to allow children to play safely and learn at the same time."
When my organization, American Near East Refugee Aid (ANERA), plans a project to build a playground, colleagues in the field first bring together all local stakeholders to voice their needs, assess feasibility and ensure community buy-in. If all the stakeholders are on the same page, we move on with construction. I love when I hear a story about a playground constructed in a remote West Bank village with little resources. And it's heartwarming to see a playground added to a preschool that had been leveled in the 2014 war in Gaza.
The joy one sees in the eyes of kids on these playgrounds is enough to renew one's faith in humanity. In a sense, these playgrounds are a spot of hope, where parents watch their kids play while quietly pondering about their lives and their kids' futures in uncertain times.
While we may disagree on politics and opinion, I'm certain that at least most of us agree that children should be allowed to enjoy their childhood in peace. Happy and healthy children are the essence of society, and what they learn in school and in their spare time is what shapes a nation's future. I'm glad that generous people have the vision to invest in children and sponsor their smiles with simple acts of kindness. I used to think that playgrounds were important, but after having a child of my own, I think they are essential.
Before You Go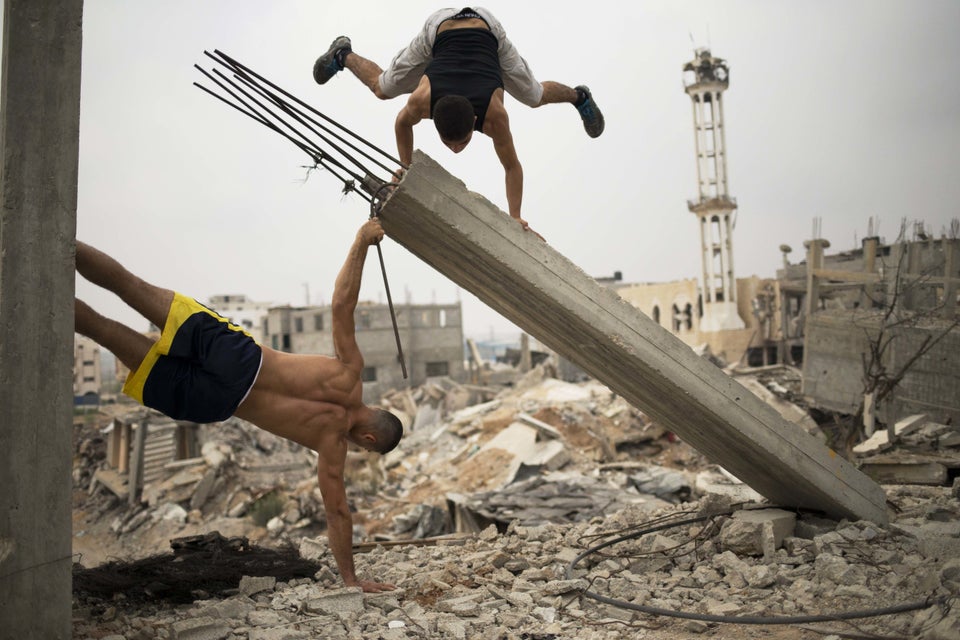 Palestinian Street Workout