 Months of speculations, anticipation and negotiations came to an end last Thursday, when it was finally announced that Saudi women athletes will be participating at the 2012 Olympics.
Saudi Arabia, Qatar and Brunei were the only three countries in the world that didn't have female participation during Beijing 2008. The latter two were quicker to confirm that they will be allowing women to go to London where the Olympic Games are scheduled to open later this month; whereas the negotiations with Riyadh took slightly longer to come to fruition.
This obviously is a remarkable achievement for the International Olympic Committee (IOC) as well as the event's British hosts: the 2012 Olympics have already made it into history.
"With Saudi Arabian female athletes now joining their fellow female competitors from Qatar and Brunei, it means that by London 2012 every national Olympic committee will have sent women to Olympic Games," said International Olympic Committee (IOC) President, Jacques Rogge.
Video of Saudi runner Sarah Attar, born and raised in Califronia, commenting on her participation in London 2012
To make the participation possible, the IOC went out of its way and sent out two "special invitations" to Sarah Attar, who will be running in the 800m race, and Wodjan Shahrkhani, who will be competing in Judo (above 78kg).
The two Saudi athletes are not finalists nor are they the best of their country's sportswomen; but happened to be available, suitable and granted exceptions.
Naturally, feminist groups and human rights organizations rejoiced; however, one of the few statements that managed to accurately hit the nail on the head was that of Minky Worden of Human Rights Watch.
While emphasizing the importance of this breakthrough, she correctly pointed out that having two female athletes participate in London "Will not hide the fact that millions of Saudi girls are effectively banned from sports in Saudi Arabia."
Now, this is exactly where a fundamental -- and not a symbolic -- "achievement" is required. However, to be able to deal with the issue, as a society, we must first understand the situation with greater precision.
To start with, the reasons behind banning sports for women fall within a grey and ambiguous area. Like the case is with banning women from driving cars in the Kingdom; there isn't a clear law or religious edict (fatwa) that prohibits it in general.
Again like the ban on driving; it is believed that the restriction on sports is a social preemptive measure which came to place in fear of the "greater evil" which might follow.
Driving, for instance, might "provoke a surge in prostitution, pornography, homosexuality and divorce" given that it provides women with more liberty to move, argued one infamously interesting study submitted to the Saudi Shura Council late last year.
As such, who knows what wrath could fall upon us if women were allowed to -- perish the thought -- play with balls or go pole-vaulting!
Such arguments can't be described as anything but silly and illogical; even if a few people were to abuse an activity and cause harm, how does this justify banning everyone from engaging in it?
If this is the case, then ALL driving should be banned as well; as many male drivers are likely to speed and have fatal accidents, and let us not forget that they are also likely to use their cars to engage in premarital sex or to obtain drugs!
he other thing about the women sports ban is that it only applies to Saudi girls schools (excluding some of the highly exclusive ones with international standards).
On the other hand, whereas none of the official state-run sports clubs in the Kingdom have female-sections; private "health clubs" are available for women in major Saudi cities.
However these gyms have long operated under specific regulations such as having to be part of a hospital or medical group (of course, these clubs also have a strict women-only policy and also charge premium rates for membership).
As a result, regular exercise has transformed from a need-for-all to a luxury that only the affluent few can afford.
This is most alarming when we take into consideration that 44 percent of Saudi women are obese according to a 2011 Gallup study. Reports also indicate that 20,000 people die every year in the Kingdom due to obesity-related illness whereas the country is also ranked the seventh highest on the International Diabetes Federation (IDF)'s global index.
One could easily argue the need for society to allow sports in girls' schools or make a case for more affordable and/or female public gyms; however, Saudi women are clearly showing that they already have their Nikes on and are ready to "Just Do It" on their own.
Just a few weeks ago, while the world was still wondering whether or not the Saudi/IOC talks would end up allowing female athletes to participate at the London Olympics; an independent team of Saudi women were already climbing Mount Everest.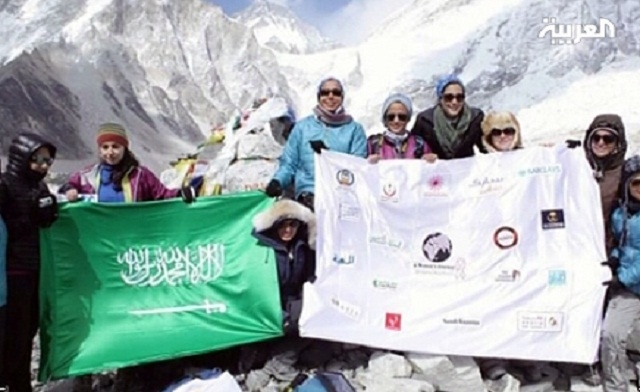 Last May, a group of Saudi women climbed up to Mount Everest's Base Camp in support of breast cancer awareness -- Al Arabiya Screen Grab
The initiative was organized by the Zahra Foundation, a local Saudi charity dedicated to fighting Breast Cancer; a disease which is LESS likely to affect women with healthier and more active lifestyles.
The hike to the mountain's Base Camp was accompanied by a call for Saudi women to support the climbers by walking 15 minutes every day... anytime, anywhere.
The Zahra Foundation was the same charity which also managed to get Saudi Arabia to enter the Guinness Book of World Records in 2011 by having local women form the world's biggest human-chain pink ribbon in Jeddah.
Such inspirational women shouldn't participate at the Olympics as a result of "special invitations;" such women should be allowed to compete and bring home the gold!
Popular in the Community