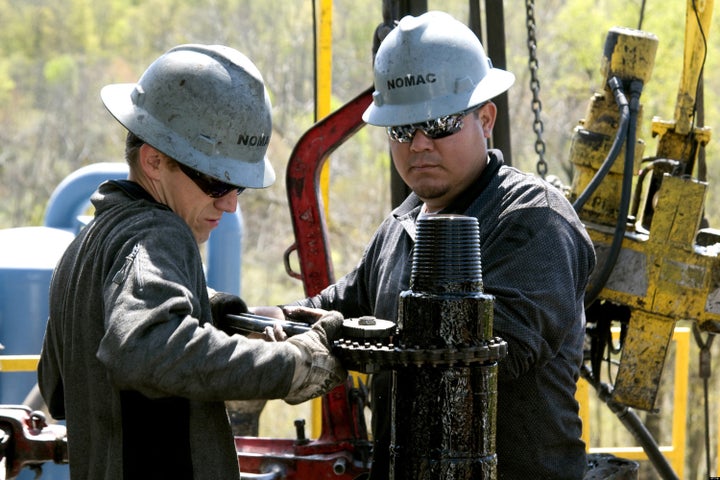 When we signed on to help with the social media for Gasland (pro bono), it was not a documentary that was nearly as well known as it is now. Fresh out of Sundance, they had just started to create grassroots buzz. There was no Twitter profile, and a small Facebook fan page. Now they sit at a cumulative 42,000+ fans. The buzz created has been successful in two parts: the first is that it is true and people echo this honesty. The second is that it truly is the little movie that could, by that we mean it did really start off with Josh, his camera, his beat up car (that he still owns) and the story that is the reality. There is something gut wrenching about the fact that it is happening everywhere, it is very real, yet it took this movie to bring a mass consciousness together.
We signed on to work closely with Josh Fox and his team to help disseminate this message because it needs to go as far reaching as possible to create the change in policies that are direly needed. This wouldn't work if it was a one sided mission for entertainment purposes. This works because people that see this movie and are touched. They are touched because they have been directly affected by hydraulic fracturing or they want to be a voice for those that have been and don't want to become a silent statistic as well. The citizens of affected areas began participating in the conversation, many posting photos of their polluted water, or personal health horror stories on the Facebook wall. Others use it as a place to get petitions signed when their homes are considered hot beds for drilling, and they need to take preliminary action.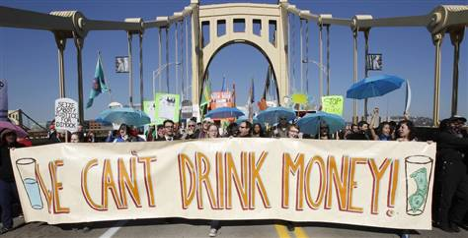 Now this movie has made its way to the Oscars and as exciting as that is, the Natural Gas Industry is in full attack mode, doing whatever it takes to tear this nomination apart. On the Twitter front, one of the profiles to watch for is Energy In Depth. If you didn't know better, you might think that they are a mock Twitter account like BP Global PR, as their claims are saturated in classic publicity stunt language. But they are real and they are the mouth piece.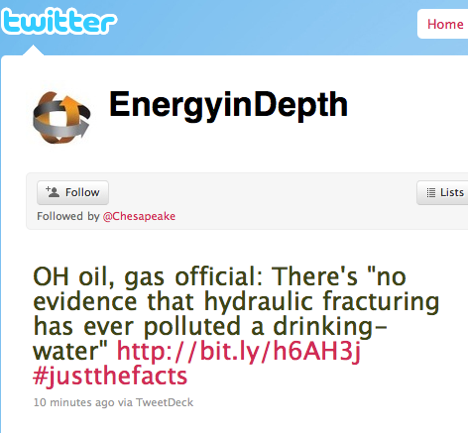 We got to know this account well on the night that Gasland aired on HBO. Millions of Americans tuned in and took to their social media accounts to voice their anger, shock and disgust. The big boys were well equipped with "mushroom" accounts that popped up in the 10's, all with robotic messages sending the shocked viewers to a site "debunking Gasland," paid for by Energy In Depth. We stayed awake, telling them to put on a pot of coffee and fought them tweet to tweet until 4:00am. Josh responded to "debunking Gasland" with a lengthy claim-for-claim rebuttal that you can read, titled "Affirming Gasland."
Now is when the real fight begins, as progress has been made -- (excerpt from the New York Times):
Voted 93 to 43 to place a temporary moratorium on a controversial type of natural gas exploration that combines hydraulic fracturing with horizontal drilling. The goal is to give the state more time to address safety and environmental concerns.The Senate passed a similar bill in August, and the legislation now awaits the signature of Gov. David Paterson.The moratorium, which would be in effect until May 15, 2011 (DATE PUSHED BACK TO JUNE 30th) is aimed at new drilling permits for horizontal hydraulic fracturing, or fracking, a type of natural gas exploration that requires the use of chemicals and vast amounts of water to release natural gas from rock. The drilling is highly controversial because of the risks it poses to groundwater.
Energy In Depth, a group sponsored by a coalition of natural gas companies, sent a letter to the Academy asking that Gasland -- a film about a controversial mining technique called hydro-fracking -- be removed from the Documentary Feature category.
It is a good thing that they are reacting so publicly, as they are bringing far more attention to the film and the issue at hand. Josh issued an open letter to the media today, responding to the natural gas industries' attempt to slam Gasland. You can read Josh's letter here, in a Facebook Note, "An Open Letter from Josh Fox."
We are proud, excited and terrified to be a part of history in the making. Social media is an integral part of this, and in the true spirit of this 2.0 development we have created a community, one that cares about one another, educates, inspires and actively participates on a daily basis.
Popular in the Community