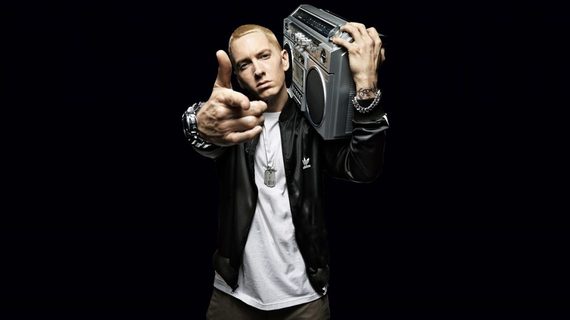 BECAUSE YOUR FIRST TELEVISION COMMERCIAL MIGHT BE YOUR LAST.
Look
If you had
One shot
Or one opportunity
To seize everything you ever wanted
In one moment
Would you capture it
Or just let it slip?
We have decided to make a television commercial to reach our target audience and establish some breadth to our marketing campaign. Currently, we do SEO, SEM, and some social media on a monthly basis sprinkled in with some earned media (people who will write articles about us or put us on their radio shows... for free). The pace of growth is way too slow for two hyperkinetic self-starters expecting bigger results faster.
We came up with an idea for a commercial we all liked around the office. We had brainstormed and put together a thirty second spot that was rather straightforward, but perfectly described what we do.
BECAUSE... YOU ONLY HAVE ONE SHOT.
In order to make your commercial you need to hire a production company. A production company is the place that makes the commercial. Some production companies pitch you directors from their stable, while others are one man/woman shops who direct and produce everything themselves. You pay them a fee and they will do all the creative work or create from the vision you have given them. They are also responsible for post-production (editing, coloring, and sound) and delivering the commercial in the proper medium to the venue who will eventually air it. Each production company would receive our original concept and then be asked to give us their own take on a commercial for us.
We are based in Sacramento and quickly exhausted the few options we have in our hometown. We reached out to production companies in San Jose, San Francisco, Ohio, and Los Angeles; most upon recommendations from friends in the business. While all were interesting, we settled on a company from LA, who pitched us three of its directors. Each gave us a "treatment" (a rough outline of how they envisioned their commercial with content, tone, and style choices). We were supposed to choose the one we best liked.
The problem was, we liked ours best. It was simple, direct, and captured EXACTLY what we were trying to say.
It's your company, you have lived with this longer than anyone, you know your target audience and exactly what you are trying to convey.
But you are not creative... are you?
Are you willing to bet the company's fortune on your idea? What if it doesn't strike the chord you are looking for? Are you willing to take the fall?
It would be much easier to say we hired these hacks from LA and they had no idea what they were doing and THEY jacked up our commercial.
I ain't going out like that.
If I am gonna go down in a blaze of glory, I am gonna go down in a blaze of glory with no one else to blame but myself.
Just like Eminem said, I am gonna capture it and not let it slip away.
This post originally appeared on The Whole Magilla and was written by Chris Meyer, co-founder of MagillaLoans.com.
REAL LIFE. REAL NEWS. REAL VOICES.
Help us tell more of the stories that matter from voices that too often remain unheard.