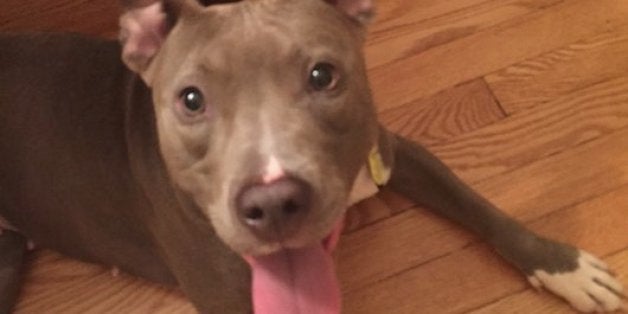 Five of the nicest dogs Kristen Auerbach ever met came to her Northern Virginia shelter last week.
They're all pit bulls. And they'd been selected to leave a shelter in a county where dogs of their kind are banned. Where, if they hadn't come to Auerbach's shelter, they'd face likely euthanization, due to the shape of their heads.
Now, instead of the prospect of their lives ending too soon, these pups are headed toward the best possible futures: being adopted into loving homes.
"Dogs like this will fly off our adoption floor. Who doesn't want a dog that is social and friendly with other dogs and calm and well-mannered in real-life situations?" says Auerbach, spokesperson for the Fairfax County Animal Shelter.
How they're getting there is what happens when very bad laws mix with great fun and games.
Aimee Sadler is a dog trainer who travels around the country working with shelter dogs and staff through her Dogs Playing for Life program.
Dogs Playing for Life uses doggie playgroups both to help dogs stay happy while they're in the shelter, and as a way for shelter staff to get to know the dogs; to see what their personalities are like, so that they can be matched up with the right homes.
"Sometimes it's hard for me to believe that I get to run around the country and teach shelters how to let their dogs play! Play groups have become an obvious way to enhance a dog's quality of life while kenneled," is how Sadler puts it on her website. "Incorporating daily canine play sessions has proven to be a 'best bang for the buck' canine enrichment, assessment, training and adoption promotion program for animal welfare organizations internationally."
It's also a way for dogs whose odds aren't good in one location to find themselves dispatched to friendlier climes.
"Many rescue groups and transfer partner shelters are looking for dogs that are social with other dogs since many will be placing the animals into foster homes with other animals, and dogs with good dog-dog social skills are typically easier to place since many families prefer social dogs," Sadler tells The Huffington Post.
This county has one of the most restrictive pit bull bans around, with dogs from an expansive list not only banned and subject to seizure -- but their owners also face up to six months of jail time.
Taylor's shelter has a "live release rate" of just 64 percent now, he says; he'd like to get it up to 90 percent, meaning that nine of every 10 animals coming in would make it out alive. He says he's hopeful that the Prince George's County pit bull ban will eventually be gone, which would help.
But until it's scrapped by lawmakers or struck down in court, he can't adopt pits out to families in his area, which "makes it very difficult for us as a shelter," he tells HuffPost. "Such beautiful dogs that come in and we can't adopt them to families that want to adopt them."
Luckily, Taylor's shelter is able to send some of these dogs to outside jurisdictions. He recently brought Sadler in, partly to teach his staff how to conduct playgroups, and partly to identify some at-risk pits who could be "transferred" -- that's shelter lingo -- to shelters and rescue groups located outside Prince George's County.
"We are very, very thankful for partners," says Taylor.
"She said she has play group rock stars who had no options. She told me several rescue groups had come to pull dogs during the play group trainings but they did not take the pit bull dogs. She said these dogs were housed in the restricted section of the shelter," says Auerbach, referring to the part of the shelter where potential adopters aren't invited to go -- where the dogs are kept out of the public eye.
You can see why Sadler was so taken, and why Auerbach immediately said yes, in this video of the dogs romping around together:
Two of the five dogs -- Sky and Storm -- have already found their new families. (Here are adoption listings for the other three: the adorable Kisses, sweet Cheeka and Ghost, who has a magnificent smile.)
Storm's new people -- Amber Carrier and her boyfriend Kevin Orchison -- had been looking for a pit bull to adopt for a few months, before finding their new pup; they'd fallen in love with pits after meeting one belonging to a friend.
"They have a bad rap. But they're such great dogs," says Carrier. "We just figured it was a good fit for us."
They trucked out to Fairfax from their home in Washington, D.C., last weekend, after hearing through the pit bull-loving grapevine about the five great dogs who'd just arrived.
Storm just made a big impression; they took her right home.
Her name is Madeline now, or Maddie for short, and "she's great. It was a great weekend for all of us, I think," says Carrier, observing that it's "such a shame" that Prince George's County has the pit bull ban that brought this dog into her life.
But, she adds, "I'm really grateful to the Fairfax shelter for taking her in. Otherwise, we never would have met her."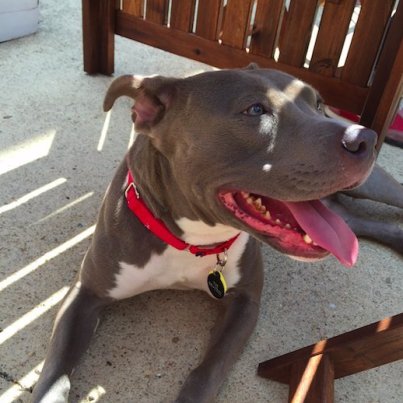 Maddie, formerly Storm, at her new home. Photo: Amber Carrier
Fairfax County also has lots of great pets who are up for adoption! Here's their Facebook page.
And get in touch at arin.greenwood@huffingtonpost.com if you have an animal story to share!
Related