Occasionally, a book comes along that strikes a chord that reverberates across genre and its own intended audience. Phillippe Diederich's novel Playing for the Devil's Fire, (Cinco Puntos, March 2016) could easily leap from the young adult shelf to general fiction. It's also that rare book that addresses moral issues and current events in a story that never stops tugging at the reader's heart.
Playing for the Devil's Fire is the story of Liberio Flores (nicknamed Boli) whose parents disappear after drug traffickers move into their small town in Mexico. Through Boli's eyes, we see violence and corruption as it slowly infects the town of Izayoc (the place of tears). We experience Boli's confusion at the sudden changes, as he learns about corruption and sees his friends and neighbors being lured by the newcomers. Drugs, narcos, gangsters--those words are never used, but we know they are there, changing the dynamics of the town just like Narcos and the war on drugs have changed Mexico in real life, turning it into a violent and dangerous place.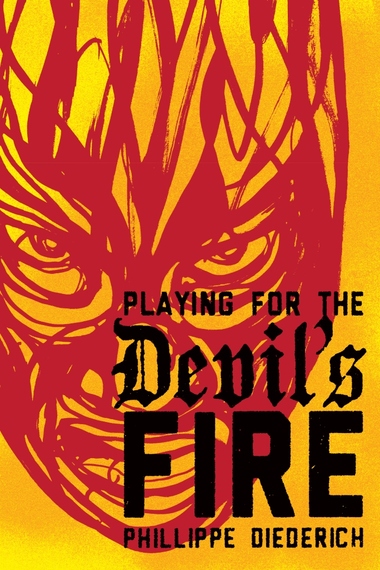 When Boli befriends a has-been luchador and recruits him to help find his parents, we experience the kind of moral exchange between Boli's loss of innocence and someone who gave up long ago on believing that people are inherently good. While there is certainly a battle between good and evil, there is also a battle of trust and a quest for redemption.
The novel, which has received a starred review from Publisher's Weekly, as well as favorable reviews from The Wall Street Journal and Library Journal, is the kind of book that reminds us of what the Diverse Book Movement has been saying all along: we need these kinds of books so different minorities can see themselves in the pages, but also so that other realities can be experienced and perhaps understood by a general audience.
Diederich, whose first novel, Sofrito, was also published by Cinco Puntos Press in 2015, said in an interview that he wrote the book for his son, who dislikes reading--especially fiction. "We'd go the library to find him a book to read and most of what we found in young adult fiction was romance, dystopian, fantasy, vampires, that sort of thing. I saw a big hole in the shelf where a realistic book for boys might fit," Diederich said.
Diederich grew up in Mexico City and spent half a decade working there as a photojournalist. Perhaps that's why the story rings so true to current events. The disappearance of 43 students from a rural teacher's college in Guerrero two years ago would seem like the catalyst for Playing for the Devil's Fire, but Diederich said he completed the book in 2013.
"I think anyone who lives in Mexico knows what's going on. It's been going on for decades. The drugs, the corruption, the poverty. I wanted to address those issues, but I didn't want to write a book about drug dealers. I wanted to write a book about the victims and address what the corruption is doing to Mexico," Diederich said.
Playing for the Devil's Fire can be read on many levels. It is a story of good vs. evil, a coming of age story, it is social commentary and then some. It is also layered with symbolism and metaphors, most of which inform the reader that Mexico has a proud and glorious history. But most important, Playing for the Devil's Fire, puts a face to the victims of Mexico's Narco violence. The novel, as they say in Mexico, tiene mucho corazón, (has a lot of heart). When you finish reading and set the book down, it will be difficult to forget Boli and his friends. And it will be difficult to forget what is happening in Mexico.
Phillippe Diederich is, in addition to being a tireless writer, my husband and business partner.
REAL LIFE. REAL NEWS. REAL VOICES.
Help us tell more of the stories that matter from voices that too often remain unheard.