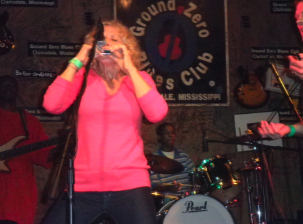 Who would have thought a jaded New Yorker like me would ever be jamming on stage playing the harmonica in front of a paying audience at Morgan Freeman's Ground Zero Blues Club in Clarksdale, Mississippi?
But there I was, in the heart of Delta blues country, feet tapping, hips rocking, and wailing my harp into the microphone. I was answering a riff from my harp teacher, Jon Gindick along with the ghosts of the great Clarksdale bluesmen: Muddy Waters, BB King, Ike Turner, Sonny Boy Williamson II, and Robert Johnson.
Performing at the graduation ceremony for Gindick's five-day harp jam camp Blues Harmonica Jam Camp were twenty students from America, Canada, Switzerland, Belgium, and Australia. Some were raw beginners, others were advanced players, but we all had come to learn from Gindick, the master, who has played with all the greats, including BB King.
As a raw beginner, I was having the time of my life. I didn't have to be uptight about playing a wrong note because Gindick would cover my back -- or in this case, my mouth. Also backing me up was Daddy Rich and his band who could turn a sour note into honey. I wasn't intimidated by a live band because we'd been jamming with Daddy and his band all week long in our "classroom" at the Clarksdale's Hopson Plantation Commissary, a 100-year-old former cotton building near the Crossroads, where Highways 61 (the "blues" highway) and Highway 49 meet.

It was here in the 30s that musician Robert Johnson sold his soul to the devil in exchange for becoming a top guitar player. And God only knows what great blues musicians came before me at the Shack Up Inn, a bunch of funky decrepit former sharecropper shacks which made up in attitude what they lacked in luxury.
The creator of the blues camp, Jon Gindick, was our inspiration. Considered the Johnny Appleseed of harmonica and who has written four harmonica books with instructional CDs , Gindick also had a top teaching staff. Brian Purdy from Ocala, Florida told me to think of playing harp as meditation. Singer songwriter "Sonny Honey" Cheryl Arena inspired me to play from my soul. Famous session player Hash Brown from Dallas one of the gentlest souls in the world, showed me how to relax while playing. Nashville master T.J. Klay http://www.myspace.com/tjklay did a Neil Young imitation playing and singing with his harp deep inside his mouth, reminding me to do the same. J.K. Terrell from Tuscaloosa Alabama, known as "Dr. Meter" a great player and wonderful story teller, taught me not to worry what anyone thinks, just play; and John Costa from Indiana, as versatile as he was professional, showed me how to do it with a smile. There were also two Mississippi guest coaches: local Terry "Harmonica" Bean, who said, "It ain't how well you can play, it's how well you can listen," and Jackson native, Scott Albert Johnson, a harp wizard and band leader.
One day on our lunch break, I headed into town to visit the Delta Blues Museum My mouth hung open as I saw Charlie Musselwhite's shoes and signed harp, a 78 rpm disc of Charlie Patton's Pony Blues, and some of John Lee Hooker's guitars. My favorite exhibit was the original wooden house where Muddy Waters lived and where there's a filmed biography of him which plays on a continuous loop. In the film, all the great musicians pay homage to the famous bluesman. BB King says, "Muddy was playing when I was plowing. I call him the grandfather of the blues." And Bonnie Raitt says, "As he got older, he sat on a stool and played, but then he had to get up and dance."
I was dancing too, all night long in the juke joints of Clarksdale. During the day I learned how to play the two draw, home-base to the blues. "Drop your jaw, get your tongue flat on the bottom, and be a bullfrog -- open your throat. And practice every day," Jon said.
Each morning I'd get up, run a few miles through the cotton fields just beyond my shack, and on the way back, pull out my harp and practice the two-note: exhale, inhale, exhale. I'd shower, have breakfast, then join the other raw beginners to learn breathing, vibrato, rhythm, relaxation, and positive thinking. The experienced players could choose from advanced tongue blocking, phrasing, overblowing, chugging, high scales, and positions. Then, after lunch, before breaking back up again into our small groups, we'd all jam with Jon, the coaches and the Daddy Rich band.
And that's why I wasn't nervous when it was my turn to perform at Ground Zero. All week long, Jon had been not just our teacher, but our preacher. The biggest factor is fear, he said -- you just need courage. How can you be courageous if there's no fear? And, music should come from inside your body; harp playing is about the sound, the tone and the emotions it evokes. He quoted Kurt Vonnegut: "You are who you are pretending to be." Then he said, "When you get up on stage, forget who you are and what you know. Let the harp do what it does." That's exactly what I did.
I'm home in the Big Apple now, far away from the cotton fields of Clarksdale, but every morning I wake up, put a pillow on my belly, and practice my two draw. Maybe that's no big deal to an advanced harp player, but I've made huge progress since day one of camp when my two draw sounded like a bleating lamb. I plan to nail that sucker, and then I'm going to return to a future Gindick Jam Camp and learn some riffs.
I may be a jaded New Yorker, but my heart's in the Delta.