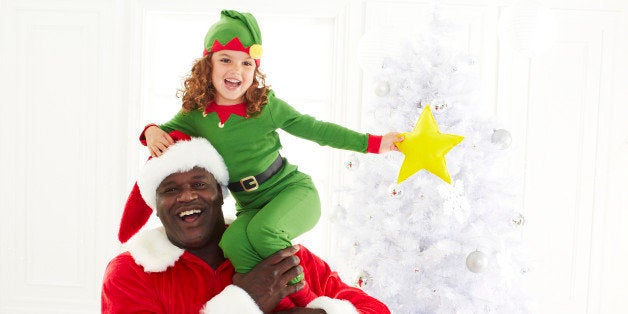 For many families, this is a magical time of the year -- spending time with loved ones, writing letters to Santa and opening holiday gifts. Any parent can tell you that seeing their child's face light up on Christmas morning is one of the best feelings in the world.
However, the holidays are not as joyful for some. With 15.5 million children living in poverty in the United States, there are many families struggling to put presents under the tree. Every child deserves to experience the merriment of the season and even the smallest gift can make a huge impact.
One Christmas morning, when I was a kid, I was given my very own Dr. J autographed basketball. That present changed my life. It inspired me to believe that one day I could be a basketball star. Growing up, my parents always impressed upon me the importance of giving back to those in need, and that even the small gift of a toy could make a big difference in someone's life -- just like it did mine -- and that really stuck with me.
I knew how much that basketball meant to me and wanted to make sure that all kids had the opportunity to experience that same feeling on Christmas morning. So nearly two decades ago, I started shopping for holiday presents to give to less fortunate kids. For the last seven years, I've donned my Shaq-A-Claus suit in partnership with Toys"R"Us and the Marine Toys for Tots Foundation to give back and spread holiday cheer to the millions of needy kids in the U.S. With your help, we can give the gift of play to children who might otherwise go without a present to open on Christmas morning.
#GivingTuesday is a day that celebrates giving back. I challenge each of you to #PlayItForward, and further spread awareness of the millions of children living in poverty and inspire others to donate to the cause, helping to fulfill the Christmas wishes of families in need across the county. To make it even easier for Twitter users to give the gift of play to kids in need this holiday season, I will be posting a special tweet on December 1. For every retweet of my #PlayItForward tweet, the Toys"R"Us Children's Fund will donate one toy to the Marine Toys for Tots Foundation, up to $125,000 worth of toys.
Helping an organization like Toys for Tots reminds everyone what this holiday season is truly about -- giving back. So whether you are able to donate one toy or $1, every toy and every dollar counts. Each donation allows even more children to experience the magic of finding a gift under the tree -- what's more important than that?
This post is part of a series produced by The Huffington Post and the 92nd Street Y, founders of #GivingTuesday, a global day of giving that will take place this year on December 1. These stories highlight the work of organizations and people around the world who are committed to giving back and doing good this #GivingTuesday.
Calling all HuffPost superfans!
Sign up for membership to become a founding member and help shape HuffPost's next chapter