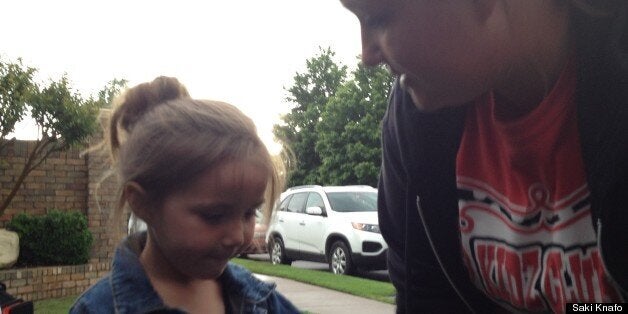 MOORE, Okla. -- Minutes before the tornado hit, Scott Lewis raced to his son's elementary school in this suburb south of Oklahoma City. His son's third-grade classmates were lined up against both sides of a hallway, covering their heads with their hands.
Some were crying as teachers tried to comfort them. Lewis grabbed his 9-year-old son, Zack, and managed to get him home and into their storm shelter just before the 2 mile-wide tornado tore through their town, destroying their home and two elementary schools, including Zack's.
On Thursday morning, the last day of the school year here, Zack was among a number of children from Plaza Towers Elementary who visited a nearby school where teachers and some classmates had gathered to say goodbye for the year, and to begin what Lewis described as an effort to the get the children's lives "back to as close to normal as possible."
"We have to start the healing process somehow," he said, standing outside Eastlake Elementary School, where his wife and Zack were meeting with teachers and other students.
It has been only three days since the tornado turned buildings here into rubble and upended lives, and for the parents and children from Plaza Towers who reunited on Thursday, the quest to restore some sense of normalcy has only begun.
As Lewis described the process, his throat tightened up and he paused to hold back tears: Last night, he said, he and his wife showed Zack his schoolmates' obituaries, hoping to ease Zack into an understanding of what happened.
That may take time, he said. Even when Zack saw the ruins of their home, Lewis noted, he didn't seem to fully grasp the scale of the destruction. Instead, he focused on the "little things," like a box of matchbox cars that had somehow survived.
Recounting his son's reaction, Lewis slipped into a voice of childlike amazement: "Wow. Wow. Look at this!"
Nearby, Carly Ramirez was walking toward Eastlake Elementary with her 4-year-old daughter, Kamrin, who was in a morning pre-school class on the day of the tornado and was safe at home by the time the destruction began.
As Ramirez stopped to speak to reporters, Kamrin stood beside her quietly, holding two thank-you notes in neat envelopes that she and her mother had made out to her teachers.
Although Plaza Towers' teachers risked their lives on Monday to protect the students as best they could, Kamrin and her mom had decided to thank them for a feat that had nothing to do with the disaster.
"Did they teach you how to write your name and everything?" Ramirez asked her daughter as reporters looked on.
Kamrin nodded vigorously.
Lewis, too, had a message to convey to Zack's teachers: "Thanks. I'm glad you're okay. I know you did the best you could. I'm sorry I couldn't do more."
Popular in the Community