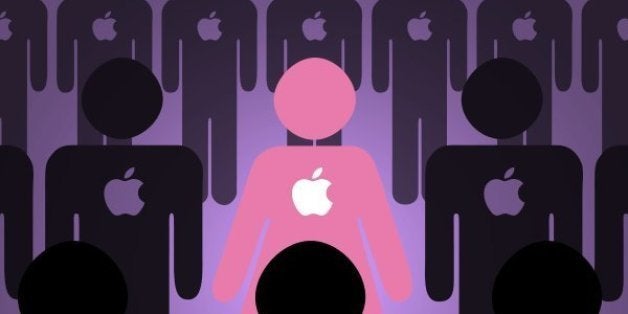 Apple is getting huge props for a "big" move it made on diversity on Monday.
What happened? Two female executives spoke at its developer conference at the Moscone Center in San Francisco. Jennifer Bailey, a vice president at Apple, talked about new features in Apple Pay; another vice president, Susan Prescott, talked about a new app.
This marked the first time since at least 2007 that women employees of the company have been seen onstage at the event, according to USA Today. Three other women spoke at the annual conference during those years: Two were developers from other companies; one was supermodel Christy Turlington.
In 2015, people are celebrating a multibillion-dollar public company for deigning to put a couple of ladies onstage at a press event. That sad fact reveals just how far away the tech industry is from actual, real diversity. USA Today said Apple's inclusion of the two women was a "surprising move on diversity." On Twitter and elsewhere, observers celebrated finally seeing women representing Apple. "They're trying to do the right thing," Jonathan Sposato, an investor and entrepreneur, told the L.A. Times.
Let's get this out of the way. The WWDC, as the conference is officially named, isn't a charity event where the company must "do the right thing" for a good cause. The women who spoke onstage are vice presidents at a company approaching trillion-dollar status. To talk about their presence, as though they were only put there to make a point about diversity, does them a disservice.
Apple, the biggest and most profitable tech firm on earth, needs more women -- not just because it looks terrible for the company on the diversity front, but because it needs to consider all the people who buy its products.
For the past year, the company has been criticized for not including a menstruation tracker in its HealthKit app. It included tracking for just about everything else you could think of -- weight, blood glucose, blood alcohol, the number of steps you take in a day. That's the kind of oversight you make when 80 percent of your tech workers and 72 percent your leadership is male. It finally unveiled a period tracker on Monday.
The company's numbers on gender and diversity are terrible -- and, sadly, right in line with the rest of the industry.

To his credit, chief executive Tim Cook -- a clear leader on gay rights -- has been talking about the problem. In an interview before WWDC, he told a reporter at Mashable that he agreed that the lack of women at the event was an issue.
"I think it's our fault -- 'our' meaning the whole tech community," he told Mashable, regarding the dearth of women. "I think in general we haven't done enough to reach out and show young women that it's cool to do it and how much fun it can be."
Cook mentioned that the company would be doing more outreach at the high school and college level.
To beef up the number of women employees in tech, companies are doing a lot more than reaching out to school kids. Some are changing the way they recruit, interview and think about the way they hire talent: for example, by considering whether they're always looking for people that are just like them. At a company like Apple where a majority of the employees are men, you're not going to change much using that old strategy.
Cook and Apple haven't said much about internal hiring and retention practices.
Intel ties diversity hiring targets to employee pay. Other companies are using software to examine recruiting materials for unconscious biases that may repel women and minorities. Google and Microsoft are doing training around bias. Salesforce and Microsoft are looking at their pay practices to check for inequalities there.
Even when you start hiring and promoting more women, you run into problems. Women leave the tech industry at twice the rate of men, according to the nonprofit Anita Borg Institute.
People need to chill about Apple's big move. While it's good news that the company finally broke its white male streak, this is just a beginning.