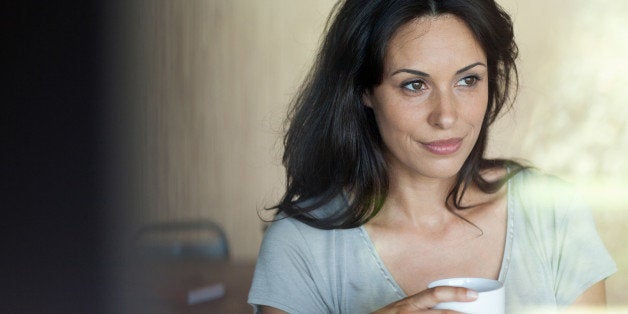 And, I don't want to call him my X either. A "wasbund" is so much kinder, almost like the sexy man you once married has been reincarnated into a fuzzy-wuzzy, well worn, stuffed animal--think velveteen rabbit-- and now a dust mite epidemic, followed by a violent allergic reaction has forced confiscation of the sweet little critter.
After 22 years of marriage, and three prior of dating, making the decision to split seemed next to impossible no matter how unhappy I was. That devil I really knew, as intimately as his own admission that he might not be intimate. My customized experience of emptiness belonged to me, maybe fullness was only fiction.
Certainly, the stigma of wearing the big D of failure couldn't be better, Hester Prynne at least was lusty with her A. Now I was to join the ranks of the D is for dark side, akin to leaving a doctor's office with a trite eye roll, you should realize there's only one out of two shot of survival.
While my mixed feelings for leaving were as palpable as my certainty the day I walked down the aisle, I now became a poster child for discouraged, lost people around the world all with a vow to reinvent.
We never expected this. It wasn't visible anywhere in our borrowed and blue fantasy, oh so far away, down that aisle in white. We were dreamers, wishful 29-year-old social workers prepared to handle whatever insurmountable challenge came our way. And we knew of few.
That is what makes Sep 2.0 (the moniker we created to soften the blow) so difficult. It's admission not only that we're not young dreamers anymore but we have surrendered, armor covered in chinks, we are starting over.
We did manage to conquer so much: My wasbund had melanoma which involved having a nose replaced by a cheek;a near death asthma attack of our second grader on Christmas Eve made us eschew materialism for what matters; losing a young parent to cancer--the fabulous mother-in-law who told me not to marry her son-- and living separate lives for at least 10 of our twenty two years. I'm sure it shocked my wasbund when I marched in a year ago, and proclaimed that I wanted a trial separation.
I had flirted with the idea before, years before, when I realized we would never see a movie together -- since he only liked science fiction -- never share a couch together -- since he said he couldn't sit still but honestly preferred to read alone -- and never take a walk together -- since my power walk was an exercise and he preferred meandering, picking up garbage.
We were obviously ill-suited, and I wondered how I lasted when I knew 24 years ago with a scribbled note in my jewelry box to myself: a honest missive observing that all of my favorite things were done in tandem, his alone.
I loved the family unit and my daughters had a beautiful life, but when my younger daughter was asked by her classmates at graduation who the man was with her mom, assuming me to be a widow, I knew;
This was no way to spend a life, lonely together, but I refused to quit. I was going to become the loner I married, or at least get comfortable being by myself. So I took it on with gusto. I learned to cook, extravagantly, so I could spend hours in the kitchen pre-occupied, I learned to knit so when we traveled I could have an activity on the beach since I knew my partner would not engage. I wrote a screenplay which threw me into a late night frenzy of edits, research and computer time. I begged to leave the city, thinking the freshness of the move would shake things up and finally bought a country home.
Realizing when no one had seen it until months after the close, it was to be my refuge, I made it so, and I even built a painting studio and learned to paint. I learned how to grow roses and knew as much about fertilizing them as expert rosarian Ray Redell. I started a new business, adding to my already successful marketing consultancy, now learning how to produce, direct and edit video content. I even found religion in morning meditation: and am certain my 20 minutes of daily meditation kept me around longer than without.
All of this solitude led to an epiphany -- I discovered that no one makes you happy. You make yourself happy. I preached the Buddhist philosophy of no leaning, and convinced myself that a dispassionate existence with another was acceptable.
Then one brave day it finally occurred to me: I was now happier alone, than lonely together.
I spent many nights crying over the obvious voice that became repetitive-- move on, times a wasting-- and one day about five years ago when I learned of an ElksClub initiation that I had no idea my wasbund had joined, I took his hand. I had been weeping in a hotel lobby loaded on margaritas and a beautiful Taschen Hotel book, plotting my future adventures alone, and begged him to love me the day when I left.
Denial was up. We had nothing in common and one day I wanted to meet my soulmate: someone to take walks with, share their day and, yes, read the NYTimes in bed. I requested that when I found that person he would set me free and wish me well. He said he would.
I stuck around, my children grew older and left the house. I was just about ready to make my move, when he lost his job. How can you leave a man without a job? I stayed for a year more, tried throwing my energy in his job hunt. There was no hunt. There was no collaboration, rather a character resembling Ferdinand who had taken to eating the flowers.
Well, finally, I took my life in my own hands and filed for divorce. I'm proud of me. It won't be easy, I'm in my fifth decade, but I do believe that stigma is no reason to stay and martyrdom is no healthy role model for my daughters.
I wish my wasbund well, I will always love him deeply and pray that he can find himself a soulmate. I'm working on that myself.