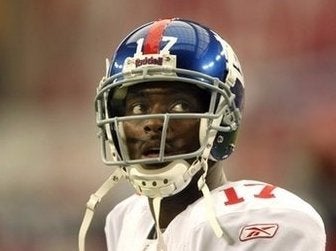 Well before Plaxico Burress caught the game winning touchdown in one of the most epic Super Bowls of all time, I knew that my first son would be named Plaxico. The day Burress joined my New York Giants, in a trade from Pittsburgh, I made up my mind. The little tyke (hopefully still a few years away) would answer to Plaxico Perkins.
That Burress caught a franchise playoff-record 11 receptions in the NFC title game in the snow, on the road, on an ailing ankle only cemented it. Then there's this: "Red Giants jersey if ya know what I mean/Gimme Plaxico Burress, No. 17," from Lil' Wayne's "Outstanding." An absurdly dark Dr. Dre production and one of the realest rapper's realest tracks, it practically wrote Plaxico Perkins' birth certificate in stone. Its fact was a huge part of my "18-1" tirade in a room full of Patriots fans after Super Bowl XLII.
Then, my unborn son's namesake shot himself -- and perhaps my familial legacy -- in the leg.
It was maybe the biggest off-the-field sports story in a year when on-the-field sports stories had a historically entertaining set of surprises, narratives, comebacks and upsets. Perez Hilton called Burress a "pube faced...dig bat," Jon Stewart created a hip-hop anthem called "Oh My God, I Just Shot Myself in the Thigh," and most accurately, ESPN columnist Bill Simmons dubbed him, once and for all, Cheddar Plax (in honor of the character from Eminem's 8 Mile, who suffered embarrassment as the result of a similar event).
It wasn't just that Burress shot himself; it was that he allegedly shot himself when his firearm slipped out of the waistband of his sweatpants while he was juggling a glass of wine in a Manhattan nightclub. The embarrassing turn of events is practically pause-worthy...at least Cheddar Bob shot himself in the male parts. Even Omar knew the proper pistol attire (NSFW). Hadn't Burress listened to T.I.'s Paper Trail lyrics, wherein Tip scientifically breaks down how to, after acquiring unseen wealth, keep a hood mentality without doing stupid hood shit? The Pro Bowl wide receiver didn't learn from T.I.'s mistakes and was suspended for the rest of the defending champ's season. He's probably worn that red Giants jersey, No. 17, for the last time.
I refrained from chiming in on Burress' self-destruction because the implications and possible effects on his namesake -- and mine -- were just too large to digest. The name was that good. It had already developed a personality. "Plaxico Perkins" just sounded like the right dude at the right party. Any name with an X in it is inherently better than any without one. In it, a powerful alliteration doesn't sound cheesy. With a name like that, my son could become a man of great importance, responsibility and swagger. Plus, the Giants were still the best team in football with 12 wins against a single loss.
At that point in the season, there was still a vital lesson there for the youth of tomorrow: That no single man was more important than a team working together. (My son will need a little humility with all of his future accomplishments and winning traits.) New York had a devastating running game and dominating defensive line. But yesterday, the Giants' season came to an end on a day when nothing clicked and the team's wide receivers were a step slow and a few inches too short for Eli Manning's all-too-errant throws. The overthrown deep ball that a diving Dominik Hixon couldn't reach? Burress would've caught it in stride and taken two gallant steps into the end zone. He probably could've literally done that yesterday -- with the scar tissue in his leg still healing.
On Saturday night, I was supposed to attend a benefit dinner with Amar'e Stoudemire. He's the only other athlete mentioned in the aforementioned "Outstanding," and amazingly enough, my favorite basketball player. Stoudemire's inclusion was a further sign pointing towards the importance of Plaxico Perkins. I was about to hang out with him and we were going to discuss this -- Lil Wayne, winning and losing, the importance of names -- but I got lost. Despite being just two miles from my apartment, I couldn't find the restaurant and I missed the swanky, exclusive charity event. Driving home, I could see that my idiocy wasn't as severe as Burress' FAIL, but it felt similarly significant and intrinsically linked to the surname of my unconceived seed.
Calling all HuffPost superfans!
Sign up for membership to become a founding member and help shape HuffPost's next chapter