Before we get into this, make sure to check on the Beyoncé fan in your life to see if he or she is still breathing because their world has just been stopped ... again.
A day after breaking the internet (and Selena Gomez's record for most liked Instagram photo ever) by announcing she and husband Jay Z are expecting twins, Beyoncé truly out-Beyoncéd herself by dropping an entire pregnancy photo album.
The album titled "I Have Three Hearts" appeared on her website Thursday alongside a poem written by Somali-British poet Warsan Shire, whose work was featured on "Lemonade."
The gorgeous photos show a pregnant Bey in a variety of different poses and outfits, but a cluster are thematically linked to her original announcement i.e. lingerie, an insane floral budget and major Virgin Mary vibes.
In one new pic, Beyoncé is perched on top of a broke-down car filled with flowers, while her arms and legs are also covered with flower tattoo sleeves. She is backdropped by a fake blue sky with clouds because this is her album and she can do whatever she wants.
Another series of photos feature a more stripped-down Bey, with the singer posing sans clothing, giving us a serious Demi Moore in Vanity Fair moment. Other black-and-white photos show Beyoncé nearly nude except for (you guessed it) flowers and a soaked white dress.
Bey ditches the flowers for some underwater time in a different group of photos and clips (!) with the "Hold Up" singer donning the same color of yellow fabric she made famous in "Lemonade." Bey served us some similar moments on her sixth album, where she was completely submerged underwater in a bedroom during the second chapter titled "Denial."
And last but certainly not least, Blue Ivy makes an appearance in some adorable mother-daughter photos, because this album is a family affair.
In one pic, Blue cuddles up to mom, while the two lounge on a recliner. The 5-year-old also kisses Beyoncé's belly in another photo while holding a fistful of pink and white roses.
Still breathing? Carry on.
Before You Go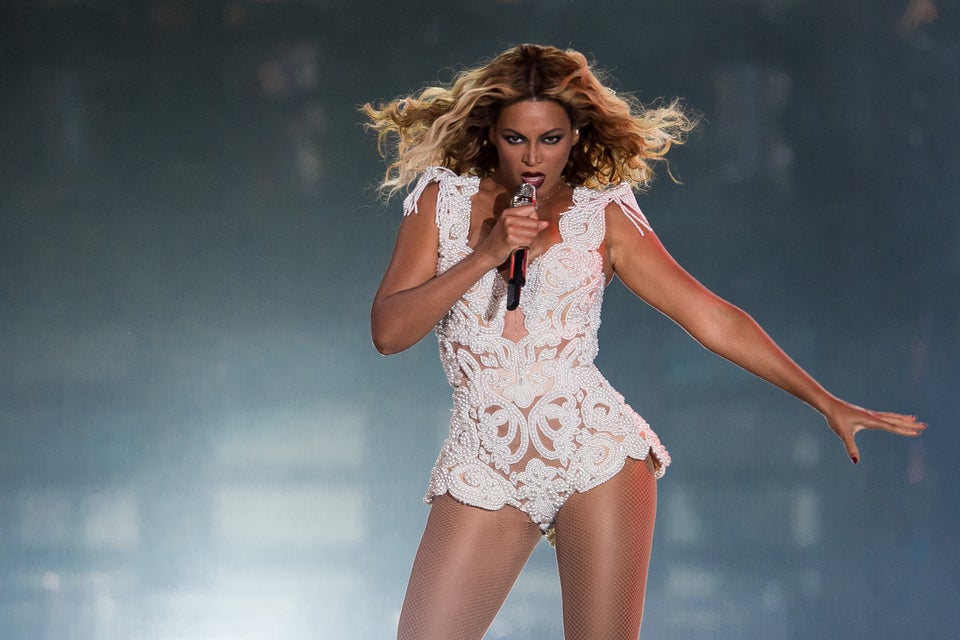 Beyonce
Popular in the Community