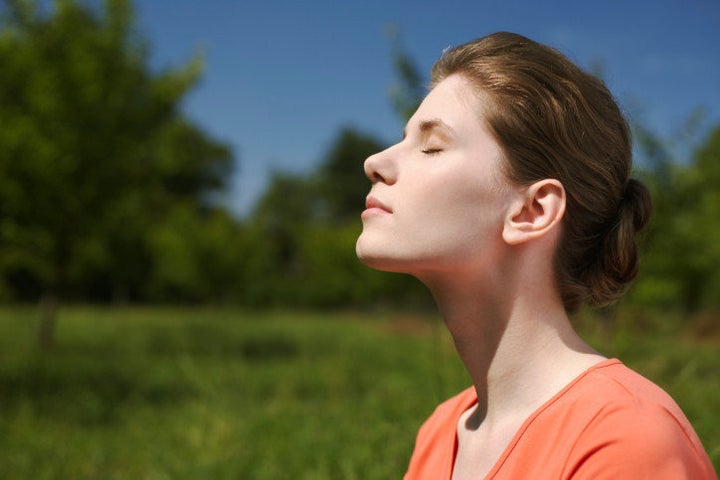 In yogic meditation practices the heart chakra is called, "anahata." Anahata is translated from the ancient Sanksrit to mean unstruck, or in other words, unhurt or unbeaten. It is a very simple translation, and yet at the same time, complex and rich in meaning.
The symbolism of the heart chakra is very beautiful and worth contemplation. In the center of the anahata lotus are two symbolic deities. One is called Isha, who is shining white, wearing tiger skins, representing the masculine energy in all humans, and ever ready to dispel fears. The other is Kakini, who is a shining rose color, seated on a red lotus, representing the female energy in all humans, and always generating love. But to reach these two, one must pass through the vermillion green petals protecting vortex. The petals are obstacles to being unstruck: lust, fraud, indecision, repentance, hope, anxiety, longing, impartiality, arrogance, incompetence, discrimination and defiance. One must move through these states to open the petals and enter the center, where one experiences unending, fearless love.
Most find the petals a bit confusing, but understand that they are from a tradition that goes back thousands of years, kept intact in Sanskrit, a formal language of symbols. The interpretation of the the translation is fairly subjective. Symbols are meant to guide, not dictate, spiritual exploration.
Can you imagine how you might feel if you had never been struck with negativity? How you might feel if you didn't have a single sad story in the chapters that make up your idea of yourself? What if you'd never heard a mean word spoken, never criticized yourself, never compared yourself to others unfavorably, never been insulted, never been hurt, never lost, never been abandoned? Are you able to stretch your mind far enough to imagine how that might feel?
These are purely hypothetical questions, of course. The full experience of being human doesn't always include child-like innocence. We wouldn't be having the spectrum of emotional aliveness if we didn't have our sad stories, grievances and pain. Like black defines white, pain allows us to truly know it's opposite, pleasure. However, the flow of life includes not only experiencing these heartaches, but healing from them: feeling pain, and then letting it go. It is letting go of pain that is most crucial to our emotional evolution, opening a door to higher awareness of ourselves and those we interact with. Remember, unstruck does not mean, "never ever" been struck. It is "un" struck, which indicates the removal of injuries which did occur.
Keep in mind, I'm not advocating a close relationship with people who do or have hurt you. I know the power of a non-reactive "no thanks" when it comes to being with emotionally or physically violent people. Opening your heart is not about anybody but you, and your experience of yourself.
Bring to your awareness the feeling you have when you see an adorable, happy, laughing baby. Think of a playful, fluffy puppy or kitten. There is usually a spontaneous gushing of the heart at the very sight of such sweet creatures. What if you could feel that spontaneous, effortless love all of the time, for yourself, and for everyone, near and far? This is the sensation of an open heart chakra, of being unstruck. I've met children who seem to be in this state. My youngest daughter is developmentally delayed, and she was standing in line at her preschool. I feel especially protective of her because she can't protect herself as much as other children her age. All of the sudden, I noticed the boy in front of her turn around. What was he doing, I wondered? Without hesitation, he opened his arms and gave her a big, gentle hug. Then he turned back around and resumed his waiting in line. Spontaneous compassionate feelings are definitely a symptom of an open heart. It was beautiful to see the little boy have such pure tenderness, and equally beautiful to see my daughter receive it.
Hearts seem to close as we grow up. We protect more, and rightfully so. Pain usually accompanies maturity, but this process needn't end with a fully armored heart. Instead, the heart can complete the circle from innocence, to knowledge of pain, and then back around to informed openness. Yes, pain exists, but one can choose love again. This is an ideal maturity: to choose love.
To encourage the opening of the heart chakra energy vortex, try this simple mantra repetition exercise: set a timer for five, 10, or 20 minutes. Close your eyes and place both hands over your heart. With the palms of your hands, listen to your heart. Listen for the rhythm of your heartbeat, and also listen to the energy in this area. You may feel ache, pain, or any range of human emotion. Feeling is healing, so feel these energies, and then let them go. Take a deep inhale, and as you exhale, slowly say to yourself or out loud, "y-ah-m" (yam as in tom, not yam as in sam). Repeat "yam" slowly with your inhale and then with your exhale until your timer ends. Then sit in silence of the mind, deepening your awareness of true meditation. You might notice spontaneous, effortless love for yourself and all of existence pouring out of your heart chakra. If you do feel this, please enjoy it.