With equality inevitable yet too long denied, over 65 LGBT groups from 17 states and D.C. have joined in taking The Pledge for Full LGBT Equality calling for their full and equal protection under federal nondiscrimination laws nationwide by 2014 -- the 50th Anniversary of the 1964 Civil Rights Act.
Boldly grasping the spirit of our times and as a testament to the will of the people, an amazing diversity of voices has already assembled around the Equality Pledge from direct action to community centers, pride groups, trans activists, military veterans, faith organizations, and many more acknowledged below who have stepped up as leaders to point the way. Equality groups and seekers everywhere are now invited to add their voice to this clarion call for justice whose time has come.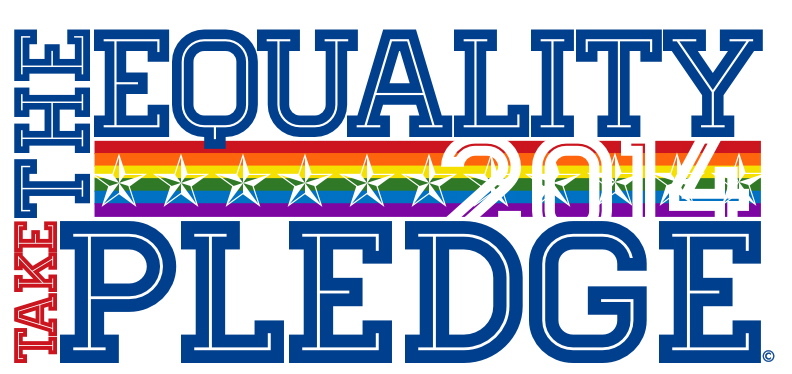 THE PLEDGE FOR FULL LGBT EQUALITY

IN ORDER TO FULFILL the promises of life and liberty, and to ensure equal protection of the law as guaranteed by the United States Constitution;

TO PROTECT the inalienable human right to be safe from discrimination based on sexual orientation and gender identity as required by international law and treaty; and

TO END the systemic stigmatization, cease the societal rejection and heal the suffering of lesbian, gay, bisexual, and transgender Americans as mandated by conscience;

WE, the undersigned, pledge our support for the passage of omnibus LGBT equality legislation that grants full non-discrimination protections on the basis of sexual orientation and gender identity equal to those accorded other statuses under existing civil rights laws and Supreme Court jurisprudence, specifically including:

Public Accommodations (Title II, 1964 Civil Rights Act)(e.g., restaurants, hotels, theaters)
Public Facilities (Title III, 1964 Civil Rights Act) (e.g., courthouses, jails, hospitals, parks)
Federally-Funded Programs (Title VI, 1964 Civil Rights Act) (e.g., adoption, police, schools, homeless youth, health care)
Employment (Title VII, 1964 Civil Rights Act; 1978 Civil Service Reform Act; 1991 Government Employee Rights Act; 1995 Congressional Accountability Act; 10 U.S.C. Ch. 37) (e.g., civilian and military government, private sector)
Housing (Title VIII, 1968 Civil Rights Act, aka the Fair Housing Act) (e.g., rental, purchase, finance)
Education (Title IX, 1972 Education Amendments Act) (e.g., schools, bullying)
Credit (1974 Equal Credit Opportunity Act) (e.g., credit cards)
Federal Marriage Equality (based on gender/sexual orientation) (e.g., 1967 Supreme Court Decision, Loving v. Virginia)
Immigration, Disability, and Family Leave (Uniting American Families Act (proposed), the American With Disabilities Act, and the Family and Medical Leave Act)

We call upon the Congressional LGBT Equality Caucus to lead the way by filing an omnibus LGBT equality bill immediately that includes all of the provisions enumerated above.

We further call upon Congress, and all candidates for elected office, to sign this pledge to pass such omnibus LGBT equality legislation immediately, but no later than 2014 -- the 50th anniversary of the 1964 Civil Rights Act -- fulfilling both their individual duty and that of the United States government to ensure justice, equality, and fundamental human rights protections for all Americans.
Endorse the Pledge for Full LGBT Equality
To bolster our claim to justice, endorsements of the Equality Pledge can be made directly via the website hosted by Act On Principles at www.ActOnPrinciples.org/ThePledge. The site includes a list of endorsing groups detailed more below. There is a formal Board Proposal Document that contains background and contact information for internal review. Official organizational endorsements can be made via the site or directly here. Individual endorsements can be made on the site or here. And the complete legal details are laid out here.
For those ready to take action, please add your endorsement, share this posting, and welcome to the Equality Pledge. Additional information on the movement context and existing support is provided below. And everyone is encouraged to please share the pledge. The more who hear and say yes to this call, the sooner our liberation will be at hand.
The Movement Context for Full Equality
The Equality Pledge encapsulates six decades of movement progress and seizes upon the vast forward momentum in our cause driven by movement veterans and the grassroots vanguard alike. It builds on the vision of major donors at Equality Giving who initiated the first comprehensive equality bill in 2009. It carries forth the grassroots National Equality March where 250,000 joined in calling for full federal equality. And it honors the spirit of the Dallas Principles and echos the demand for civil rights now from the NYC Grand Central Die-In of 2010.
The pledge also stands on the official proclamations garnered in 2011-2012 by The AEB Project from elected leaders across the nation who called on Congress to enact full federal LGBT civil rights immediately. Leaders including openly gay Mayor John Heilman and the City Council of West Hollywood, with a population 40 percent gay, and out lesbian Mayor Anise Parker of Houston, the forth largest city in America. And allied leaders like Mayor Becker of Salt Lake City, Mayor Osborne of Boulder, Mayor Quan of Oakland, Mayor Leffingwell of Austin, Mayor Holden of Baton Rouge, Mayor Jones of Mobile, Mayor Bell of Birmingham, the City Council and Mayor Parks of Tallahassee, as well as President Yellow Bird Steele of the Oglala Sioux, together representing millions of constituents from California to Florida and South Dakota to Louisiana.
Finally, it harnesses the social change evident from the success of Freedom to Marry and many others that garnered support from 289 Mayors from 33 states, the Democratic National Committee, and the President of the United States for marriage equality in 2012. Combined, these milestones show strong momentum within our movement on all fronts, at the local level where it counts most, and an obvious trajectory for equality.
A Diverse Array of Pledge Support
Thanks to the work of many, the Equality Pledge launches publicly now with over 65 diverse endorsements from 17 states and D.C., with several more in play. The list spans a wide range of community voices, including, for example, direct action (GetEQUAL, Join-the-Impact MA, Occupy Wall Street, Direct Action Network of San Antonio), faith-based (Association of Welcoming and Affirming Baptists, No Longer Silent - Clergy for Justice, The Reform Catholic Church, More Light Presbyterians), political (Arizona Stonewall Democrats, PRIDE Democrats of NY), and LGBT pride organizations (Honolulu Pride, Outer Banks North Carolina, River City Florida, New Orleans Pride, Kauai Pride and The Pride Network).
There are LGBT community centers (Philadelphia's William Way Community Center, Palm Springs' Center of the Desert, Jacksonville's Rainbow House) and community activists (Sisters of Perpetual Indulgence, Duke City Darlin's). Specific issue groups are also well represented, including marriage (Marriage Equality U.S.A.), same-sex couples immigration (Out4Immigration), trans rights (Arizona Trans Alliance), gay military veterans (The Sanctuary Project), college leadership (CUNY LGBT Task Force), student groups (Univ. of New Mexico), statewide advocacy (Equality Nevada), media/business (Montrose Star, Gay and Lesbian Yellow Pages), major donors (eQualityGiving, Faith In America), equality champions (Act On Principles, Walk Across America), human rights lawyers (Center for Human Rights and Constitutional Law), and, notably, the STONEWALL Veterans' Association of NYC's infamous 1969 rebellion.
An equality tapestry is in the making: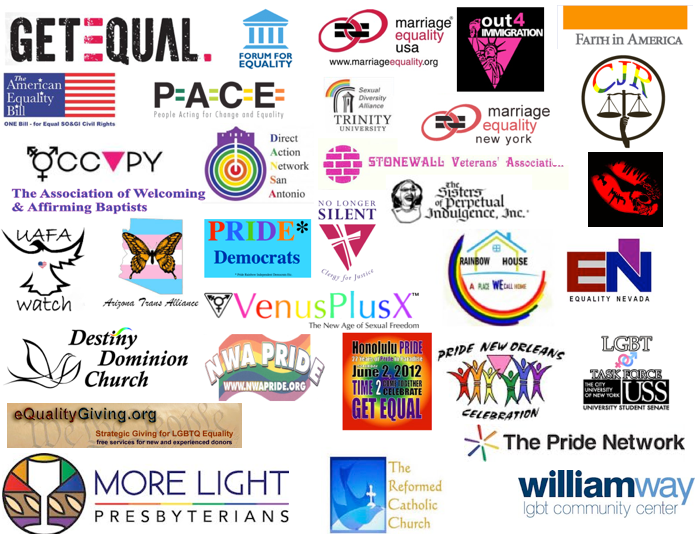 As called for by the Equality Pledge, the first objective is to secure the filing of a full equality bill by the Congressional LGBT Equality Caucus in early 2013. Much of the pledge has been filed as individual bills for some time. So the task mainly involves coordination among the bill sponsors and cooperation from key LGBT organizations to combine the variety of individual bills along with the addition of the missing provisions.
In terms of process, a full-equality bill will enable us to conduct comprehensive Senate hearings in 2013 on the full psychological, physical and economic harms we suffer under discrimination; to discuss what full equality entails; to demonstrate the international and domestic legal duty of the government to outlaw such discrimination; and to tell our stories, thus creating a powerful public record for justice that will compel action by Congress.
All of the above is within the power of our movement and Democrats in the Senate to make happen. After the hearings, the viability of our goals will be much clearer, while our claim to equality will be unmistakable.
Our Entitlement to Full Equality
It is vital to remember that we are entitled to full nondiscrimination protections as a matter of fundamental human rights law, and that filing a bill for full equality makes the statement of principle upon which our claim for justice is founded. This truth can then engender a tremendous force of hundreds of civil rights and community groups around a shared intention, setting us free to organize locally and nationally like never before. It can enable us to build a mass movement that will produce its own power, changing the political calculus we face and our possibilities as we go.
Similarly, as a message to our community, filing a bill for full equality makes a statement of our own dignity as human beings. It will serve as a beacon of hope for those suffering, and of defiance to those judging, that we, at least, have faith in our equality and intend to claim it. This, in turn, could well provide the power of intention, pride and purpose required to overcome the waning resistance. Working in common cause from principle and dignity, we will be much stronger individually and as a community.
As a matter of organizing tactics, many are understandably impatient with incremental bills that have so far lacked the excitement needed to pass or to make our cause a priority like seeking full equality could. Unlike in 1994 when individual issues became the strategy, the LGBT consciousness is simply too aware in 2012, and for too long, of the daily insult and injustice of our 2nd class status. No longer willing to tip toe around Congress or beg politicians, every time a child commits suicide we recognize our own pain and see how much discrimination continues to destroy. For many, seeking anything less than full equality is a one-sided capitulation to this oppression. They need and have every right to make this demand as a matter of human rights and self-respect, and this quest deserves the support of our insider movement operatives as a legitimate alternative.
In terms of creating social change and the deep work we need to do, a high profile equality conversation, more than any individual issue, can also draw forth the true feelings in our society that judge us as unworthy. It will finally call the question: Do you support full LGBT equality, or not? And through this process, within ourselves and with allies, opposition, friends and family, we will be squarely on the path to a true solution to our suffering in the hearts and minds of the world. We will root out homo/transphobia and confront it with the righteousness of our cause and the truth of the harm we continue to suffer, and thereby stop the atrocities no law can reach. But as an impetus for this conversation, we need a one-bill strategy that can then unleash millions to press us all to accelerate the pace of our liberation like no insider or single issue strategy ever could.
While some may still argue for patience and incremental objectives (work that can continue along side a full equality strategy), the fact is that LGBT Americans have been paving the way for civil rights and social justice for over a century and our time has come. Gay and lesbian activists have long served all causes, like Susan B. Anthony who fought for women's rights, Pauli Murray a catalyst of the black civil rights and feminist movements, Jane Addams who worked for union and child welfare, and of course, Bayard Rustin, the unsung hero of the black civil rights movement who as much as any other, helped produced the 1964 Civil Rights Law we are all soon to celebrate, but which we, LGBT Americans, are not yet apart of or protected by almost 50 years later.
Indeed we were there over the decades and lifetimes building our nation's consciousness of nondiscrimination and individual dignity. And it is time for the society that has benefited to circle back and bring us into the fold, the brothers and sisters of the movement left behind. Because like each cause before ours, every day we wait is a day of deep personal injustice for each one of the roughly 20 million of us disrespected in our own country. This harm, like all injustice, affects us all, making it an imperative for the integrity of our nation that we finish this work for ourselves, and also for the LGBT people of the world who wait for America's leadership to be free.
Calling all HuffPost superfans!
Sign up for membership to become a founding member and help shape HuffPost's next chapter