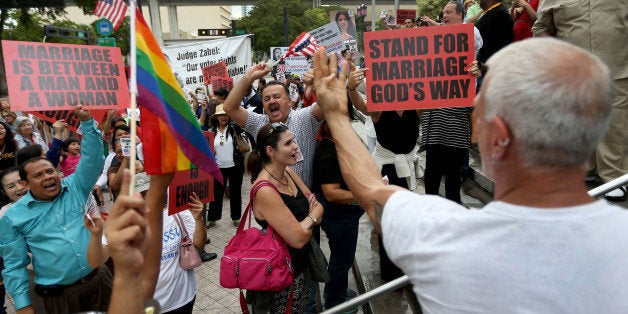 The Liberty Counsel's Mat Staver is behind a new online petition asking supporters to reject a potential Supreme Court decision if justices vote in favor of making it unconstitutional for states to prohibit same-sex marriage.
"The Pledge in Solidarity to Defend Marriage," which Staver co-authored with Deacon Keith Fournier of the Roman Catholic Diocese of Richmond, Virginia, defines marriage as "ontologically between one man and one woman" and "not based on religion or revelation alone, but on the Natural Law, written on the human heart and discernible through the exercise of reason."
Although specifics of how the pledge will be enacted are scarce, the authors nonetheless ask supporters "to stand together to defend marriage for what it is, a bond between one man and one woman, intended for life, and open to the gift of children."
Former Arkansas Gov. Mike Huckabee, who is reportedly gearing up for a 2016 presidential campaign, is among the high-profile conservative names to back the pledge, which had drawn over 5,300 signatures at the time this story was first written. Also acknowledged for their support are former Republican presidential hopeful Rick Santorum, American Family Association President Tim Wildmon and Mission: America's Linda Harvey, all of whom have been vocal in their opposition to lesbian, gay, bisexual and transgender (LGBT) rights for some time.
"A decision purporting to redefine marriage flies in the face of the Constitution and is contrary to the natural created order," Staver and Fournier write. "As people of faith we pledge obedience to our Creator when the State directly conflicts with higher law. We respectfully warn the Supreme Court not to cross this line."
Staver, of course, has made no secret of his stance on LGBT issues, including marriage equality. Earlier this month, he argued that the U.S. government had spent "more than $225 billion" on homosexuality over the course of 26 years, resulting in "the breakdown of the family culture" and other "social consequences," in a radio bulletin.
Founded in 1989, the Liberty Counsel is a nonprofit Christian policy organization whose aim is to "preserve religious liberty and help create and maintain a society in which everyone will have the opportunity to discover the truth that will give true freedom," according to its website.
At the time this story was first published, a representative for Staver had yet to respond to The Huffington Post's request for comment.
Calling all HuffPost superfans!
Sign up for membership to become a founding member and help shape HuffPost's next chapter
BEFORE YOU GO
PHOTO GALLERY
Homophobic Tweets By Celebs