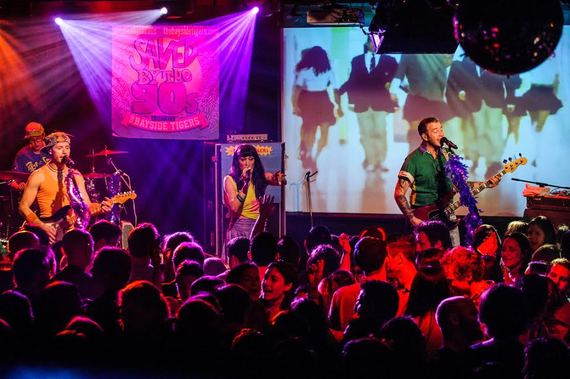 10:20 p.m. I Googled "90s outfit," attempting to figure out what I would wear to Friday's Saved by the 90s: A Party with the Bayside Tigers at Le Poisson Rouge in West Village. "Shouldn't you know this, Jane?" I thought. "You are a child of the '90s!" Then again, I was only around 7 or 8 during the era of Britney Spears and the Backstreet Boys. Alas, too young to party at that age.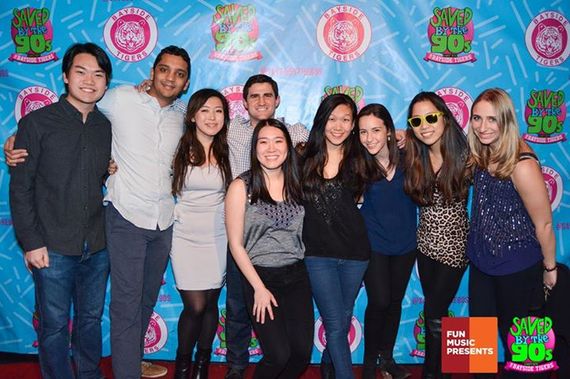 10:35 p.m. The result of my Google search proved to be fruitless. Where on earth would I acquire jelly high heels, floral denim skirts, butterfly clips, or a choker necklace? Luckily, I found a pair of tinted sunglasses, so I put that on along with a cheetah print dress (I know, the Cheetah Girls were so 2000s) and headed out.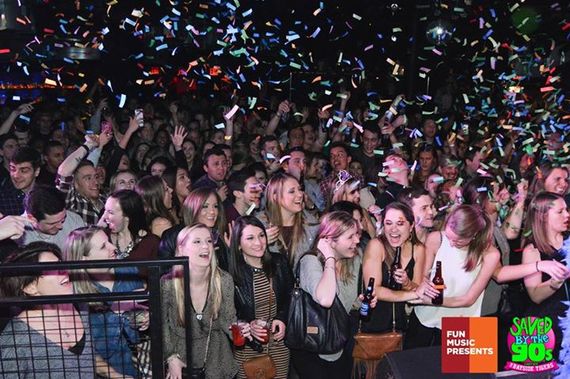 11:30 p.m. By the time I arrived at Le Poisson Rouge with my friends, there was already a long line of people waiting outside. Pro tip: buy your ticket online in advance for expedited entrance and to save a couple bucks.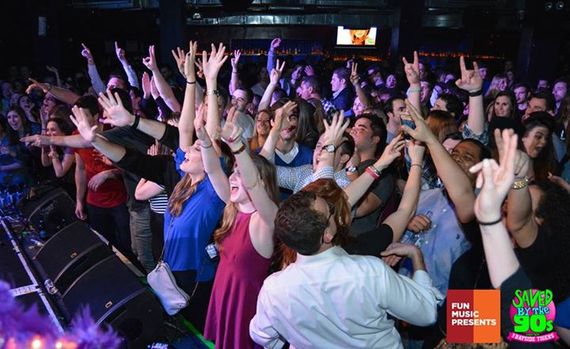 11:40 p.m. The Bayside Tigers were scheduled to kick off at midnight, so I walked around the packed venue to scope out the scene. I can logically conclude that the crowd was mostly in their early to mid-20's--during my stroll, I coincidentally ran into not one, not two, but three of my college friends whom I have not seen since graduation. What are the chances!
12:00 a.m. "Five, four, three, two, ONE!" With the thunderous and welcoming cheers from the crowd, the Bayside Tigers stole the stage with a bang. I couldn't keep track of all the songs that they played, but there were plenty of sing-alongs, dancing, twirling, and hand raising.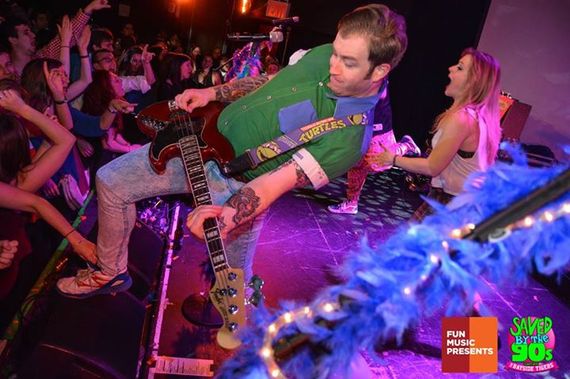 1:30 a.m. Here is a little confession: I am like a stiff log on the dance floor (I've been doing yoga lately to improve my flexibility). Yet I love to dance, especially to songs that bring me back to the nostalgic, carefree days of childhood. The crowd must have roared the loudest when the Bayside Tigers played the Backstreet Boys. I definitely wanted it that way...bring it on, let's go back to the '90s!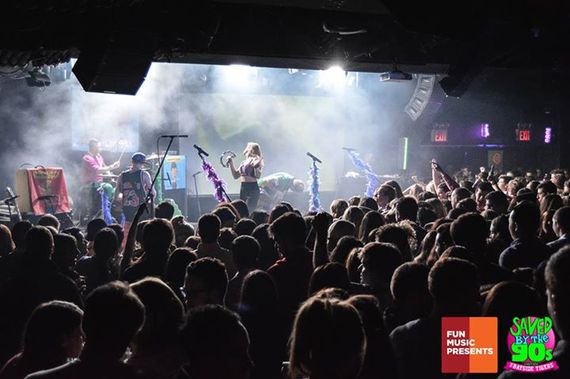 2 a.m. By now, I had long lost track of time, but my instinct is telling me that the Bayside Tigers probably performed for about two hours. While the crowd dissipated as the band cleared the stage, the party continued with a DJ spinning beats throughout the night.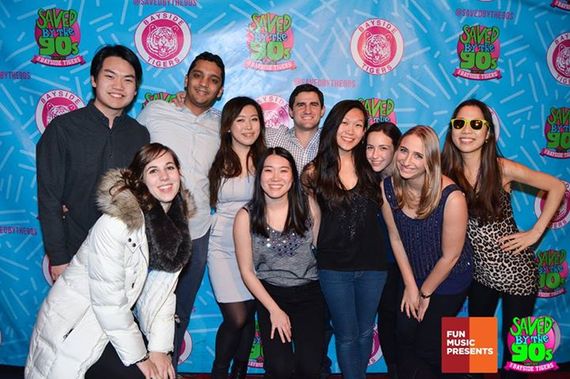 The Bayside Tigers headline the Saved by the 90s dance party every Friday at Le Poisson Rouge, 158 Bleecker Street, in West Village. Tickets are $15 in advance, $20 at the door. Next time I go--which, I hope, will be very soon--I won't worry too much about what to wear (the room is dark, so no one will really see you anyways). Instead, I will try to memorize the lyrics to these songs and learn some 90s dance moves!
Photo courtesy of Kimberly Mufferi and Jeni Magana
Calling all HuffPost superfans!
Sign up for membership to become a founding member and help shape HuffPost's next chapter