Do I contradict myself? Very well, then I contradict myself,
I am large, I contain multitudes. --- Walt Whitman
Rather than prattle on about the function, significance, and viability of the Sharjah Biennial 10: Plot for a Biennial, about whether it does or does not live up to whatever idée fixée that professionals, viz., curators and critics, can ascribe to it, let's pretend instead that you're at a movie. Suzanne Cotter and Rasha Salti, the exhibition's Curators, along with Haig Aivazian, the Associate Curator, suggest as much: among other meanings of the word, Plot for a Biennial suggests a moviegoing experience. Forget, then, the titles (the subtitles, too), the tours, the cumbersome, unwieldy catalogue and other didactic, logocentric intrusions. Let the lights go down, suspend your disbelief or else your postmodern wariness about art, and allow the production's undeniable reverence to restore meaning to exhibition spaces.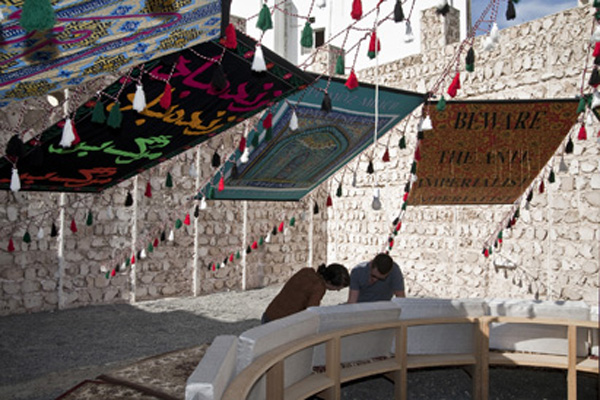 Slavs and Tatars, Friendship of Nations, 2011 | Installation, sculpture, objects, archival display, performance
The title, for starts, especially the Plot bit, is apt if not problematic and underdeveloped. It suggests a cinematic blockbuster extravaganza chockablock with enough aesthetic resources to last at least one Academy Awards season. Staged along the waterfront of the United Arab Emirate of Sharjah, the emirate that, in 1998, UNESCO cited as the cultural capital of the Arab world, this Biennial consists of more than 80 artists and collaborative groups, including the efforts of artists, filmmakers, musicians, dancers, and choreographers. But don't the size fool you; here exists a direct correlation between scale and, yes, piety (as befits the derivations of the word curator: late Middle English noun, an ecclesiastical pastor, or, more appropriate here, the Latin verb, "to cure".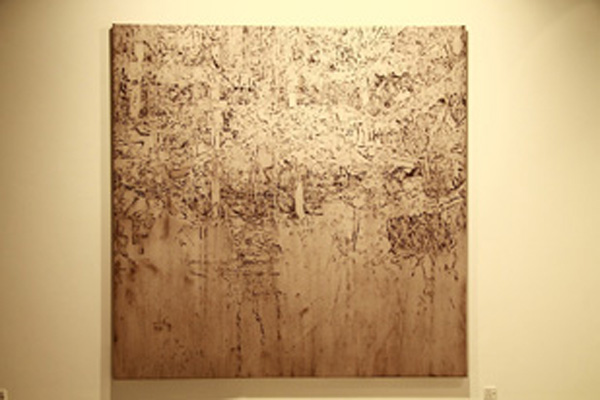 Jorge Tacla, Rubble Series, 2007-2010 | Acrylic, oil and marble powder on canvas
The Biennial's operative metaphor is that of the protagonist visitor as Pilgrim, both in the journey to get there (think of Chaucer's Canterbury Tales) as well as the destination (a cultural Hajj, the Muslim pilgrimage to Mecca). More than anything else it's an individual experience, formed as much by the expectations you bring as well as by the things you sense once you get there. Only later does it become a communal one.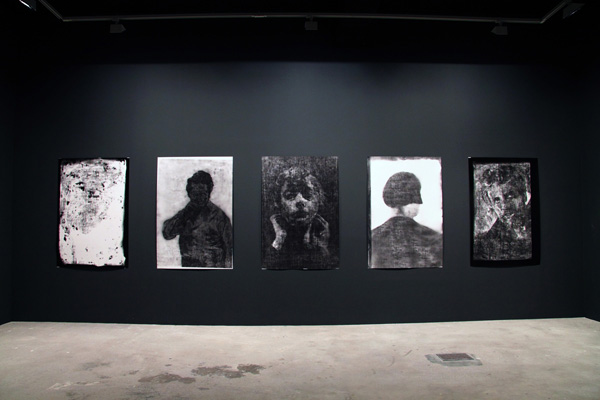 Matt Saunders, Agents, Crowds, 2010-2011 | Silver gelatine prints on fibre-based paper, some with spray enamel
The catalogue (Aristotle would call it the Prime Mover) establishes the intellectual map of the experience. The work is divided into six scenes, as good as any way to encompass the large amount of landmarks (the work) and territory ("...the 'good place' of speculative explorations and the 'no-place' that is revealed through critical agency") that the exhibition lays out. Suzanne Cotter's essay, "On Plots and the Necessary Ambiguities of Treason," lays out the instigating dynamic. It asks, intelligently enough, "What is the place of art within these realms of urgency ("betrayals of trust", "popular uprisings and civil unrest") and amidst an unpredictable pace of change?"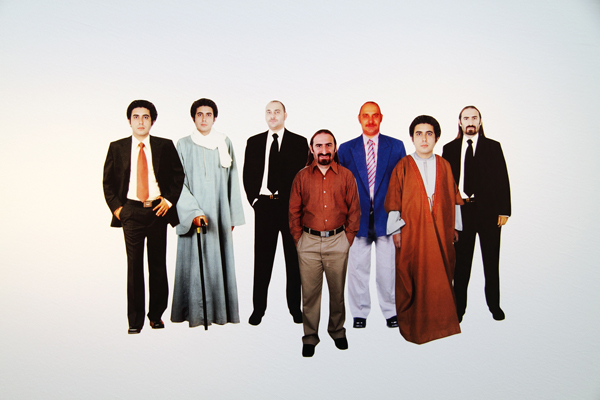 Atfal Ahdath, Take me to this place: I want to do the memories, 2010-2011 | Mixed-media installation, photographs, video, sound
As the telling of a story, however, all this intellectual apparatus leaves out one crucial component, the audience. That the audience is also the protagonist puts them in an exalted position, namely, they are participants in as well as viewers of the drama. To its misfortune, however, this drama lacks complications and denouements as well as a resolution, aesthetic, moral, or otherwise, that would validate the effort expended to make the pilgrimage in the first place. It more than makes up for the shortcomings with setting and spectacle.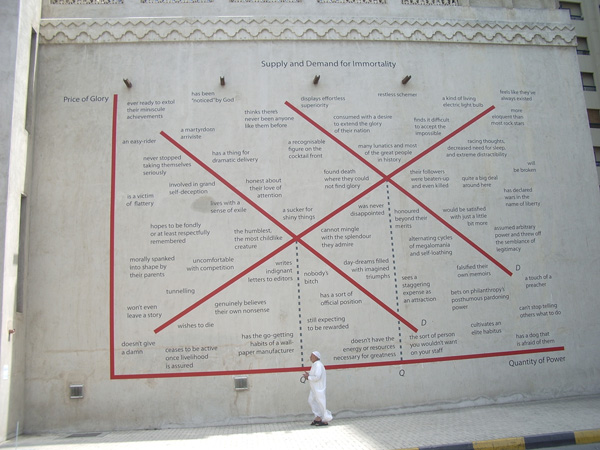 Richard Ibghy and Marilou Lemmens, Supply and Demand for Immortality, 2010-2011/Site-specific two-dimensional installation, latex paint on museum facade
To continue the Plot metaphor, the curators, perhaps without their realizing it, are the directors of this drama. The problem begins with an assumption as to the role of art in the 21st century. Buttressing this Biennial in theory that masquerades as drama hamstrings the script that, in turn leaves the viewer not fulfilled but anxious (as in Harold Rosenberg's Anxious Object). In "Bambi Vs. Godzilla - On the Nature, Purpose, and Practice of the Movie Business," David Mamet writes "Champions of so-called theory, whether feminist, Marxist, multiculturalist, or other, in an attempt (supposedly) to cleanse expression of bias, are involved in a postmodern rendition of book burning. For the question of art is neither "How does it serve the state?" (Stalinist) nor its wily modification into "How does it serve humanity?" but "How does it serve the audience?" And that's the problem with this Biennial: the audience, after all their peripatetic effort to get there, appears to have been short-changed. If we go by the Biennial's script, there's no there, there.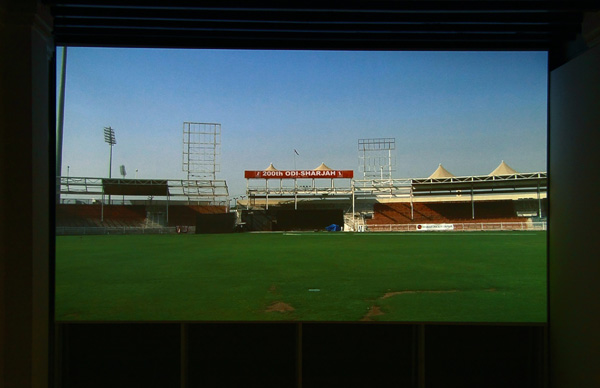 Rayyane Tabet, Home on Neutral Ground: a project in three parts, 2011 | Including: An aerial photograph of a vacant plot of land in Afghanistan printed to scale on a pitch protector and installed in the Sharjah Cricket Stadium for the night of March 18, 2011. Colour digital print on flex
The experience of the Biennial, though, makes up for a problematic script. Think of it as the difference between one's experience in a corporate basilica versus that in an intimate parish church. Mamet, again: In "Three Uses of the Knife - On the Nature and Purpose of Drama", he writes that drama is "a temporal art (for that is what a Biennial is, a temporary convocation of resources plotted to create an experience, not a confirmation of ars longa. vita brevis est) that demands the attention of the individual over time - an individual content to be piqued to doubt, to be misled, to mourn, to, finally, consign herself to a process (...) Just as commercial pabulum reduces all of us (the creator, the "producer," the viewer) to the status of consumer slaves, so dramatic art raises the creators and the viewers to the status of communicants. We who made it, formed it, saw it, went through something together, now we are veterans. Now we are friends."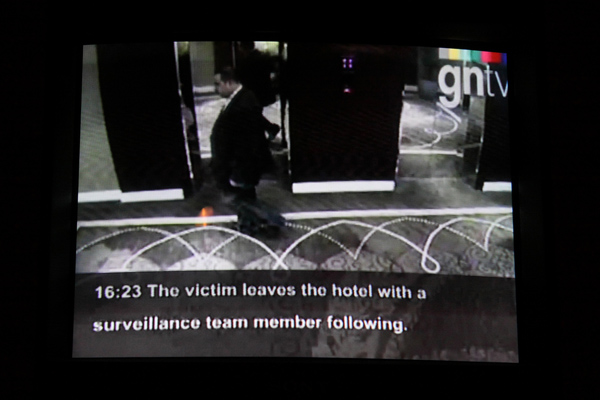 Shumon Basar, Eyal Weizman, Jane and Louise Wilson, Face Scripting: What Did the Building See? 2011 | Single screen projection, surround sound, gauze box, 2 mirrors, HD projector, CCTV monitor showing footage from YouTube
If you assume instead that art is a way for the artist (and, by extension, the viewer) to bypass the conscious mind and touch upon archetypal matters (is art not a universal language?) then you can do what actors the world over do when they find themselves with a flawed script: they make the most of it. And that's the proper way to experience this Biennial. Point your compass in a general direction, let the organic emotional architecture of the various (and gorgeous) installations and spaces absorb you, and proceed apace, independent of various and imposed agendas.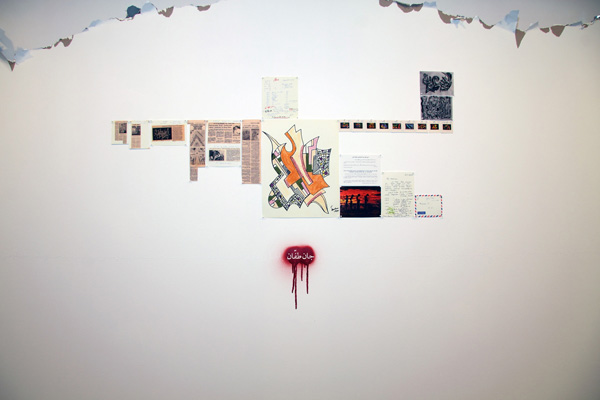 Walid Raad, Index XXII-XXVI: Artists, 2011 | Drywall, paint, wood, colour photographs, vinyl
The saving grace for this Biennial is that its installation flows, that doesn't feel like a poorly edited, herky-jerky film but as a real time drama in which the blocking (where things are positioned in relation to one another) is legible, organic and...perfect. There's no overindulgent cramming as much work as possible onto each wall, into each gallery. The pieces are isolated but they are connected by a sense of reverence for space, so the Pilgrim breezes through each exhibition area. The effect is of gliding through the enterprise on a magic carpet, above it and yet intimately involved in it.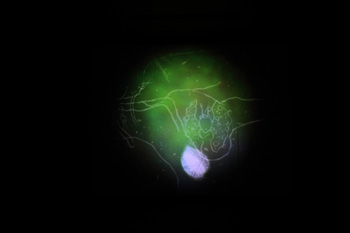 Apichatpong Weerasethakul, Le Jardin de Ma Me`re (My Mother's Garden), 2007 | Video, 6 mins 44 sec
Indirectly though significantly, this Biennial acknowledges that space is fluid, that it flows, that the exhibition and its programs are based on an experience of Time and Space, that is, of Duration. Whether you're in The Sharjah Art Museum itself, or else in one of the outlying buildings (Bait Obaid Al Shamsi, Bait Al Serkal, the Collections building, the Ceramics House, Beyoot Al Khatateen and elsewhere), the walkaway impression of the pilgrimage feels cozy and intimate, individualized, that, even amidst throngs of fellow pilgrims, Hallowed and other Reverences, and TV cameras, it's been customized for you and you alone. To enter with suspended awe into any of the galleries and other spaces (interiors, plein air), each lit as if by candles, is to feel as if you've come across a shrine, a small room in a small home on a forgotten street, in the corner of which is housed an icon. It's only when you step back and realize the magnitude on which such intimacy has been affected that you realize what a magnificent achievement this really is. The videos, especially, benefit from this treatment but so do the wall pieces, the installations, and the musical performances (especially the "Score for a Biennial", performed by Dimi Mint Abba and Amino Belyamani), each partitioned so that the communal feeling is sacred, not Salon-style cluttered and Art Fair commercial.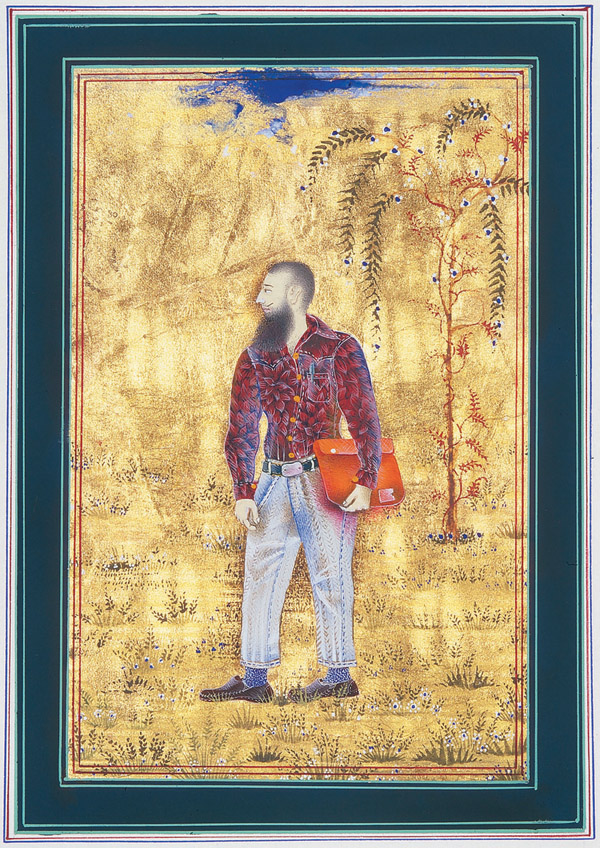 Imran Qureshi, Moderate Enlightenment, 2005-2010 | 16 paintings (from a series of 20), opaque watercolour on wasli paper
The contrasts are jarring. Pitted against the hustle bustle of the souk adjacent to the exhibition spaces and of the pedestrian traffic out there on Corniche Road rests the spiritual stillness of each gallery, each room, each courtyard, not to mention the incense at the front desk, and, further afield, the omnipresent Gaudi-esque mosques with invisible imans that invoke their awe-inspiring Calls to Prayer.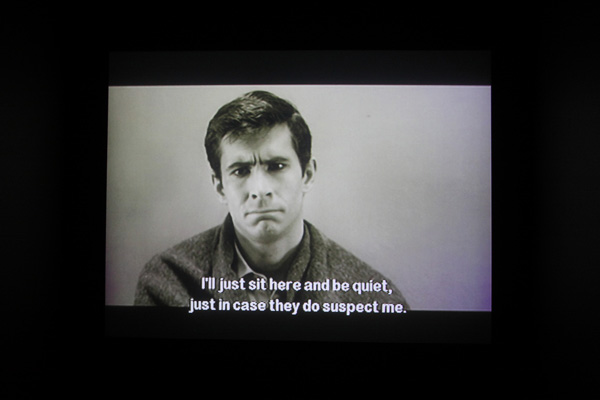 Jalal Toufic, Mother and Son; or, That Obscure Object of Desire, (Scenes from an Anamorphic Double Feature) 2006 | Video, 41 mins
As love creates its own climate, so too does the Sharjah Biennial creates its own constellation. Accounting for this excursion begins with a frisson that some manner of pre-verbal communications is being transacted on that stage between the works of art on display and you, the Pilgrim. It's a purging, enchanting experience that confirms art's means of communications beyond language, political boundaries, religion, and gender. Embodying the Theory of Unintended Consequences, this Biennial provides an elegant solution to the problem (relevance, purpose, significance) of biennials: less an effort to articulate a statement than a desire to evoke and then consecrate a contemplative exhibition space. More than anything else, this Biennial privileges space - mute, fertile, laden-with-potential space. With sanctity comes aura. And it's the aura foregrounded here that, over time, restores something to art that, if not sacred then at least secularly significant as to how installations and not curatorial fictive zeitgeists impact its experience. How, in imbuing art with grace, it attributes to it a quality that it had in the first place and certainly deserves to have again.
The exhibition runs until May 16. For more information visit www.sharjahart.org.
Calling all HuffPost superfans!
Sign up for membership to become a founding member and help shape HuffPost's next chapter