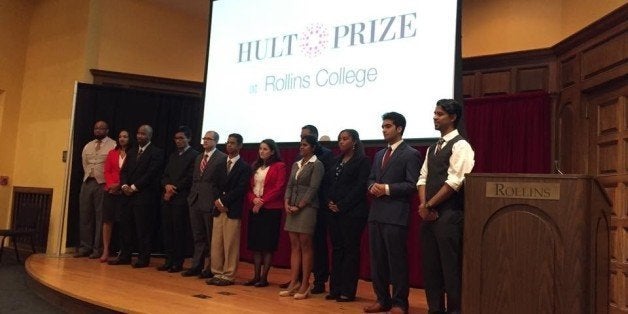 Occasionally in life, be it over a poker table or a lottery ticket, one may find oneself able to obtain $1M USD overnight. Often in life, be it over a story book or a dinner table, one may be able to make a lasting impact on others. It's rare for those two to combine, but courtesy of the Hult Prize Foundation, in partnership with the Hult International Business School and former US President Bill Clinton, this opportunity has fallen at the feet of every college student and graduate in the world. At Rollins College in Winter Park, Florida, we too were fortunate enough to pick it up.
For each annual Hult Prize challenge, Clinton selects a topic of international concern for teams of students to tackle; in 2013, he selected the topic of non-communicable diseases in urban slums, referencing ailments such as diabetes and heart disease. This year, Early Childhood Education took the stage. Branching off of the main competition, the 'Hult Prize At' is a program that enables college campuses to hold satellite competitions of the Hult Prize on a school level. The winning team from each hosting school bypasses the general Hult Prize application pool and secures a spot in one of the five regional final locations globally. From there, the regional finalists head to Clinton Global Initiative's Annual Meeting, where they will garner feedback from renowned judges, and compete for $1M in start-up capital.
Intrinsically, social entrepreneurship recognizes a triple bottom line: a desire to engage and benefit people, planet, and profit in one venture. Notably in retail, we've seen this with TOMS buy-one-give-one model. In sports, this is visible in Soccket, the electricity-generating soccer ball for underdeveloped areas. But, when recognizing the chances for responsible business to take hold, to quote pop culture icon Cady Heron, "the limit does not exist." Hult Prize founder Ahmad Ashkar, alongside Clinton, recognizes this, seeing it in the particular context of the millennial mindset, where there lives a certain hunger for innovation.
In September 2014, I learned about the position of Hult Prize Campus Director (CD) via my university's chapter of Net Impact, a global organization aimed at students and professionals with interests in sustainability, corporate social responsibility (CSR), and social entrepreneurship. Soon after my CD application was approved, I came to terms with the gravity of the competition and its fiery potential in my hands. Sooner still, I created relationships with other college CDs across state and national borders, even one who struggled to bring the competition to his school as it was reluctant of Western influence. The irony of a school inhibiting learning and educational impact shocked me. In this instance, I saw that I had not been only privileged with my educational opportunities, but with the ability to share my mind also. Learning and exchanging knowledge are key habits to our survival as a species that far too many are still denied by both physical and political environments.
Following a semester of campaigning, conference-calling, and caffeine, our students took to an auditorium stage before our judge panel of alumni, such as Vice President of City Year Orlando Jordan Plante and President & CEO of SunTrust Bank, Florida, Tom Kuntz. Raised as children of immigrant families from Haiti, Panama and Trinidad, our winning group, Team e-MAGOLUTION, has the empathy of circumstance and knowledge of modern graduate institutions to further them towards their goal. Their collaborative concept of game design and instructional principles target cognitive development milestones in infants from birth through at least age 6, and is a marker in the progress of entrepreneurial development worldwide. Despite the number of Hult Prize contenders, Team Captain Hayden Ridore remarks that they are viable participants "not because of the ingenuity of the idea and product, but because we have lived the need for a solution to this problem." With support from the Crummer Graduate School, the team will embark to Dubai for a regional competition in March. Passion is a particularly powerful force in today's world and tomorrow's future, especially with the pairing of innovation and large-scale dreams gaining newfound solace in Hult Prize.
Viewers of House of Cards, scholarship recipients of the Fulbright program, critics of Michelle Rhee, and most contemporary school instructors will point out the need for improvement in our current educational models as well as the growing importance of sharing information. However, for millions, the tremors of poverty interfere with their potential because their basic needs struggle to be met. For children, generating new means of learning may be the difference between heightening the severity of these pressured conditions over time and building communities with newfound confidence, drive, and success to enhance quality of life.
I'm overjoyed to watch my peers advance to the next level of Hult Prize for countless reasons, such as the inspiration others may find from their endeavors along the way. But, when I look back on my experiences with Hult Prize in 2014, what stands out to me is not the size of the problems we tackled, but the amount of heart invested in the solutions.
This post was produced by The Huffington Post and the Hult Prize Foundation Hult Prize@ program, in which teams of college and university entrepreneurs compete for funding for compelling social business ideas, including a grand prize of US$1,000,000. The posts are written by student campus directors of "Hult Prize@," the program bringing the competition directly to campuses around the world. To learn more about the Hult Prize Foundation and how you can become a campus director, please visit hultprize.org. Read all the posts in the series here.
Popular in the Community