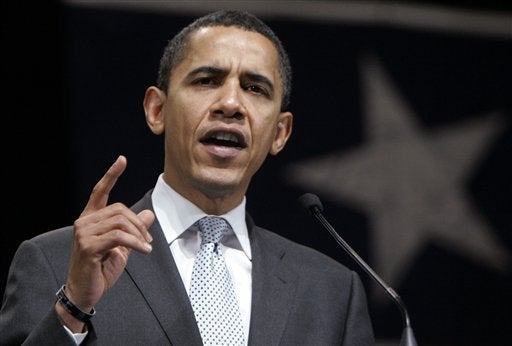 It's all about the pledged delegates, stressed David Plouffe, Sen. Barack Obama's campaign manager, on Friday. And if the upcoming primaries in Ohio and Texas remain as close as the polls portend, he said, then Sen. Hillary Clinton will find herself "behind the eight ball" when it comes to making up Obama's delegate lead.
On a conference call with reporters, Plouffe laid out a scenario in which neither Obama nor Clinton made big electoral gains during the slate of primaries on March 4, effectively favoring the Illinois Democrat because of his current 160 pledge delegate advantage.
"The Clinton campaign had one task on March 4, to seriously erode our lead in pledge delegates. And they are going to fail on that measure and fail miserably," Plouffe said."The truth is, if Ohio is a truly close race, five points or less, the leader in Ohio will only net three delegates... "We can net that out of Vermont if we have a good day."
Minutes after Plouffe's call concluded, the Clinton campaign sent out a memo, noting that the Obama camp had vastly outspent them in the four states voting next Tuesday. If Obama were unable to win all these states with all this effort, "there's a problem."
"Democrats, the majority of whom have favored Hillary in the primary contests held to date, have their doubts about Senator Obama," the memo reads, "and are having second thoughts about him as a prospective standard-bearer.
Currently Sen. Clinton finds herself trailing Obama in Texas but leading him in Ohio, according to most recent polls. Neither lead, however, is substantial, and the delegate margins they produce could be minor or, in the case of Texas and its hybrid caucus-primary system, could even favor the popular vote loser.
Following Tuesday's voting there will be only 611 remaining pledge delegates remaining. Should Ohio and Texas not produce a massive change, Plouffe predicted, the Clinton camp would have to win upwards of 74 percent of every pledge delegate just to break even. Rubbing some proverbial salt in the wound, he noted that the next two states on the electoral calendar - Wyoming and Mississippi on March 8 - could produce delegate gains for Obama, much larger than those in Ohio and Texas.
"I think even the Clinton campaign would maintain," said Plouffe, "that if this pledge delegate lead doesn't drop below 100 they simply don't have any avenue to the nomination."
Calling all HuffPost superfans!
Sign up for membership to become a founding member and help shape HuffPost's next chapter