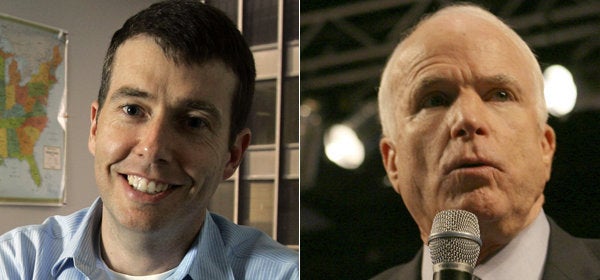 Barack Obama's presidential campaign claimed that the general election had reached a critical turning point this past week after it was revealed that John McCain and his campaign manager had helped facilitate a merger that could result in the loss of thousands of jobs in Ohio.
On a conference call with reporters, Obama's campaign manager David Plouffe said news of McCain and Rick Davis' involvement in the DHL deal was "the most important development of the entire campaign this week" and would convince voters in the critical swing state that the Arizona Republican was far from his maverick image.
"He was there a month ago in this community and was asked a question about this DHL issue and did not say one word about his role in this or the role of his campaign manager. That is the furthest thing from straight talk that we can imagine," said Plouffe. "John McCain can become an emblem for people about what is wrong with Washington. He released an ad this week about how Washington is broken and how he will strive to fix it. He didn't mention that he has been enmeshed in a broken Washington culture for 26 years or that his campaign is run by the most powerful, now former lobbyist in Washington."
Prior to the press conference the Obama campaign released a harsh new radio ad blasting McCain for his role in helping "foreign-owned DHL buy a U.S. company and gain control over the jobs that are now on the chopping block in Ohio."
On Thursday, the Republican presidential candidate called on the Justice Department to launch an investigation into DHL's plans to puts its packages aboard the planes of a rival, United Parcel Service. If that deal is to go through (with UPS flying its cargo out of Louisville, Kentucky) DHL's shipping hub in Wilmington, Ohio would be effectively closed, eliminating up to 10,000 jobs.
On the conference call, Plouffe was forthcoming about the political advantages that he believed the revelation presented.
"He has spent several days now dogged with questions about this," said the campaign manager. "His appearances in Ohio were completely overshadowed by this. And by November 4 in the Cincinnati and Dayton markets this is something that is going to be known by every voter in this area."
Calling all HuffPost superfans!
Sign up for membership to become a founding member and help shape HuffPost's next chapter